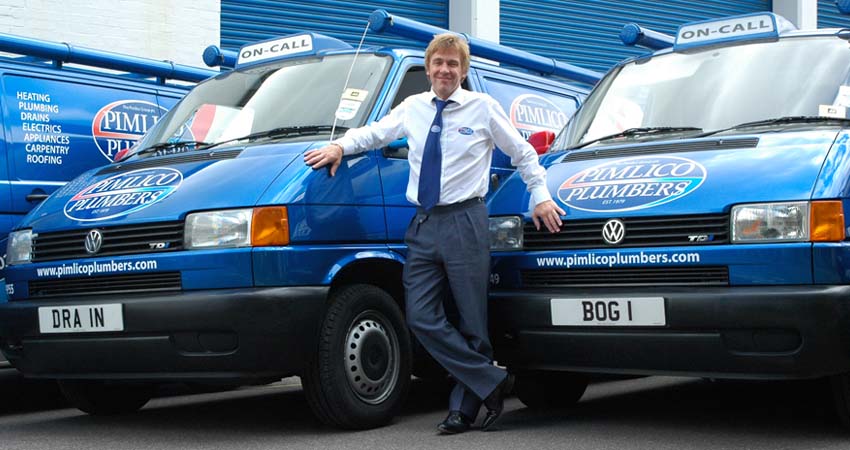 As we at Regtransfers are a pretty focused bunch it's probably not surprising that we see private plates everywhere, but more and more often we're noticing private registrations on corporate vehicles. That's nothing new in itself - we've featured plenty of businesses and their number plates on our website and in our magazine - but the sheer number of private plates being used for branding and promotion is quite striking once one notices. We see vans and lorries - sometimes whole fleets - displaying plates with their company branding or initials on them; company directors with plates displaying their pride in their businesses and, of course, those eye-catching registrations that literally sum up the nature of the company that owns the vehicle.
Probably the most famous business user of private plates is the London company Pimlico Plumbers who we have featured in the pages of our website and magazine several times over the years. Pimlico MD Charlie Mullins is certainly a master of promotion and he is well aware that much of the media attention enjoyed by Pimlico Plumbers is due to the company's inspired use of private number plates on its vans, as they drive around affluent areas of the capital. The plates in question aren't branded; they don't try to represent the company name. Instead, the Pimlico vans feature words that people associate with their industry. The plates always get noticed and turn local plumbers and their vehicles into minor celebrities. Consequently, they are no strangers to radio, television and the newspapers.
Sally Pickles of north Cornwall's popular seaside pub The Bowgie Inn is another enthusiastic customer. While her business may not require a huge fleet of vehicles, the Bowgie car number plates make up in quality what they may not have in sheer numbers. Sally has found the very best representations of her establishment's name with BOW 91E, BOW 61E and BOW 31E.
Jon Culverhouse of Luton's award winning pyrotechnics specialists Fantastic Fireworks found the ultimate promo for his business with 5 NOV.
Sport supplement company LA Muscle chose the aspirational F17 ONE for their Lamborghini, while Rossis' Ice Cream had a couple of tasty vanilla plates on their vans, VAN 177A and VAN 117A. Top bespoke tailor Geoff Souster of Souster and Hicks has long appreciated the relevance of appropriate number plates when making a first impression as a business. Amongst the numbers he has owned over the years are GSU 1T, SEW 22 and TA11 ORS.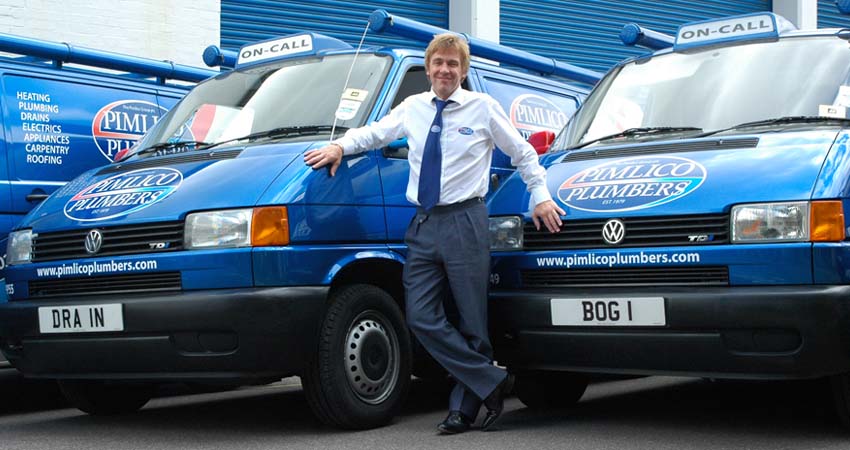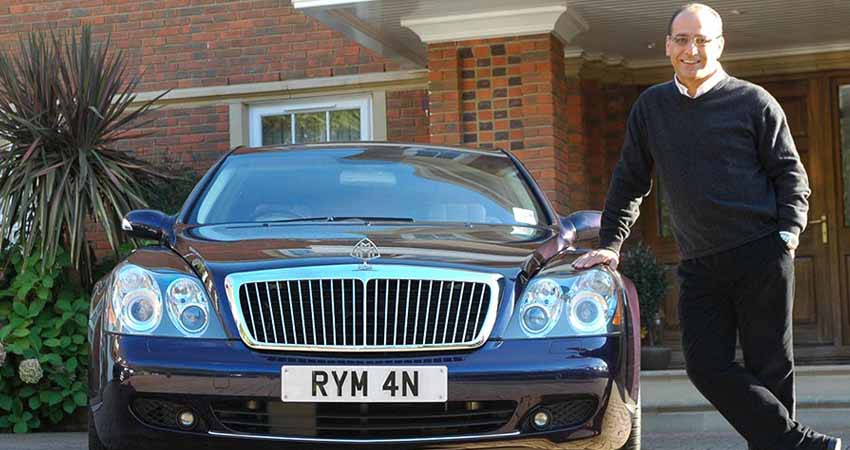 Entrepreneur and television Dragon Theo Paphitis pretty much nailed branding perfection with his RYM 4N number plate. Even at a glance the name of his stationery chain, Ryman, just jumps off the plate. Martin Peet, owner of the Mr Simms chain of retro sweet shops, took a similar approach with his MR51 MMS registration.
The benefits of using private plates in business branding and promotion are many. As we have seen, some companies really do wring every last drop of potential out of their plates by catching the eyes of the public and the media in such a way that they achieve fantastic exposure. Others find that both customers and staff appreciate the attention to detail displayed in a fleet of vehicles that look neat and organised; private number plates contribute strongly to this impression. Whether it's advertising, branding or plain, general attention grabbing, number plates are working hard for many businesses.
Oh, and the fact that they are tax deductible may even raise a smile from the odd accountant.