Dateless number plates
A dateless number plate is the perfect choice for an exclusive, unique and distinctive finishing touch on any new or classic car.
We are the UK's leading private number plate specialists with an unmatched selection of older dateless plates.
Our dateless plate collection consists of both UK-issued private registrations including Irish number plates. Although there are minor differences in the characters used, they can be assigned to any vehicle within the UK.
Dateless number plates are perfect if you want to add a distinctive finishing touch to an older car in its later years. They are also great for sprucing up the appearance of any vehicle with an exclusive and unique number plate.
What are dateless number plates?
Dateless number plates are the first number plates issued by local councils in accordance with the Motor Car Act 1904.
A dateless registration consists of a simple letter region code with a unique number to identify the vehicle. Dateless plates are special due to the fact that they don't contain an age identifier and can be assigned to any vehicle.
There were different variations of dateless registrations released from 1903 to 1962. See our number plate formats page to learn more.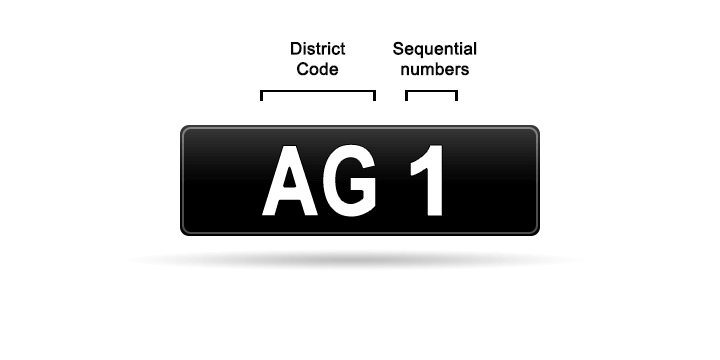 ---
Are dateless number plates a good investment?
Private number plates used to be an affluent status symbol. They have become much more accessible and can be found at many different price points.
However, dateless number plates rank top in exclusivity and rarity and still command high prices. To the extent that they occupy the entire top 15 of the UK's most expensive number plates.
Dateless registrations represent a shrewd yet lucrative investment opportunity. As they often appreciate in value and still remain very desirable among buyers. Thus, it is no surprise to see dateless plates sell for staggering amounts at auctions.
Read our number plate investment page to find out how private number plates can fetch you a nice profit.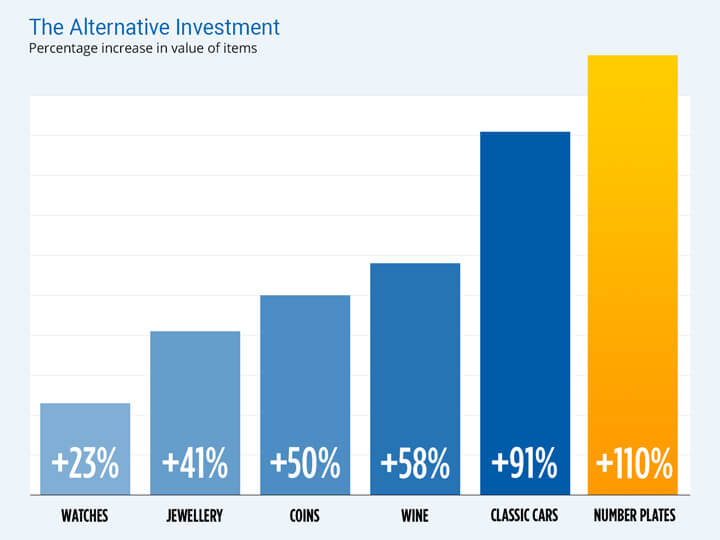 ---
How to sell your dateless number plate
Dateless number plates are desirable among buyers and can be very lucrative for sellers.
You can sell your number plate with us more efficiently, as we will use our expertise and resources to ensure you receive the best possible price.
1. Get your dateless registration valued
It is a good idea to know exactly how much your number plate is worth in today's market. You can do so by receiving a free no-obligation valuation from Regtransfers by simply filling out our form. Our team of experts will manually assess all influencing factors to provide a comprehensive, accurate valuation. An accurate price estimate can increase your chances of selling your dateless number plate faster with a greater return.
2. Sell it with us or list it in auction
After you have received your free valuation, you will also have the option to list your dateless registration in our number plate auction. As a result, your registration is liley to attract thousands more potential buyers. Otherwise, you can also have us advertise your dateless plate online, including featuring your number plate in relevant searches on our website.
Once we have received an offer or bid that you're prepared to accept, we will oversee the transaction to assure that it is completed securely.
---
How to transfer a dateless plate
Once you purchase a dateless number plate, you can apply for one of three different types of transfers.
You can transfer a registration number from vehicle to vehicle, from retention certificate to vehicle and, lastly, vehicle to retention certificate. We have created a DVLA transfer guide to explain transferring your dateless registration.
With our fully managed transfer service, we will handle all the important paperwork and ensure your transfer is completed without any hassle.
Dateless number plate FAQs
The lack of an age identifier is the key factor that deems a number plate as 'dateless'. Additionally, dateless number plates are the only type of number plates that can be assigned to any vehicle regardless of its age.
The first dateless registration was DY 1. The number plate was issued in Hastings on 23rd November 1903.
The oldest dateless number plates are over 100 years old, as the first of its kind was issued in 1903. It wasn't until 1962 when the dateless number plate system was replaced with the suffix format.
We make it easy to find and buy the perfect dateless number plate. Start by searching your name, initials, numbers or words of any meaning. We will then display the best-matched private number plates for your search. Once you have picked your ideal dateless plate, we will help you to assign your private registration to your vehicle with our fully managed transfer service.
With the help of Regtransfers, you can sell your dateless registration easily and more conveniently. There are no lengthy questionnaires involved. Just fill out our form with a few of your details. Then we'll provide you with a free, no-obligation valuation of your dateless number plate.
You can then instruct us to advertise your registration on our website and attract even more potential purchasers through our number plate auction.
About Regtransfers
Private plates for all
We are Regtransfers, the UK's largest independent private number plates specialist. The company was established in 1982 and our headquarters are in Dunstable, Bedfordshire. We are registered with the DVLA as a supplier of both personalised registrations and acrylic number plates. We buy and sell private registrations for our own stock and on behalf of clients throughout the UK.
Read more about us
Featured in
Autocar

Autotrader

Car Magazine

Classic And Sports Car Magazine

Country Life magazine

Daily Mail

Daily Telegraph

Easyjet

Google

Sunday Times

Top Gear Magazine
Our accreditations
Your online safety is very important to us. We use the highest levels of encryption to protect your sensitive data. Our PCI compliance ensures that every transaction made online or over the phone is secure.
Members of the Federation of Small Business

Members Institute of Registration Agents and Dealers

Members of the Retail Motor Industry Federation

Secured by Thawte

PCI certified

Cyber Essentials certified
Reviews
We value customer satisfaction above all else, so we are very proud to have served over a million satisfied customers in our 40 years of business.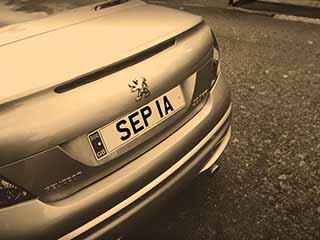 A pleasure to do business with, Fast efficient service. Ordered my number plate over the Easter weekend. Everything was completed, and new plates were on the car in less than two weeks. Hope to purchase another plate for my motorbike soon.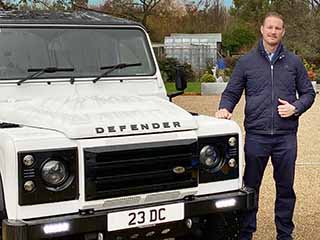 I'm a huge fan of Regtransfers. I'm extremely happy with my plate it goes really well with my collection.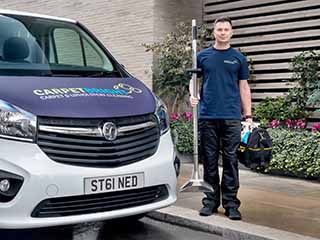 Our number plates have definitely helped raise the profile of our cleaning business. The company currently owns HO08 VER, ST64 MER, ST64 MED, C4 PET, A B19 RUG, ST61 NED, DU57 RUG and many more. Regtransfers have been a key ingredient in our building a collection of cleaning related number plates. They have helped us become the most recognisable carpet cleaners in the UK.
Need to contact us?
Getting in contact with us couldn't be easier. We are open 9 am to 9 pm, 7 days a week so you can call us anytime on 01582 967777. Alternatively, you can contact us through our social media channels or with our contact form.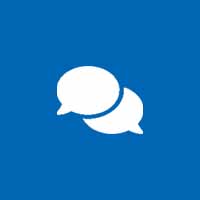 Social Media
Follow us on Facebook, Instagram, YouTube and Twitter. Our social media channels offer yet another way to contact us.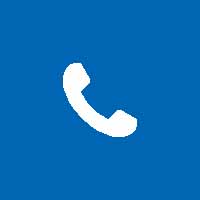 Phone
Our lines are open for you between 9 am and 9 pm, 7 days a week. Our highly trained staff are ready to guide you through the process of buying or selling your own private number plate.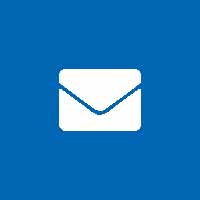 Contact form
Our contact form is a convenient way to get in touch. You can simply fill out the form and we will have the relevant information we need to assist you.