Regtransfers magazine
The World of Personal Number Plates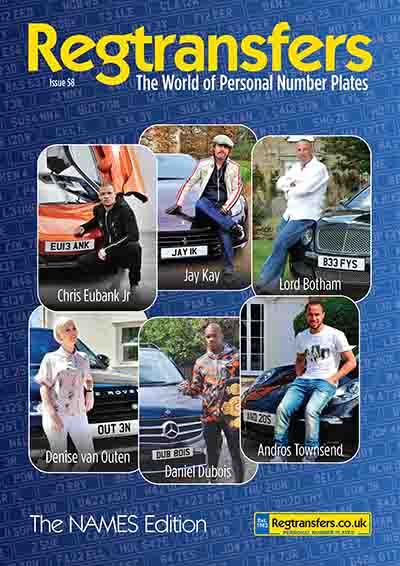 A fantastic magazine packed full of number plates information and stories.
Our great full-colour magazine is absolutely FREE and there's no postage to pay. Every 84-page issue features:
Celebrity interviews
The best selection of numbers available
News and articles
Helpful number plate information
Buying and selling tips
We also feature articles on number plates as an investment opportunity and the many ways that businesses are using private vehicle registrations in promotional campaigns and for branding corporate vehicle fleets.
Inside this issue
Jay Kay of Jamiroquai JAY 1K
Anglia Holdings MJC 60
You'd Butter Believe It! 3 RC
High Fliers ANN 3
A Robust Investment 700 JK
Nearly Complete 222 N
Passion JIL 38
The Icing on the Cake GR14 NNE
Unorthodox JNP 6
No Stranger S 76
Determined EFZ 232
There's a Plaice For Us PH11 COD
The X Men 9 MXS
Raising a Few Eyebrows SO13 PHE
Smooth RAH 362
Car Mad POR 555H
The 480 Bug ED13 FOX
Fire! RO52 ELL
June's Baby 69 FB
Have your say
We think the best stories are your stories. From individual customers to large enterprises, we encourage customers and businesses to tell us about their private registrations. There is always room in our magazine for article suggestions and interesting number plates stories. To send in a suggestion or story, please email editorial@regtransfers.co.uk.
Are you Regwise?
If you opt-in to receive our marketing, you will receive a FREE personal list of selected registrations. You'll also start receiving our excellent Regwise newsletter. Learn more about becoming Regwise.