Regtransfers magazine
The World of Personal Number Plates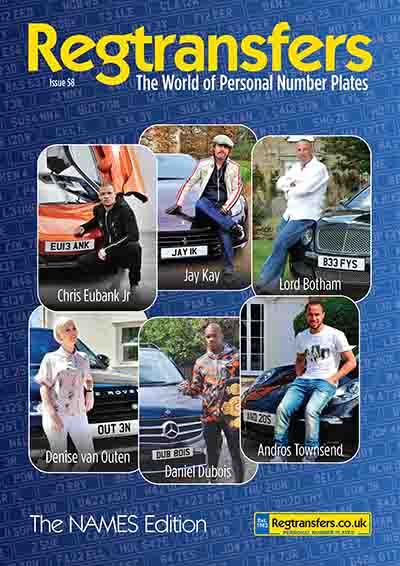 A fantastic magazine stuffed full of number plates information and stories.
Our great full-colour magazine is absolutely FREE and there's no postage to pay. Every 84-page issue features:
Celebrity interviews
The best selection of numbers available
News and articles
Readers' letters
Helpful number plate information
Buying and selling tips
We also feature articles on number plates as an investment opportunity, and the many ways that businesses are using private vehicle registrations in promotional campaigns and for branding corporate vehicle fleets.
Inside this issue
This'll Make You Smile (2 FX)
Dad's Plate (SC 66)
A Cliff-Hanger (PW 261)
Working My Way Towards the Exit (2 SJB)
The Rest is History (1 PJS)
Concours d'Elegance (ROB 482)
Flying High (YYY 1)
Mulling It Over (XFV 1)
Chiles Play (DRC 983)
A Lovely Reaction (SKJ 3)
Straight From the Horse's Mouth (CHE 121E)
10th Anniversary Plate (10 MDJ)
You can also find our back issues here.
Have your say
We think the best stories are your stories. From individual customers to large enterprises, we encourage customers and businesses to tell us about their private registrations. There is always room in our magazine for article suggestions and interesting number plates stories. To send in a suggestion or story, please email marketing@regtransfers.co.uk.
Free personal list of private number plates
If you opt-in to receive our marketing, you will receive a personal list of selected registrations. The numbers will be chosen based on relevance to you. The list may even contain your perfect personal registration.
There is no charge and no obligation to subscribe. Your personal list is just another great free benefit from Regtransfers. It's all part of the excellent service.