Regtransfers magazine
The World of Personal Number Plates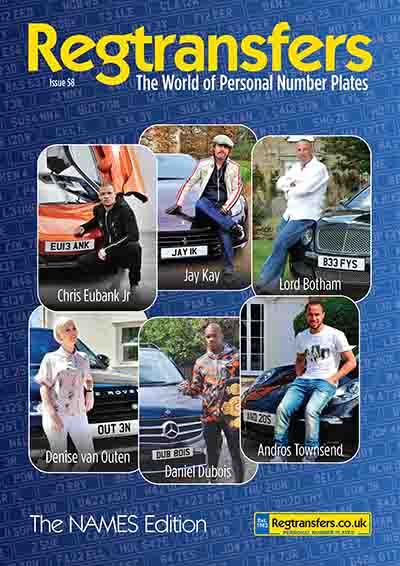 The World of Personal Number Plates - a fantastic magazine is stuffed full of articles, tips and special features and it is free.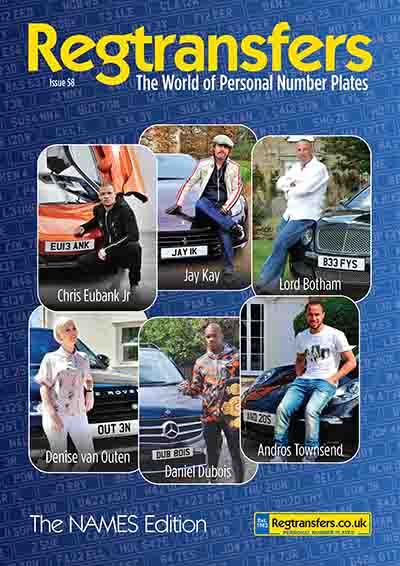 Inside this issue
Plate Update 41 MEE
Bon Voyage NTS 31
Join the Club 10 FOC
Kid's Stuff 979 E
Something Different PFH 430
Back to Being Me 1 LUB
Standing Out from the Crowd SCO 77G
Fascinated 9999 D
The Happy Couple KLS 6
The Bond Girls CH13 OND
Safe and Sound Fire Ltd 63 JN
E3 NUF is Enough! E3 NUF
What's It All About..? ALF 1J
Getting it Wight ELT 10W
Not a Lot of People Know That 2 ULU
School of Thought JE11 VES
Ooh Yes! BO55 OOH
A fantastic magazine stuffed full of number plates information and stories. Our great full-colour magazine is absolutely FREE and there's no postage to pay. Every 84-page issue features:
Celebrity interviews
The best selection of numbers available
News and articles
Helpful number plate information
Buying and selling tips
We also feature articles on number plates as an investment opportunity and the many ways that businesses are using private vehicle registrations in promotional campaigns and for branding corporate vehicle fleets.
Want to read one of our previous magazines?
Read back issues here
Have your say
We think the best stories are your stories. From individual customers to large enterprises, we encourage customers and businesses to tell us about their private registrations. There is always room in our magazine for article suggestions and interesting number plates stories. To send in a suggestion or story, please email editorial@regtransfers.co.uk.
Are you Regwise?
If you opt-in to receive our marketing, you will receive a FREE personal list of selected registrations. You'll also start receiving our excellent Regwise newsletter. Learn more about becoming Regwise.