Regtransfers magazine
The World of Personal Number Plates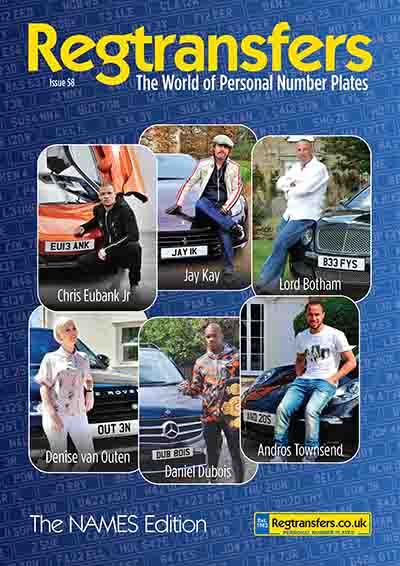 The World of Personal Number Plates - a fantastic magazine is stuffed full of articles, tips and special features and it is free.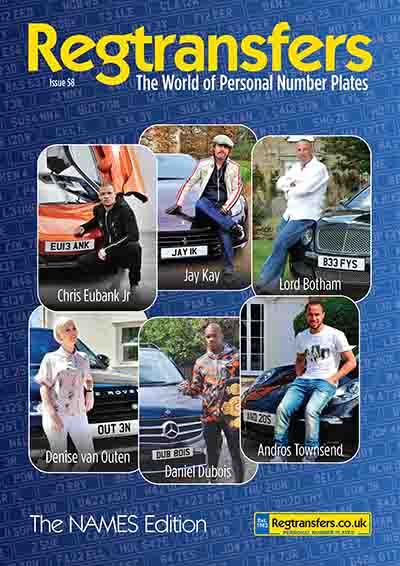 Inside this issue
My Name'5 Doddie DOD 111E
Lambo Liyan 6 KU
Nick Mason of Pink Floyd 250 GTO
Think Twice JLP 1 • 1 JLP
The Bowgie Inn BOW 31E
It's Joe Cooper! JO03 MLE
Complementary WSG 5
Happy to Oblige M422 CUS
The Cherry on the Cake 997 BE
Saxton 4x4 1 SUV
Potty for Plates 6 UTE
A Great Set 8 NSD
The Badger 1 FCJ
Part of the Family HJM 704
A Gentleman of Leisure EAS 70P
Top Notch EXE 73R
A Life on the Ocean Waves GBB 1K
Micromania! MOP 377A
A fantastic magazine stuffed full of number plates information and stories. Our great full-colour magazine is absolutely FREE and there's no postage to pay. Every 84-page issue features:
Celebrity interviews
The best selection of numbers available
News and articles
Helpful number plate information
Buying and selling tips
We also feature articles on number plates as an investment opportunity and the many ways that businesses are using private vehicle registrations in promotional campaigns and for branding corporate vehicle fleets.
Want to read one of our previous magazines?
Read back issues here
Have your say
We think the best stories are your stories. From individual customers to large enterprises, we encourage customers and businesses to tell us about their private registrations. There is always room in our magazine for article suggestions and interesting number plates stories. To send in a suggestion or story, please email editorial@regtransfers.co.uk.
Are you Regwise?
If you opt-in to receive our marketing, you will receive a FREE personal list of selected registrations. You'll also start receiving our excellent Regwise newsletter. Learn more about becoming Regwise.