Regtransfers magazine
The World of Personal Number Plates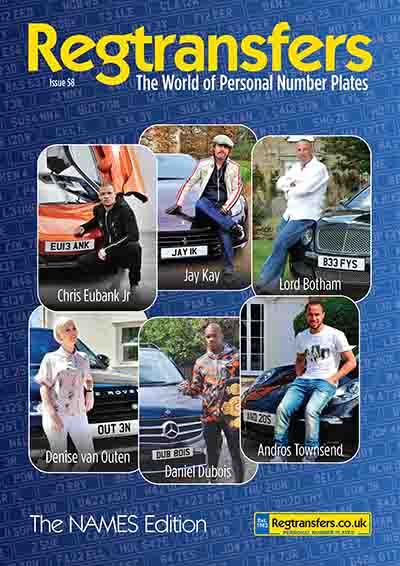 A fantastic magazine stuffed full of number plates information and stories.
Our great full-colour magazine is absolutely FREE and there's no postage to pay. Every 84-page issue features:
Celebrity interviews
The best selection of numbers available
News and articles
Readers' letters
Helpful number plate information
Buying and selling tips
We also feature articles on number plates as an investment opportunity, and the many ways that businesses are using private vehicle registrations in promotional campaigns and for branding corporate vehicle fleets.
Inside this issue
Chris Eubank Jr (EU13 ANK)
Perfect Pairs (KAS 3)
The Best Possible (CA11 ABY)
A Piece of History (1 WMC)
Chameleon Web Services (18 EVS)
Years to Come (1 PEE)
Little Red (2183 FM)
Words of Wisdom (RWC 7)
I've Been Everywhere (857 AJF)
Lucky 7 (GKL 7)
It Fits the Bill (MU51 CBB)
You can also find our back issues here.
FREE Personal list of private number plates
Everyone who requests a copy of our great free mag will also receive a personal list of selected registration numbers. The numbers will be chosen for their relevance to you and, who knows, we may find your perfect personal registration.
There is no charge and no obligation. Your personal list is just another great free benefit from Regtransfers.co.uk. It's all part of the service!
Have your say
We want to publish what you want to read. Suggestions for articles are always welcome. We also encourage customers and businesses to tell us about their private registrations. There is always room in our magazine for your interesting number plates stories.