Number plates as an investment
You may be buying your personal number plate to personalise your car, to hide its age or simply as a bit of fun, but did you know that you may also be investing in something that will bring you a nice profit should you decide to sell it in the future?
A healthy market
Private number plates, once an elitist flourish seen only on the luxury cars of the rich and famous, have become a universally popular way for car owners to personalise their vehicles.
There is still exclusivity at the high end of the market but people now realise that there is a wide choice available, with something to suit every budget.
This growing popularity has driven the growth of a multimillion-pound industry around the buying and selling of car registrations. Astronomical sale prices frequently make the news and every number plate auction seems to produce at least one record-breaking or headline-grabbing sale.
Since it began selling personalised registrations in 1989, The DVLA has sold a staggering 6 million registrations.
Recent data shows that the British public owns a staggering £4.3bn worth of private number plates and personalised plates are now taken into account as assets when bodies such as the Office for National Statistics calculate the UK's national wealth [1].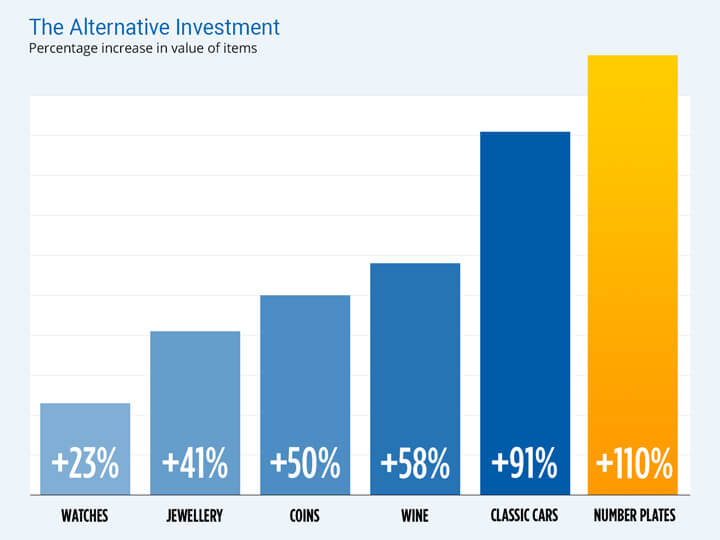 ---
The hidden value in your private plates purchase
In recent years, alternative investments such as classic cars, wine, jewellery etc have consistently gone up in value and have often outperformed traditional stocks and bonds.
The value of private registrations over the same period has shown a similar trend. Actually, in percentage appreciation terms, top quality private registrations have performed even better than classic cars, antique furniture, watches, wine, art or jewellery. Here are just a few examples showing how much the value of good registrations can grow.
Reg

istration

1st Sale
2nd Sale
Overall Increase

2 TL

£3,500 (1995)
£48,200 (2020)

1277%

JAM 3S

£9,200 (1998)
£95,000 (2021)

933%

1 AJT

£8,800 (2001)
£72,000 (2021)

718%

AY55 HAA

£1,500 (2015)
£9,800 (2019)

553%

97 J

£9,000 (2011)
£55,000 (2018)

511%

80 WES

£4,700 (2012)
£25,000 (2021)

432%

CAS 51N

£2,400 (2019)
£12,500 (2021)

421%

BLA 6K

£3,500 (2007)
£17,000 (2019)

386%

P14 STA

£3,250 (2018)
£7,750 (2020)

138%
Who buys?
There is no shortage of millionaire and entrepreneur owners of private car registrations. These astute people earned their reputations and their fortunes by investing wisely. Here are just a few of the successful people who have come to Regtransfers for their private registrations: you will know their names.
The bottom line
Unlike a car, a private registration holds its value very well indeed. Furthermore, a well-chosen registration may bring a genuine investment benefit and, ultimately, a very tidy profit!
Let's find yours!
Our sales advisors are available to help you find your perfect number plate.
And they are rather good at finding great combinations that you've never thought of.
Call us on 01582 967777, 9am - 9pm, 7 days a week.
Footnotes:
For the purpose of this analysis we examined all sales of private number plates in the formats ranging from single-letter/single number combinations to three-letter/three number combinations. This group includes the vast majority of categorisable private registrations.
Source for all other assets: Knightfrank.com Luxury Investment Index