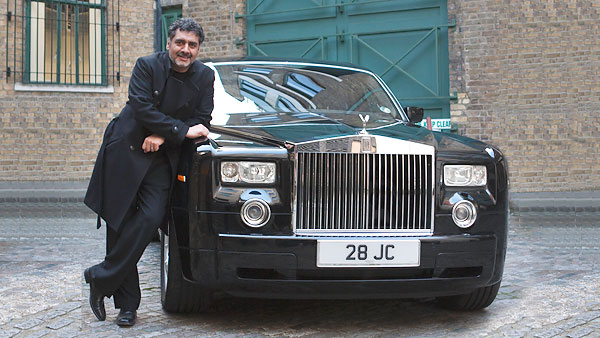 James Caan
James Caan and his colleagues from the BBC television series Dragons' Den have transformed the way the British public views business and business people. Dragons' Den focuses on real aspiring entrepreneurs with real products and ideas, unlike its BBC stable mate The Apprentice, which contrives relatively two-dimensional and unrealistic scenarios and exercises for its contestants to endure. The show may be formatted and presented for television, but its unique element of realism is undeniable.
Caan, originally named Nazim Khan, was born into a liberal Muslim family in Lahore, Pakistan in 1960. His father, who was in the 'rag trade' moved to Britain that same year, working hard until he could pay passage for the rest of the family, including young Nazim.
Even as a lad, a certain commercial inclination was evident in James. In an early venture he sold some of his father's jackets to school friends at a good profit. However, James and his father did not always see eye to eye. James's teenage interest in nightclubs was frowned upon, and his disinclination to go into the family business was seen as a further disappointment, as was his decision to shun school examinations in favour of seeking work. James moved out of the family home and into a flat of his own.
He soon found work at a small recruitment agency. His income reached a decent level, and by the age of 17 James had bought himself a car: a second hand MG Midget. At this time, James was still known by his birth-name, Nazim, until a trip to the cinema inspired a change. The movie was The Godfather.
"As the opening credits rolled, I noticed the name James Caan, who at the time was one of the coolest actors in Hollywood.
I was called Nazim Khan, and it suddenly struck me that I could spell my surname in a different way."
Nazim Khan became James Caan, and what started as a joke with friends soon proved to be a very handy gimmick in his business dealings.
"Presenting myself as James Caan was a great opener with potential clients, so I used it all the time, eventually changing my name by deed poll some years later, much to my father's disapproval."
At 19 James had moved from recruitment into financial services, and the MG had been replaced with a Mercedes. This was to prove a very significant point in his life, as it was during this time that James met Aisha, the young lady who would become his wife.
The couple first met when Aisha attended an interview at James's office. Although her application was successful, Aisha eventually declined to accept the job she was offered, deciding instead to open a boutique of her own. Aisha had made quite an impression on James and, in his desperation to stay in touch, he offered to invest in the business she was planning. The only complication was that in order to deliver the investment he had promised, James had to borrow £30,000 – a fact he did not share with Aisha at the time.
The business grew slowly, and at the age of 21, James proposed to Aisha. They married two years later.
With the boutique's eventual success came another transport upgrade. James acquired a Rolls-Royce Silver Spirit… and the belief that it was time to develop a business of his own.
James decided upon a return to the recruitment industry. He started an agency that he called Alexander Mann. He thought the name sounded professional and credible. Further steps were taken to ensure that the business looked the part and that it would give potential clients the impression of a confident and established company. James rented an office in Pall Mall that he claims was actually a windowless former broom cupboard. Be that as it may, he was delighted with his prestigious business address.