The easy way to keep a private registration number that isn't on a vehicle.
---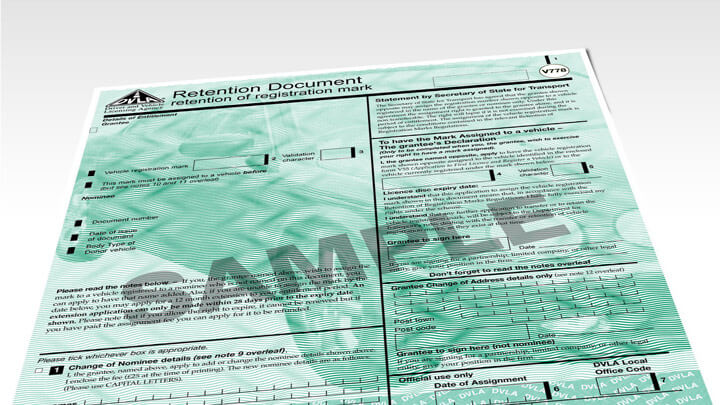 There are times when you may want to keep your personal registration but find yourself without a car to put it on. Perhaps you've sold your car or maybe you've bought a new private number but want to keep your old one. Whatever the reason, storing a number safely until it is needed is a useful option to have. Fortunately, DVLA provides this service with their number plate retention scheme.
The vast majority of numbers are eligible for retention. The few that aren't are those registrations beginning with Q or NIQ, or those whose V5 registration document bears the words 'non-transferable'.
You will have to submit an application to retain your number. It's a simple process that can be done online or by post. Once everything's done you'll receive a Retention Document that proves you own the registration and entitles you to transfer it to a vehicle when you're ready to do so.
The Retention Document (V778)
This is valid for 10 years and it can be renewed. If you got your registration before 2015, you must renew more frequently (this will be noted on your V750 or V778 document).
Requirements
In order to satisfy the rules governing the retention of a registration, the vehicle from which the number is being transferred must:
be registered with DVLA in the UK (your V5C document confirms this)
able to move under its own power
of a type that needs an MOT or heavy goods vehicle (HGV) test certificate, such as a car, van or lorry, for example
have been taxed or had a SORN in place continuously for the past 5 years
be taxed currently (or have a SORN in place - if it's had a SORN for more than 5 years, it must be taxed)
be available for inspection
DVLA will contact you if an inspection is required.
How to apply
Online
You will need to:
Be in possession of your V5C Registration Document
Visit the DVLA page entitled Take a private number off a vehicle and apply for the transfer to a Retention Document
Pay the £80 DVLA transfer fee
Await the arrival of your V778 retention document and your new, updated V5C
When you have completed the online application and payment, the registration number will be removed from your vehicle immediately, unless DVLA needs to inspect it.
Once you've successfully completed the retention you must not display the number on your vehicle. You will be issued with a replacement V5C document showing the registration number that has been assigned to your vehicle in place of the one you've removed. You must display this replacement number.
By post
You will need to:
Download the form V317 from the DVLA website
On page 1 of the form, check the box to say that you want to take the number off a vehicle and keep it on a retention document.
Show me where to tick

Go to page 2 and complete part 7 of the form with your car details and a contact phone number (the car details may be found on your V5C registration document - sometimes known as the "log book")
Complete part 9 of the form only if there is to be a change to ownership of the registration number.
Complete part 10 of the form only if a dealer is acting for you and you want them to receive correspondence and documentation on your behalf.
Send the completed V317 form and other required items (as listed in section 8 of the V317) to DVLA at the address on the form. You must send:

The V317 form
Your V5C vehicle registration document
The retention fee of £80

Await the arrival of your V778 retention document and your new, updated V5C.
If the number you are retaining was a private number plate then DVLA will usually reissue the registration number with which your vehicle was originally registered.
---
Watch our video
---
Related articles