How to retrieve a stolen personalised number plate
If someone steals the acrylic plates from your car, the first thing to remember is that they will only have taken the physical plates: your actual private registration number is still registered with DVLA as being assigned to your car. As the owner of the right to display that number, you can get a new set made up to replace the stolen plates.
---
What should I do if my number plates are stolen?
Even though your actual personal registration may be safe, the theft of the acrylic plates is still a crime and should be reported as such. Furthermore, there is the potential for other problems to arise as a result of the theft. Stolen number plates are sometimes used to clone vehicles. Cloning is a way for a criminal to disguise a vehicle used for illegal purposes, such as leaving a petrol station without paying for fuel, avoiding speeding fines or getting away from the scene of a robbery or other offence. If the plates used to disguise the vehicle are taken from a car of the same model and colour then the attention of the police can become wrongly focused on the owner of the plate from which they were taken rather than the real culprit.
If your acrylic plates are stolen then you should inform the police immediately and ensure that you get a crime reference number. That way, if your number plates are used for criminal purposes, you will be able to prove that you reported the theft. If you act promptly your report may well be logged before the thief uses your plates.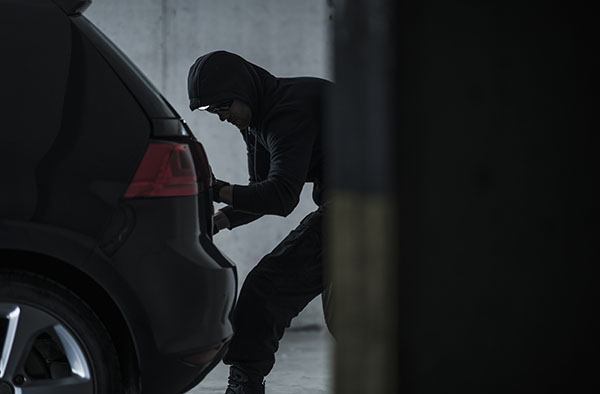 What should I do if my car and private number plate are both stolen?
Report the incident
As with any crime, you should report the incident to the police immediately. As would be the case if just your acrylic plates were stolen, reporting the incident will alert them that your registration number has been stolen and that it could be used to commit further offences. Again, make sure you get your crime reference number.
Retain your registration number
There is a risk that your car could be involved in a fire or collision while it is away from you. As it is not permitted to transfer a registration from a car that has been written off, you should inform DVLA of the theft and apply to have your private registration number placed on a retention document. This document, often simply called "a certificate", is a way of holding your number safely in readiness for transfer to a vehicle when you have one available. The process is subject to a fee of £80.
Your application to retain the number must be submitted within 2 years and 6 months of reporting your vehicle stolen to the DVLA and the vehicle must have had a valid MOT certificate and up-to-date vehicle tax at the time of the incident.
If you do not get your stolen car back, you must wait 6 months before you can transfer your private number plate from your retention certificate to another car and the transfer process must be conducted by post. On the other hand, if you do get your car back, you can carry out the transfer straight away.
---
Related articles