Jobs and interests related number plates
Find a number plate that relates to your profession or hobby.
Many people prefer their private number plates to reflect their profession, vocation or favourite leisure pastime. Our Jobs and Interests search is the place to look for numbers relating to jobs and hobbies.
This category also covers number plates that relate to industries or products. In this context, number plates can be a fine marketing tool. The vans in our picture are owned by Pimlico Plumbers, a london company that has fitted private number plates to its entire fleet of vehicles. Their plumbing themed registrations have generated a lot of media interest and the company is often seen on TV and in the papers.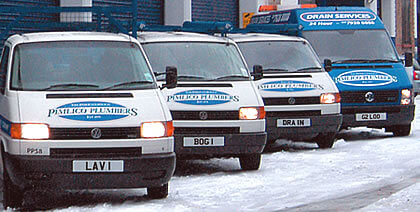 One example is Pimlico Plumbers who have purchased many registrations from us (DRA 1N, BOG 1, LAV 1 etc) over the years to adorn their company vehicles, which make their sign written vehicles and company vans, stand out from the competition.