Cherished Registration Numbers
---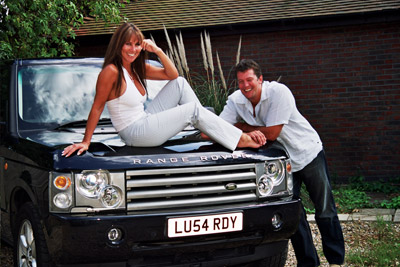 Cherished number plates is sometimes seen as a strange description for what we provide to our customers – many prefer the terms 'personalised registration plates' or 'personal car number plates' – but in very many cases cherished number plates is just what they are. It is not at all unusual for customers to tell us that they have been seeking a specific registration for some time – as regular readers of our magazine will know. There are certain letter and number combinations that have become almost legendary, and which would certainly not suffer for the want of prospective purchasers should they ever be offered for sale again!
People get very attached to their plates. Recently, model and TV personality Linda Lusardi and her husband, the actor Sam Kane, came to Regtransfers for Linda's ultimate registration LU54 RDY. Even though it was necessary to compromise just a little on the spelling (there is no 'RDI' variation issued on this registration sequence) everyone agrees that it is a very striking mark. The meaning is very obvious, with no need to resort to tinkering with the characters or spacing, and Linda is delighted. A cherished number plate indeed, and one which will no doubt provide enjoyment for years to come.
So, obviously people like to find registration marks which represent their name, or something about them: a hobby or occupation perhaps. Number and letter combinations which represent initials and dates of birth are also very popular indeed. However, when it comes to the ultimate in status symbols, it is the number 1s which must be considered the ultimate cherished number plates. Regtransfers is currently advertising for sale the number X 1. This mark truly is one of the legends, and there are quite a few people who already have their hearts set on owning it. It looks as if it will be a race to see who can find the spare £500,000 first!
But that's an exceptional case. Don't worry that your own perfect registration may be beyond your means. At Regtransfers we have something for every budget – in fact, something for everyone. Some of the most popular plates, initials plates for example, may be had for under £250, so why not search for yours today?