As the main way to visually identify your car, your vehicle's number plate is an important bit of kit. Modern number plates are made from a kind of plastic known as acrylic. It's similar to the material you find sold in clear sheets in DIY stores for secondary glazing. That's why you'll sometimes hear them referred to as acrylic plates.
Number plate rules and regulations
In order to ensure that number plates are clearly readable by both people, such as police officers, and technological equipment such as speed cameras and ANPR systems, the government has set out very strict rules and specifications governing number plates. The rules cover everything from the colour and reflectivity of the number plates, to fonts, character size and spacing, badges, borders and more. The rules controlling the manufacture and sale of number plates are even more restrictive.
Penalties for displaying non-compliant or illegal number plates are quite harsh and can range from MOT failure to hefty fines and loss of your registration without compensation.
Don't take any chances. Make sure your number plates comply with the current regulations by consulting our guide to number plate rules.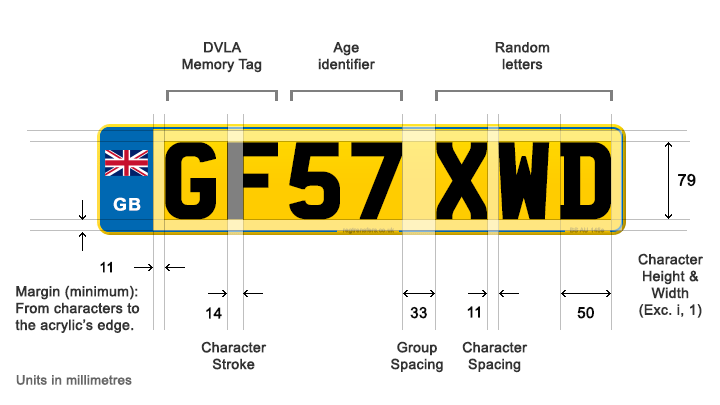 Motorbike and motor tricycle number plates
As bikes and trikes are smaller than cars, it makes sense that their number plates shouldn't be as large. There are prescribed specifications for motorcycle plates just as there are for cars. We set out all the vital details on our Number Plates for Motorcycles page.
Buying replacement number plates
Do you need to replace a broken number plate? Or maybe get an extra rear plate for a trailer or caravan? Gone are the days when you could just pop into town and legally buy a set of cheap number plates from the chap on the market. These days you have to purchase from a registered supplier. Additionally, you must produce several documents in order to prove your identity and your entitlement to buy number plates for the relevant registration number.
These restrictions and conditions are imposed by DVLA and, in combination with the rules governing the appearance of number plates, are supposed to help reduce crime by making it more difficult to buy "false" plates.
Read our full guide to buying replacement number plates.
Fitting car number plates can be easy if done correctly, however, the acrylic plastic that plates are now made from can scratch or crack if handled carelessly. Our illustrated guide will ensure that your new number plates make it onto your car intact.
With a little preparation and some basic tools, changing or fitting new number plates will only take a few minutes.
Read our how-to guide to fitting number plates
Green Plates
From 8th December 2020, cars generating zero tailpipe emissions are entitled to display number plates that include a green flash to indicate the vehicle's environmentally friendly credentials. Number plates of this style are commonly termed "green number plates".
The green flash replaces the optional blue panel on the left-hand side of the number plate and an optional, matching green border is also permitted. Neither the green flash nor the green border are compulsory on zero-emission vehicles: this new number plate variant is entirely optional for owners of qualifying cars. If you don't want a green flash or a green border, all other current options remain available including national flags of UK constituent countries and a variety of coloured borders.
Currently, only fully electric cars and hydrogen cell cars qualify as zero tailpipe emissions vehicles, so hybrid vehicles are not eligible to display green number plates.
Show plates
Show plates are number plates intended for use at events held off the public highway, such as car shows and meet-ups. They enable owners to use words, numbers or anything else on number plates for the purposes of exhibiting the vehicle in a location where the usual number plate display rules don't apply.
People who buy show plates must be careful though. Just because they aren't intended as on-road number plates doesn't mean that they're entirely free of possible pitfalls. For example, if one should forget to replace the show plates before driving home then one would risk an embarrassing and potentially expensive encounter with a diligent police officer.
Read more about show plates.
There are concessions for older and vintage cars. "Historic vehicles", i.e. those built prior to 1973, are permitted to bear the old-style black plates of either plastic or traditional metal construction.
Refer to the document Vehicle registration numbers and number plates for more information.