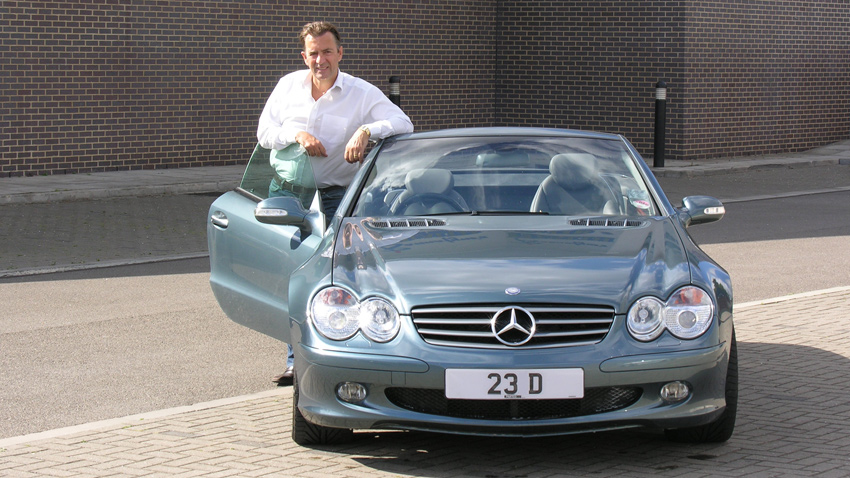 Duncan Bannatyne
Big business people are big business. High-profile entrepreneurs are dominating the media just as celebrity chefs did a while ago, and as antique experts, gardeners and interior designers did before that. Shows such as Dragons' Den and The Apprentice have reinforced the stereotype of the big businessman as a ruthless autocrat with an eye for a deal, and no tolerance for weakness or ineptitude. Sir Alan Sugar pulls no punches in his criticism of candidates found wanting when he passes sentence of "You're fired!". Similarly, the members of theDragons' Den panel mercilessly dismember poorly prepared pitches and badly conceived products.
With all that in mind, it was with some trepidation that our reporting team set out for a meeting with Duncan Bannatyne, OBE, perhaps the most famous of the BBC's Dragons. The interviewer and photographer were selected by the drawing of straws, with the recipients of the shortest straws being pushed out into the line of fire. Armed with knowledge from Bannatyne's autobiography and their best asbestos underclothes, they set out for his head office in Darlington. The office in question is a surprisingly plain building – a former electricity board office block – but Bannatyne is no believer in spending money on flashy premises for the sake of it. He is a practical man who sees no point in increasing overheads unnecessarily.
Duncan and fellow Dragon, Theo Paphitis, are among the increasing number of serious businessmen who see the investment value in private car number plates, as well as the potential for marketing, branding and maintaining a public profile.
"When I sold my public company and started new companies, I started buying a few plates at auction just for something to do. Actually, one of the big things in those days was that it was very easy to see how old the car was by looking at the number plate. You would change your car every two or three years because people could see it was a few years old. We worked out that if you bought a number plate that hid the age it was cheaper than buying a car [laughs].
"I didn't get 23 D from auction though, that was a present from my first wife along time ago. She got it in the '90s and I got her G 74 which my oldest daughter uses now. My van, the gym repair van, has F1 TSO on, and I bought 111 JO, for my wife, Joanne. So we have quite a few. There's also 1 LGO, 5 EBS, 2 BHM, 6 AVS, 52 DB and 50 PAM." Would he sell them if he received good offers? "Oh yeah, they're all on the market. I had 8 DWB on my Chrysler, I think I've sold that now. And I've sold 33 PAM,99 DB, KPS 3, V8 BMW, 44 DB, RAC 5, NAC 1, and 4 GGY. I'd consider buying more, but the price would have to be right. I've made a bit of money on them."
As a child who had to work a paper round in order to afford a bicycle, Duncan probably never dreamed that he would, one day, own several cars with personalised registrations. He was born in Clydebank in 1949. His family was not well-off, and the young Duncan began looking for opportunities at an early age.
When he was 15 he signed up for an 11-year stint with the Royal Navy, but he was discharged prematurely following an altercation with an officer. After the Navy, Bannatyne moved between a number of jobs, at one point moving to Jersey for a few years, where he met his first wife, Gail. But it was after relocating again at the age of 30, this time to Stockton-on-Tees, that he first went into business for himself.
His first venture was an ice cream van, which he bought for £450. After building up that business by acquiring more vehicles, he sold at a profit and moved on to a different industry. The nursing home business was a far cry from selling ice cream, but Bannatyne made a success of that one too, and once again when he sold the business it was for a substantial profit. In fact, from the £450 he paid for his first van, he had, by 1996, worked his way up to £58 million, which was the price he got when he sold the nursing home business and a chain of children's nurseries.
Diversity has been a hallmark of Duncan Bannatyne's career and his recent interests have included the well-known Bannatyne's health club chain as well as bars, casinos and hotels. The 2007 Sunday Times Rich List estimates that he is worth about £200 million, and rates him as the 351st richest person in the UK. Not bad for a fellow who was once locked up and then thrown out of the navy for trying to throw a drunken, cocky officer off a jetty.
Bannatyne has said that after the whole navy experience he realised that no one else would help him realise his potential, and that he had to take charge of his own life. Although he left the navy with no references or qualifications, Bannatyne became motivated to go into business for himself.
The business career has been impressive, but the British public know Duncan Bannatyne best for his role in the BBC 2's Dragons' Den. The popularity and notoriety he earned as one of the more fearsome Dragons has brought other television opportunities, including appearing on a somewhat similar ITV show Fortune – Million Pound Giveaway where people put their case trying to persuade a panel to give them money so they can realise their dreams.
At the time of our interview, Duncan is nearing the end of filming for the new series of Dragons' Den. The show is one of the things that takes him from his home in Darlington down to London;
a trip he makes regularly.
"Yes, I'm down there almost every week, either filming Dragons' Den, or… Well, this week is the official launch of the paperback [his autobiography, Anyone Can Do It: My Story]. So I'll be going round signing books in the shops."
Despite Duncan's frequent journeys south, Wynyard near Teesside is the Bannatyne family home. His house is a fairly modest affair for such a wealthy man, but its location offers many benefits for a family with young children.
"I live on an estate that has security at the gates, so my children are able to go out in safety. At five years old they can go down the cul-de-sac to visit their friends and we're never afraid that anything's going to happen to them. In fact, they're out there all the time. If I had a big house surrounded by fences and things then the children wouldn't have their friends to play with. There are about 20 children living in the cul-de-sac and they're out there playing all the time. They have a great life. I live there because it's a children thing."
In addition to the Wynyard house, there is another house in Cannes, France. "It's a beautiful six bedroom villa which costs me a lot more to upkeep than the English house, and I have to have staff there. We spend the whole summer there. The kids have the swimming pool and, once again, it's very family orientated. My 8 year-old daughter has arthritis and being in the pool really helps her."
Bannatyne's attitude to expenditure seems very much coloured by his modest roots. There is no casual disregard for the cost of anything. No taking endless resources for granted.
"I spend where I think it's necessary.
I used to fly to the villa in France on a private jet but now easyJet flies three times a day, so I use them. It's convenient. I do look after the pennies, but I spend on convenience for my family."
Family and children are recurring themes during the interview, and clearly children are very important to Bannatyne. He was awarded an OBE in 2004 for his work raising money for charity, and he is a keen supporter of UNICEF, the United Nations Children's Fund, and Scottish International Relief. He has helped with the funding of orphanages in Columbia and Romania.
Bannatyne's own children span a range of ages: 23, 21, 15, 13, 8 and 5, with the two youngest, from his second marriage, living with him at home. The older children are making their ways in the world, but so far none have chosen a similar entrepreneurial path to their father's.
"My eldest daughter has just moved to Bristol to be with her boyfriend. She's done a media course, which she's finished this year, and she's just starting to look for employment now. My 21 year-old daughter is still at university in Leeds. She's not sure what she wants to do when she finishes but she's taken business as part of her studies, so she might get into it. I'm not rushing them.
I'm not telling them what to do. They can make their own decisions."
This relaxed attitude is understandable when one remembers that Duncan himself didn't start in business until he was 30. In fact, he seems content to conduct his current business life at a fairly relaxed pace. Far from being chained to a desk until late night, Bannatyne reckons that he generally only spends about 5 hours a week in the office.
"I do most of my work by Blackberry, which is constant. I'm not on it all the time but it's constantly with me, so I use that. When I used to go to the villa for six weeks, I'd have to come back at the weekends and go through the emails, but now I don't have to because I get them on the Blackberry. I can spend more time by the pool in the villa!"
But Dragons' Den requires his physical presence and the PDA can't help there. The new series sees the arrival of James Caan, successful veteran of several service industries, who has been brought on board to replace the very popular Richard Farleigh.
Does Duncan get on well with the other Dragons? "Oh yeah. I used to meet Richard a lot because he's got a place in Monte Carlo. He used to bring the kids to my pool, and I've met James Caan for dinner because he's also got a place in Cannes. The others… Well, Peter has a place in Portugal and Theo's got a place in Spain, but I don't like Puerto Banus and don't go there, so I don't meet them abroad. Another problem is that they smoke, and I just find it hard to socialise with people who smoke."
Duncan would be the first to admit that the television exposure afforded by a show like Dragons' Den can do wonders for one's profile. "It helps me in business in a lot of ways. Last year I bought 26 health clubs from Hilton Hotels for £92 million. If I'd phoned the broker about three years ago, he would have ignored me. He wouldn't have known I had £92 million pounds. To him I would just have been someone called Ballantyne or something from Scotland. But now it's different.
I managed to get the bank to lend me £190 million pounds to buy it and to pay off debts. So, due to the profile the company has got loan it wouldn't have got three years ago."
What does Duncan have planed for the immediate future? "In January I'm going to Africa with Richard Branson. We formed an organisation called Entrepreneurs Unite [www.entrepreneursunite.com]. The idea behind that is to get ten or twenty entrepreneurs to make contributions every year. But instead of giving money with no homes or no food, what we do is invest in businesses locally. So if, for example, there was a woman in South Africa offering bed and breakfast for tourists, and she can only take three people in and she wants to extend the house then we could invest in that. We will never take any money out: it all goes back into the main company and it gets reinvested. So it's actually done more like a normal investment.
The first investment we agreed was actually to allow farmers to pasteurise their own milk. A trip of 50 miles to the nearest dairy and 50 miles back was quite an issue for the farmers, so we're doing that sort of thing. It's still in its early stages but the organisation is formed and we'll go back in January and see what's happened. "I'll always be involved in charity. What I don't want to do is just send cheques to Children in Need every year."
And what about his own business projects? "My plans are just to continue growing my businesses and enjoying them: to spend time with my six children and enjoying them. Doing more television work and enjoying that too. Oh, and living for a hundred years doing it. Life is just so fantastic."
Those are surely the words of a fairly contented man. Duncan Bannatyne seems to have a knack for getting the most out of life, and his work abroad shows that he is willing to share the benefits of his labours.
We didn't need the asbestos underwear after all.
---
Rick Cadger
Interview: Angela Banh
Photography: John Doherty
©2007 Regtransfers.co.uk