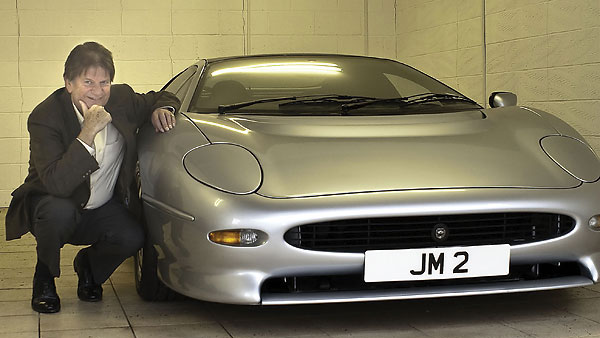 Sir John Madejski
To those readers who have been with us since the second issue of Regtransfers: The World of Personal Number Plates, Sir John Madejski's love of good personal number plates will come as no surprise.
He featured in that early issue with an enviable stable of fine cars and an equally impressive collection of top-notch private registrations.
Sir John has a number of claims to fame, but to most people he is probably known best as the Chairman of Reading Football Club. He is clearly proud of his association with the club, and fans acknowledge that he has done a lot for Reading.
The football club is the heart of the community. It's an organic part of the area, and I'm very proud to be associated with it. I've been with the club for nearly 20 years now and we've had two seasons in the Premiership. I was rather hoping to go back to the Premiership last season, but we missed out at the final hurdle in the dreaded play-offs."
His commitment is tangible, not least in the form of the stadium that bears his name, but Madejski is a businessman above all else and he has made no secret of the fact that he would sell to the right purchaser with deep pockets.
"Everything's for sale my dear, even me," he tells our interviewer.
"I'll be putting myself on eBay soon."
Auctioning off yourself on eBay might not be the best approach to an extra bit of money in the bank. Auctioning a registration with us however, might just do the trick. Check out more information here.
Sir John's first business success was a general classified advertisement magazine, Thames Valley Trader, which he started in 1976. This first incarnation did not specialise, but before long its focus narrowed to concentrate on automotive sales.
The name changed to reflect the magazine's more specialised approach and Auto Trader was born. A partnership with the Guardian Media Group provided the mechanism for wider exposure and circulation growth, and Auto Trader became a household name.
In 1998, John Madejski sold his publishing company for a reported £174 million. In that same year he provided Reading FC, of which he had been chairman since 1990, with its new Madejski Stadium. His business-like attitude toward a possible future sale of the club should not mislead the reader: his involvement has been active and effective. Indeed, Madejski's support helped Reading into the Premier League for the first time in the club's history.
The sale of Hurst Publishing did not mark the end of Madejski's business interest in print and publishing. Even now, with a diverse empire that includes property, broadcast media, hotels and restaurants, he has a couple of ventures within the industry in which he enjoyed his earliest commercial success.
"I've got a magazine in Kuala Lumpur, the Malaysian Motor Trader, and that's very successful. That has about two or three hundred pages a week. I also own the biggest and best state-of-the-art, web offset printing works in Europe, bar none. That is quite impressive."