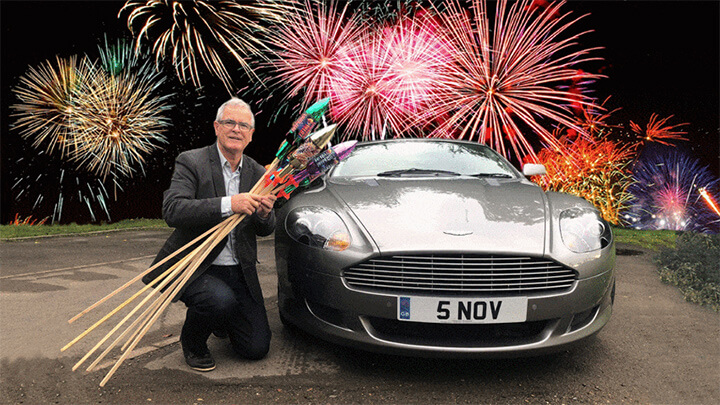 Fantastic Fireworks
When Jon Culverhouse, Managing Director of the Luton based company Fantastic Fireworks, bought the number plate 5 NOV in September 1999, he was convinced it would be a great asset.
"I am always looking for inventive ways to advertise and promote my company, and having a personalised number plate is an excellent way of achieving that," he says. Jon contacted Regtransfers and began the quest for an appropriate plate but the first candidate, 8 ANG ("bang"), didn't really impress. "I wanted a plate that more clearly encapsulated what Fantastic Fireworks is all about: something like NOV 5."
At the time, that particular plate had never been issued and was not available. Fortunately, the equally effective reversed version, 5 NOV, had just been added to the Regtransfers inventory.
"I was so lucky!" Jon enthuses. "It's the sort of plate that will be a collector's item. I was pleasantly surprised at the price as well: I was expecting to pay much more."
If Jon's purchase seemed prudent back in 1999, it seems positively prescient in hindsight. In an increasingly crowded marketplace, every detail that makes a company stand out is invaluable. "When we were the only fireworks company in the area, business came easy but now that so many people have jumped on to the bandwagon – especially the hobbyists who will put on a bargain basement display just for the fun of it – things are a lot more competitive."
Jon sees 5 NOV as a great marketing tool. First impressions mean a lot and 5 NOV, displayed proudly on Jon's Aston Martin DB9, gives the firm impression of a man whose attention is focused on the job.
"We often have TV crews turning up who want to film me with the car because of the registration mark," he says. "The plate really has paid for itself. As alternative branding, 5 NOV has proved so memorable and effective that, in addition to his private number plate, Jon also secured the 5nov.com internet domain, which now points to the Fantastic Fireworks website. A short domain name, easy to recall and quick to type, is a boon to any site.
Increased competition isn't the only change to affect the industry and Fantastic Fireworks has worked hard to stay on top of new requirements driven by changes in attitudes. The growing concern over the effect of noisy events on nervous people and animals is a prime example.
"Quiet fireworks are increasingly in demand and we are at the forefront of providing them," says Jon. "Many venues in noise sensitive areas, like Knebworth House, the Grove at Watford and Wrest Park near Luton have appointed us preferred suppliers of quiet displays. I believe this type of display will become mainstream for many venues however there is still a reluctance among many people to believe that fireworks can be quiet. I see no decrease in the popularity of fireworks. People still love them and we are as much in demand as ever, however we do have to be tuned into changing attitudes and the noise factor is certainly one.
"Another issue is atmospheric pollution, particularly CO2. We carried out some research which shows that the average annual Bonfire Night display produces about 17kg of CO2. This is roughly the equivalent of a petrol car travelling 88 miles. In the context of the hundreds of millions of miles travelled by cars in the UK every year, it does look a minuscule amount."
But even with that perspective, Fantastic Fireworks isn't complacent. Their combining of traditional pyrotechnics with additional display technologies such as lasers and special effects helps to limit emissions.
Jon's portfolio of successful displays reads pretty much like a straight list of many of the biggest events of the last few decades. Fantastic Fireworks have lit up the skies over the Millennium celebrations, Big Brother finales, the last night of Wembley Stadium and even the celebrations at Old Trafford when Manchester United won their third consecutive Premiership title. In 2017 they created a display on the Thames for the 50th anniversary of world-renowned architects Foster & Partners. In 2018 they travelled to Lake Geneva to put on a display for the Chinese telecom giant Huawei.
Despite the list of mega-displays, Fantastic Fireworks is also there to cater for parties and weddings and to supply quality fireworks to the public from their physical and online stores. If you should decide to pay them a visit, keep an eye open for Jon's Aston Martin and its terrific 5 NOV private plate!
www.5nov.com