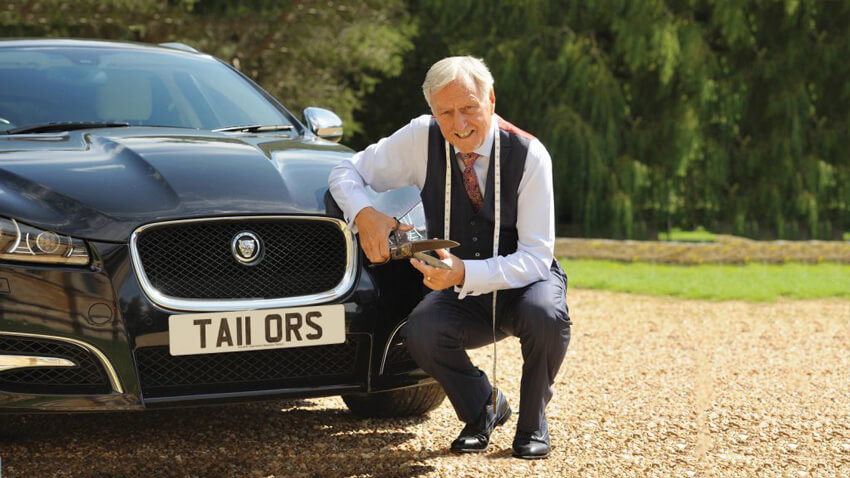 Geoff Souster
Geoff Souster knows how much appearance matters – he's a bespoke tailor, serving Bedfordshire and beyond for over fifty years. Therefore, it's little wonder he's purchased a number of plates to provide the finishing touch to his cars.
"The first was GSU 1T and I received wonderful press coverage for this plate in the local papers and business magazines, in fact, I remember working out that it was worth approximately three times more than what I paid for the plate than if I had paid for advertising in those magazines and papers.
"I clearly remember one of my best customers firstly seeing an article and photo of the number plate in Bedfordshire Business Magazine and he rang me and said " you've got to be some kind of a decent tailor to have that plate" and he came in and was a customer for over 20 years until he retired recently – it just goes to show you doesn't it?
"I also owned SEW 22 and did sell this for twice what I bought it which really helped at the time believe me, so it shows their worth!"
Souster and his wife, Laura, have run their family tailoring business since 1978, based in a stunning Georgian building located in the beautiful village of Woburn in Bedfordshire.
Geoff and Laura's eldest son, Scott, joined the company back in 1999 and younger son, Wes, joined in 2003. Both Scott and Wes are fully trained in the art of bespoke cutting and tailoring and will continue the future of the Souster name within the tailoring world.
In their time they have produced suits for a number of celebrities such as Eammon Holmes, Eric Morecambe, Lenny Henry, Russell Watson and Michael Bublé, giving them the confidence to perform in well-made, bespoke threads.
Souster & Hicks were the first ever bespoke tailors to feature on the BBC's The Clothes Show in 1988 when we were making suits for the world champion boxer, Barry McGuigan. Along with Barry, Souster & Hicks has been the tailor of choice for many other well-known celebrities, past and present, including Eammon Holmes, Bob Monkhouse, Eric Morecambe, Matthew Kelly, Lenny Henry,
Russell Watson, Michael Bublé, James Milner and Daniel Ricciardo.
During the late 80s Souster & Hicks also became one of the very first bespoke tailors to use a factory made-to-measure computer cutting system. This allowed them to produce a very competitively priced suit as well as the renowned fully bespoke garments.
For more information about Souster & Hicks, or to arrange an appointment, please call the store on 01525 290862 and let them know what you require!
www.sousterandhicks.com