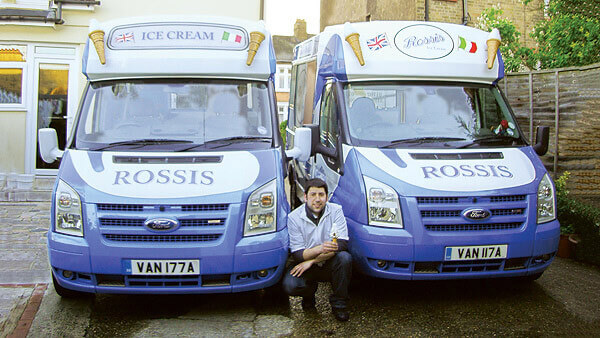 Rossis Ice Creams
Stephen Siciliani recently bought the registration VAN 177A from Regtransfers. It's clearly a very good "vanilla" number, even out of context, but once one learns that it was purchased to go on an ice cream van it suddenly becomes a great number plate.
"My father, Giuseppe, started the business 33 years ago," says Stephen. "With his old Bedford ice cream van, he was a one-man band selling cones to customers on the local streets.
"Slowly but surely, the business grew to justify another Bedford and, at that point, my mother, Maria, became a local ice cream lady.
"Between them they worked day in and day out selling 10p cones. A bit later, my siblings and I started helping out where we could and, slowly but surely, ice cream became a bigger part of our lives than we knew at the time.
"At 17, I was given the chance to take my own van out. I ended up working from a vehicle that was a good 10 years older than me, but I was happy to be continuing the tradition alongside my folks."
Stephen's brother, Antonio, was the next to get more deeply involved, followed shortly afterwards by their sister, Alessandra.
"We worked on and off while seeing ourselves through university," says Stephen. "We were studying various degrees between us, including a Masters in Applied Translation Studies, a Masters in Motorsports and a degree in Beauty.
No matter how much we studied and tried to work at other jobs associated with our degrees, the ice cream in our blood always called us back.
"My brother and I came to realise that, if we were going to make the family business prosper, we needed to push ahead, expand and work harder. As well as growing our fleet, we also began to do wholesale and explore the possibilities of production. We kept our older vans but we also decided that it was time for a new van that would allow us to achieve more successful sales and get involved with events and shows.
"When I bought my first new style ice cream van there was a huge sense of satisfaction for all the hard work put in over the years. I found the perfect registration for my van: VAN 117A. It was perfect for the business we were in. We soon saved up and bought another new van, but it felt as if there was something missing. Thanks to Regtransfers we were able to complete that missing puzzle piece with the purchase of our fantastic VAN 177Aplate. Now the twins sit boldly in all their glory and really do us proud.
"Today, the whole family works together as a strong unit, with a nice fleet of clean, tidy vans – some old and some new. We cater for all events, from weddings to shows and parties. And, of course, we still hit the streets in the traditional manner!"
info@rossisicecream.co.uk
---
More great examples of businesses taking advantage of the marketing power of private number plates: