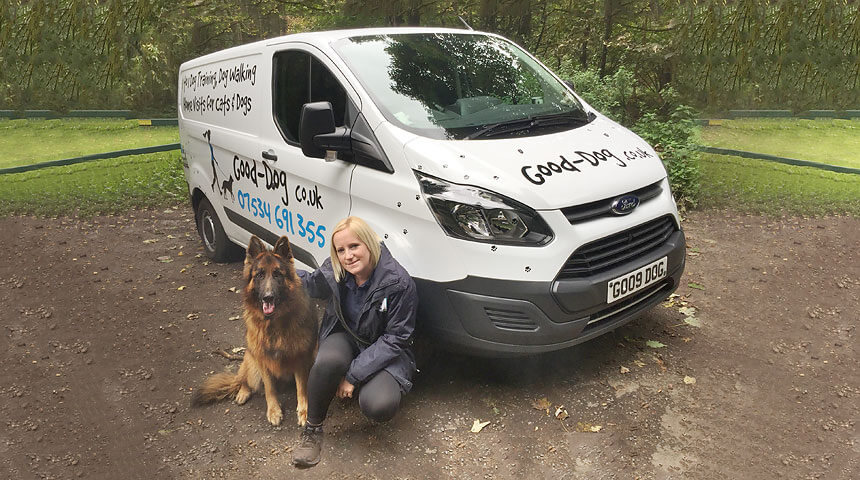 Good Dog
After serving 18 years as a police dog handler, Amanda Marraffa decided to start her own dog training and walking business. She always had a love of dogs and the outdoors and, in February 2017, on a train journey down to London, her dream became reality when she purchased the domain name Good-dog.co.uk
Amanda initially purchased a 2008 ex-police dog car, a Ford Mondeo. "Even though it was a bit battered and bruised, it served us well in establishing the business," she recalls, " until it gave up the ghost in September." The business had grown substantially in these few months, with recommendations leading to new clients which got the business up to full capacity with dog walking, regular training clients and cat home pop-ins. This gave her the confidence to invest in a new Ford Transit Custom fitted with a custom-built Lintran cage system for the dogs' safety and well-being.
Already having their own personal registrations, Amanda and her husband, Carlo, decided to look for one for the business. Carlo found GO09 DOG on the Regtransfers website and they thought that would be an ideal number for the van.
"It really finishes it off," says Amanda, "and it is already getting comments and people pointing as we drive past. We couldn't have wished for a more perfect plate."
"The purchase process was quick and easy and was handled efficiently," Carlo says. The number plates were given to Amanda on their wedding anniversary.
Pictured with Amanda and her plate is Lex, the couple's two-year-old German Shepherd who they got at eight weeks old and have trained from that day onward. Lex goes out all day walking with all the other dogs and loves his new friends!
www.good-dog.co.uk
---
More great examples of businesses taking advantage of the marketing power of private number plates: