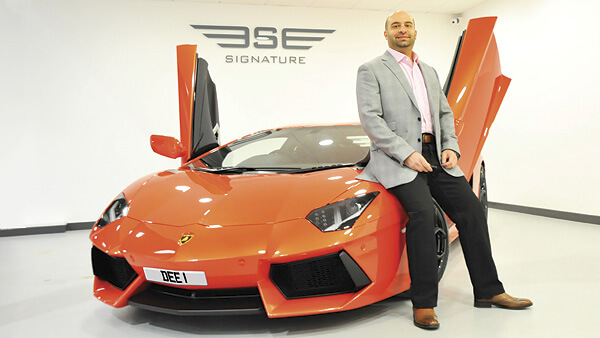 Deepak Bhatia
To our constant delight, Regtransfers is lucky to have many customers who stay in touch with us. Some of them have purchased or sold through us just once, while others have used our services time and time again. Deepak "Dee" Bhatia first appeared in our first magazine more than a decade ago, when he told us about his family's ongoing business success and their growing collection of top quality private registrations. Naturally, we were very pleased to hear from him recently and we took the opportunity to get a bit of an update.
The Bhatia family's diverse business projects all now fall under the umbrella of the main brand, Signature Global. As before, the family has a broad variety of interests and, if anything, that variety continues to grow. Inspired by his late father, who set a dynamic and confident example, Dee applies his hands-on leadership style to every aspect of each business.
"The first company within the Signature brand was established to appeal to high net worth individuals looking for a specific car hire service," says Dee. "The company provides tailored luxury car hire, enabling clients to enjoy a pleasurable and unforgettable encounter built around their specifications. Signature Car Hire boasts a superb and unrivalled product mix of immaculate vehicles, personalised customer service, an easy to navigate website and an outstanding 10,000 sq ft showroom and offices.
"As the self-drive business established itself and relationships developed with customers including wealthy individuals and corporate executives, many started asking for chauffeuring facilities. Some wanted to treat family members to shopping trips and tours around London, others had exhibitions and meetings to attend that they wanted to be driven to. This, combined with being based so close to central London, M25 and major airports suggested a natural progression to introduce a chauffeuring company.
"Another company, Diamond Alloys, was set up purely out of the need to ensure the quality standards of the alloy wheels of the exclusive vehicles within the Signature fleet. By being able to carry out this skilled work within the group, a high level of control could be exerted on materials used and quality assurance in addition to a quick turnaround. High quality products and an ability to adapt to current trends have contributed to the steady and successful growth of Diamond Alloys. The company, now trading for approximately two years, boasts its own external B2C and B2B client base which is testament to its achievements."
At the time of the previous article, baby clothing was a significant part of the business. That interest in the baby and nursery industry sector is now managed by Dee's sister, Jyoti, under the e-commerce trading platform Babybrandsdirect.co.uk, an award winning wholesaler with a multi-million pound turnover.
Other Bhatia family business ventures include vegetable growing in Serbia and the importing of Macedonian wines. One might think that might be enough and that Dee and his family had reached the point where there are simply not enough hours in a day. One would be mistaken.
"The team has recently launched the Signature Super Car Club, an exclusive members' club designed to benefit the supercar enthusiast. Members are able to enjoy the freedom to use any of our fleet cars as well as having access to exclusive and rare car models. We are all very excited about this new venture: not least the excuse it provides to buy more cars."
The family does love its cars. For some members the appeal of a vehicle is not in its value or its exclusivity but in its perceived practicality. Upon seeing a Lamborghini Gallardo in the driveway, Dee's late grandmother advised his mum that she should choose that car for her shopping trips. Oblivious to the engine power and price tag, she saw it was low to the ground which meant that both ladies would be able to get in and out easily, and its striking colour meant that they would be able to find it easily if they forgot where it was parked. Dee decided to get them a chauffeur instead!
1 | 2
---
More great examples of businesses taking advantage of the marketing power of private number plates: