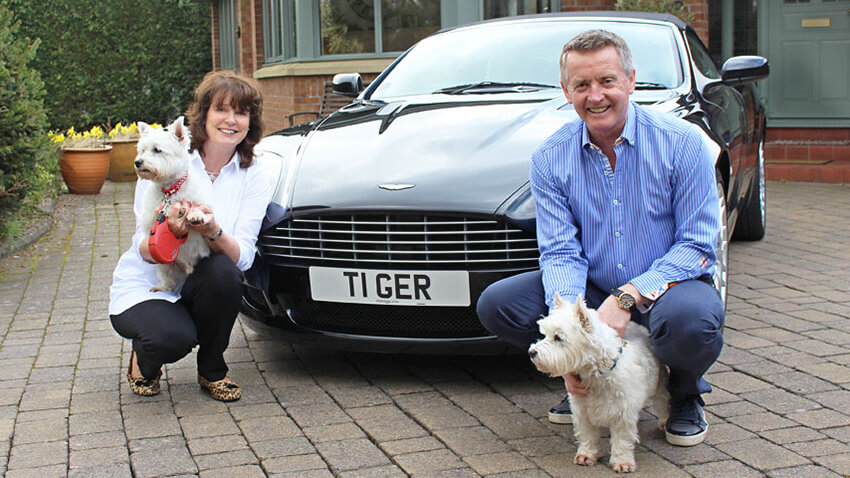 Tiger Eye
When Brian Williamson was a young boy at primary school, he was known as Tiger, a name he has since used in the branding of the businesses he has founded and run with the vital support of his wife, Sharon. When he discovered that the private registration T1 GER would be offered for sale at auction, Brian was determined to acquire it. Some years later, at an auction in Leeds town hall, Brian did secure c, which now adorns his dream car, an Aston Martin DB9 Volante.
"The auction was really exciting," says Brian, "and despite strong interest, I walked away the proud owner of the registration.
"My number plate has certainly been noticed when I have travelled through Europe with Sharon, and hotels have always been keen to have the car parked 'out front'."
For Brian, the tiger theme that runs through his life has almost metaphysical significance. He has been impressed by how the reputed properties of the colourful quartz stone known as tiger's eye coincide with values and qualities that resonate with him and his businesses.
"One of the qualities associated with the tiger eye stone is patience," says Brian. "It is also supposed to enhance integrity, willpower, self-confidence, practicality and to encourage the correct use of power. It is a stone that brings good luck and prosperity. Tiger's eye is also a protective stone which is especially significant during travel."
The fit between this striking mineral and Brian's recurring tiger motif is so natural that he decided to rebrand his Tiger Industries business as Tiger Eye.
Brian is a keen golfer and a member at one of the UK's most prestigious clubs, Loch Lomond. Sadly, despite this, he still hasn't quite managed to develop his golfing skills to the level displayed by another famous golfing Tiger.
Brian has been running businesses for 34 years. One of his relatively recent ventures is Jumpstart, a tax advisory business in which he invested. He led the business to become the fastest growing SME in Scotland in the three years to 2013, securing £3.4m investment a year from the Business Growth Fund.
Most journeys have their unexpected diversions and interruptions and Brian and Sharon's is no exception in this respect. Just when it seemed to the couple that things were about as good as they could get, Brian received a diagnosis of serious illness: news that turned their dream on its head. Happily, after an operation and six months of post-operative treatment, Brian has been given the all-clear and life has now switched back from cruise control to sports mode.
Who knows, maybe the luck and protective properties of the tiger's eye stone played some part in guiding Brian and Sharon back to good times.
---
More great examples of businesses taking advantage of the marketing power of private number plates: