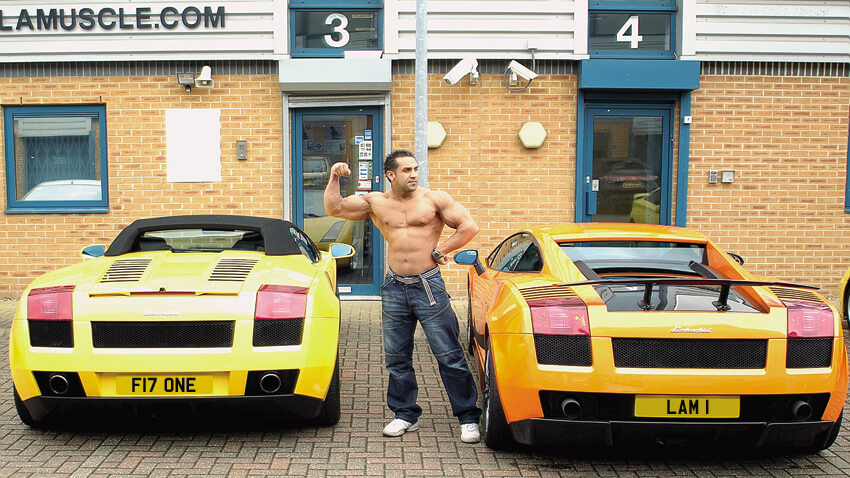 La Muscle Personal Plate Model
UK based sports supplement company LA Muscle reckon they have one of the world's hottest models.
This contender doesn't wear a swimsuit but is, nevertheless, very fetchingly attired. he company's Lamborghini Gallardo Spider has been snapped modelling the latest sports-themed number plate from Regtransfers, F17 ONE.
After ten successful years, LA Muscle felt it appropriate that the car at their London headquarters should display this designer registration. The car/number plate ensemble turns heads everywhere.
"Customers and pedestrians are constantly stopping by to take photos and talk about the vehicle. We get more questions asked and therefore more meaningful conversations regarding the company."
"F17 ONE was bought through the fantastic auction system on Regtransfers.co.uk. It was easy to use, efficient and the customer service was incredible."
Initially the idea had been to wrap the vehicle with logos and other advertising gimmicks, but eventually it was decided that the slightly subtler, more tasteful message conveyed by F17 ONE was more appropriate to a business that takes quality very seriously.
Another of the company's cars sports a great double-whammy with LAM 1, for both LAMborghini and LA Muscle.
LA Muscle has grown enormously since the company was founded. One might be forgiven for wondering if it had been taking one of its own muscle-boosting supplements…
Now with branches in the UK, USA, Australasia, Italy, Spain and Cyprus, LA Muscle supplies its wide range of products to 91 countries. Sportspeople and bodybuilders can choose what they require from a selection of market-leading protein supplements, weight loss and weight gain products and muscle-building formulas.
---
More great examples of businesses taking advantage of the marketing power of private number plates: