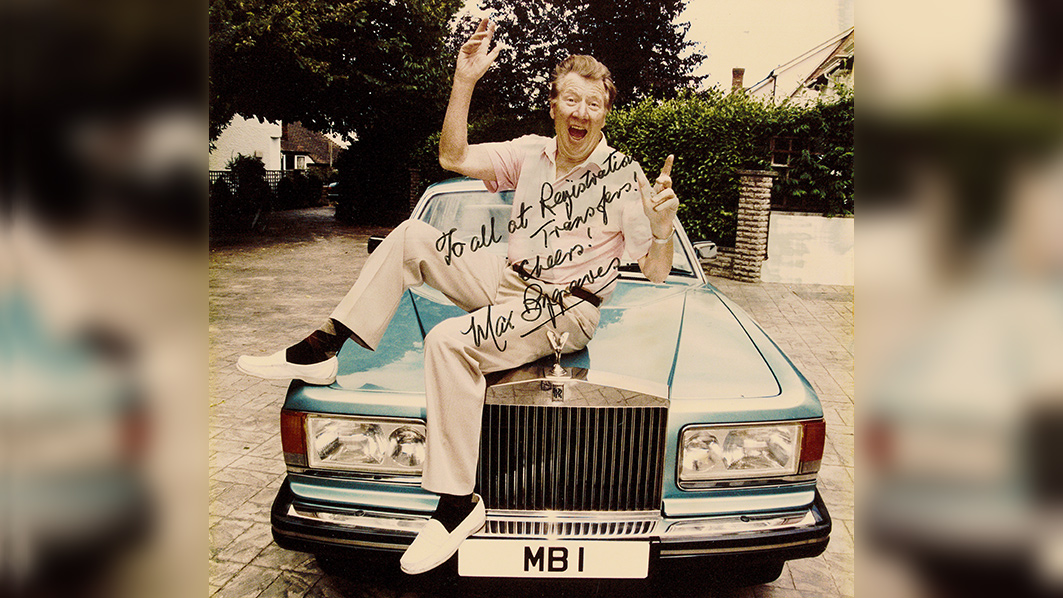 *MB 1 was originally issued by Cheshire CC between July 1922 and July 1925
In 1998, a deal was done and Regtransfers acquired one of the most famous double acts in showbiz: a Rolls-Royce Silver Spirit bearing the iconic registration MB 1. The combination of car and plate cost the company a hefty £100,000. To put that in perspective, £100,000 could buy a pretty nice house in 1998! MB 1 and the car that displayed it had been made famous by former owner Max Bygraves, one of the shining stars of British entertainment. Max's fame had rubbed off on the Rolls-Royce and its plate, so we considered the high price a sound investment.
The car, without the MB 1 registration, was sold by Regtransfers a few months later for £17,000 and MB 1 itself soon found a buyer. Sadly, data protection regulations prevent us publishing the price at which we sold MB 1 but we can estimate a current value.
MB is the 5th most common set of initials in the UK, with more than 250,000 people having those initials. This means that the potential market for MB 1 is huge. That, and the number's unique history, make it a very desirable plate indeed. Should the owner ever decide to sell, Regtransfers would estimate the current market value of MB 1 at over £500,000.
But it seems that the famous number's new owner appreciated its history and unique appeal, as it has never been resold. Today, MB 1 is displayed on a purple Rolls-Royce. We'd love to see that!
The man who made MB 1 famous
The two World Wars punctuate the history of British entertainment in a conspicuous way, which seems ironic when one considers that there can be few things less entertaining than warfare. As if swept away by the new broom that heralded a fresh start after WWI, the music hall tradition that had flourished from the mid 1800s in British theatres was replaced by something called "variety". Although many stars from the music hall era lingered, the genre of all-round entertainment now known as variety would soon evolve and leave many of them behind.
From stage to screen
Within a few short years a Second World War threw everything into chaos once again. When the dust from that conflict had settled, the landscape had changed, both physically and culturally. The theatres that housed music hall and early variety shows declined to be superseded by cinemas and television. A new breed of entertainer emerged: a species that retained the all-singing, all-dancing versatility of the previous generation but with a more polished delivery that lent itself to the new media.
Enter Max!
Singer, comedian and actor Max Bygraves was one of the biggest stars to find fame during this period of change. As a recording artist and radio performer, Bygraves soon became a household name. In the 1950s and 1960s Bygraves began to appear on, and later to host, many television shows. The frequent TV work continued through the 1970s and in the 1980s he served time as the host of the long-lived game show Family Fortunes.
From 1972, Bygraves recorded a series of sing-along albums for an older audience. These recordings, comprising medleys of old standard songs, sold millions and were a familiar sight in the album charts for years, thus extending his career and popularity. Bygraves's fame and his distinctive voice and mannerisms also made him a great favourite of TV impressionists such as Mike Yarwood.
Max Bygraves's fame rubbed off on his personal number plate and his splendid MB 1 became one of the best-known celebrity plates on British roads. At a time when there was really only one car to drive if you were famous, Max lived up to what was expected of a showbiz star and displayed his registration on a Rolls-Royce Silver Spirit.
End of an era
As years passed and his career had effectively run its course, Max became increasingly fond of Australia and often visited the country that would later become his final home. As he prepared to relocate, various items were gradually sold off in order to clear the way for his emigration. In 1998, a Regtransfers employee heard on the radio that the Rolls bearing the famous MB 1 registration was up for sale. Management were alerted and we quickly got in touch with Max's people. When managing director Tony Brown collected the car from Bygraves's secretary and chauffeur, the keen-eared employee who had alerted him to the sale went along for the ride.
More celebrity number plates from our archives
We buy plates!
Regtransfers purchases good private registration numbers for our stock and will pay excellent prices for outstanding examples. If you have a number that you would like to sell, please visit our stock purchase page.