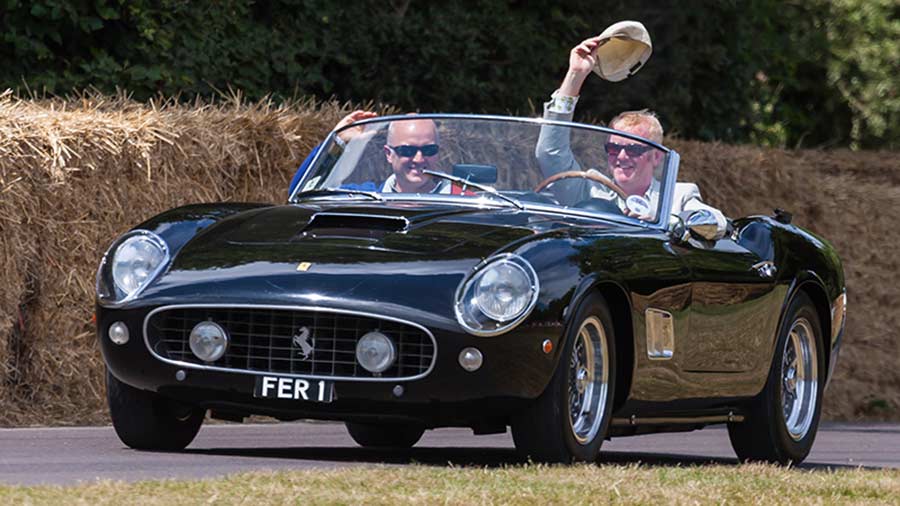 Some people seem to be as famous for their love of amazing cars as they are for whichever business or showbiz career gave them the wealth to indulge that love. We have previously published articles featuring Pink Floyd drummer and Ferrari enthusiast Nick Mason and Jamiroquai singer and Ferrari enthusiast Jay Kay. A logical next step, it seemed to us, was to turn our attention to Jay Kay's pal, broadcaster and Ferrari enthusiast Chris Evans. Wait… Is it just us, or could there be a theme emerging here?
Like most real supercar lovers, Chris Evans appreciates good quality private registrations. He made the headlines in 2012 when he arranged for his FAB 1 number plates to be assigned to a pink Rolls-Royce as part of a fundraising and awareness campaign for Breast Cancer Care. The car, a mock-up of Lady Penelope's famous FAB 1 Rolls from the Thunderbirds TV show and movies, was made available for hire and for events in support of the cause. Evans has also been photographed in a Ferrari bearing the number-first version, 1 FAB. Other plates seen on Mr Evans's cars include FER 1 and SPY 500. The latter made the news in 2016 when someone tried to steal the plate from Chris's car as he popped into a baker's shop to grab something to eat.
It seems that Chris was also interested in the record-breaking 25 O registration that his friend and fellow Ferrari nut, John Collins, bought in 2014 for more than £500,000. John told Regtransfers that Chris had abstained when the bidding started to get too serious for his taste. When he found out who had paid the record price for the plate, the envious Evans had some choice expletives for his friend.
Ginger eccentricity
Evans made his name presenting unorthodox, vaguely anarchic radio and TV shows, occasionally getting into trouble for doing things differently. When it comes to cars, he displays a similar disregard for custom and dogma. For example, if someone was such a lover of Ferrari cars that they decided to build a collection of matching vehicles, which colour would you expect them to choose (bearing in mind which brand we are talking about)? The rational, well adjusted individuals amongst you, those with a healthy respect for tradition, will probably have said red. Those of you reckless enough to ignore convention and shun the famous Rossa Corsa racing red will probably have guessed black, grey or silver. Wrong. Chris Evans had a collection put together for him by John Collins, of Ferrari specialists Talacrest, who featured in issue #35 of The World of Personal Number Plates. Talacrest created a buzz of surprise bordering on shock when they posted photos online of Chris's collection of white Ferraris.
Chris was famously married to singer and actress Billie Piper from 2001 to 2007. When they first started going out, one of Evans's first attempts to make an impression was to give Billie a silver Ferrari. The gift must have been a bit of a shock to the young singer - partly because the couple had only been on their first date the previous evening, partly because the car was worth over £100,000 and, not least, because she didn't have a driving licence. On top of all that, Piper wrote in her 2006 autobiography that the gesture was accompanied by a proposal of marriage. Despite the impulsive courtship, the difference in ages and a lot of intrusive media scrutiny, the couple's eventual parting was amicable and they have remained close friends.
Notwithstanding his evident obsession with the brand, Chris has owned a varied and eclectic catalogue of other cars as well as his countless Ferraris: a McLaren 675LT, a Jaguar XK SS, a Jaguar XK120, a Jaguar XK150, a Daimler V8, a Daimler SP250, a Mercedes 280SL, a Mercedes 190SL, a Porsche 955 Cabriolet, a 1972 VW Beetle, a 1974 Ford Escort, a Fiat 500 and a Fiat 126 to name just a few.
Chitty Chitty Bang Bang
Amongst the more eccentric highlights from Chris's motoring history was a Chitty Chitty Bang Bang car as seen in the eponymous 1968 Disney movie. The history of Chris's Chitty is somewhat muddled, largely thanks to poor research by journalists. It was widely reported that Evans's Chitty Chitty Bang Bang, registration number 772 YUJ, was one of the original movie cars and the sole fully functional model out of the six cars created for the production - but its listing in the 2015 Bonhams auction catalogue tells the real story. Evans acquired the replica car from its builder in 2012 and, far from being a 1960s original, construction of the Evans Chitty didn't begin until 1998. Although it may be a later reproduction, the car Chris bought didn't lack pedigree. It was built with help from many of the experts and companies who designed and fabricated the various components of the original. Its tail woodwork involved the boat builder who had worked on the film, its leather upholstery was made at Pinewood Studios where the movie was shot and the wheels were cast by the company who made the originals. Evans later sold the car to a Co. Down businessman who used it to raise funds for a Leukaemia and Lymphoma charity.
Chris Evans is, himself, an active supporter of a number of charities and causes, notably the BBC's Children in Need, and one of his most enduring charity projects has been CarFest, an annual event that takes place in Cheshire and Hampshire. Described variously as the UK's biggest family fundraising festival and the UK's biggest village fete, CarFest North and CarFest South present musical performances, celebrity guests, food and drink, activities and, as one would expect from a Chris Evans brainchild, lots of impressive cars on show.
The career that pays for the cars
Like many broadcasters, Chris Evans got his start in the business on a local radio station. In Chris's case, the locality was Manchester but before long he migrated south, to London, where he worked on the BBC's Greater London Radio station, first as a producer then as host of his own show. The move to television came during Chris's tenure at GLR and one of his first on-screen jobs was as presenter of a children's show that lasted all of 6 weeks on ITV's now-defunct TV-am channel before being cancelled. An inauspicious start, perhaps, but better was soon to follow.
Although he stayed at GLR a while longer, Evans began to spread his wings a little wider and, in 1992, a Sunday afternoon show on Radio 1 gave him more exposure. Chris's first stay there lasted just a few months though and, lamenting a lack of artistic freedom, he left Radio 1 later the same year and began a new bid for television success when he began co-presenting Channel 4's breakfast TV show, The Big Breakfast. It was a good move and Evans soon left GLR, thus abandoning radio altogether, so he could devote his energies to television.
Things went well and Chris presented The Big Breakfast until 1994 when he moved to present a new series he had developed for Channel 4 called Don't Forget Your Toothbrush. After a shaky start, the show became very successful and Evans started his own production company, Ginger Productions. In addition to his salary as a broadcaster, he also began making money from selling his original programme formats around the world.
In 1995, Chris returned to Radio 1 in the coveted role of host of the Radio 1 Breakfast Show. His standing as a broadcaster put him in a strong negotiating position and he secured a contract that allowed him to present the show in the format he preferred and to have it produced by his own Ginger Productions company. The agreement also allowed Evans to continue working on television projects, even though some of that TV output would be for the BBC's competitor, Channel 4.
The contract cleared the way for Ginger Productions to create Chris's next TV vehicle in the form of TFI Friday, which was written by Danny Baker and presented by Evans. TFI Friday had a strong music component and featured performances by popular bands of the day. Evans would also interview celebrity guests. The show started out as a live production but was compelled to change to a pre-recorded format after several guests swore on-air: something unacceptable on an early evening show. The most infamous incident occurred when notoriously sweary Happy Mondays and Black Grape vocalist Shaun Ryder dropped a number of "f-bombs". The incident was Ryder's second appearance on the show and marked the second time he had generated complaints by using four-letter words during its broadcast.
Controversy
Controversy became a hallmark of Evans's broadcasting and his remaining time at Radio 1 was marked by high numbers of complaints about content and headlines questioning his reliability. He also began to make increasing demands that his employer, the BBC, accommodate his requirements rather than the reverse. In early 1997, when those demands eventually became more than the corporation was prepared to entertain, Evans quit.
His next radio home was with Richard Branson's Virgin Radio - which was soon to become Chris Evans's Virgin Radio when he and his Ginger Media Group bought the station from Branson. In turn, Evans sold Ginger Media in 2000, becoming the highest-paid entertainer in the UK in the process. History repeated itself to an extent when Evans's conduct led to his leaving Virgin in 2001.
Chris returned to the BBC and joined Radio 2, where he successfully hosted an afternoon show, the drivetime show and, finally, the prestigious morning show, taking over from Radio 2 legend Terry Wogan. His eventual departure from the station, when he left to rejoin Virgin, was a relatively calm process, largely free of the drama that had accompanied his more famous career changes. To date, Evans continues to present for Virgin alongside his other work.
After a bit of dabbling, he regained his TV form as co-presenter of the BBC's The One Show with Alex Jones. Evans stayed with The One Show until 2015 when he left to host the Top Gear season that was to air in 2016. Despite the apparently perfect matching of Chris Evans and Top Gear, things didn't work out as planned. Conflict with co-hosts and criticism of Evans's presenting style led to him stepping down before the year was out. The situation didn't seem to cause Evans any material distress, however, and in the tax year to April 2017 he was the BBC's highest paid presenter.
A chequered career with patches of brilliance and controversy in equal measure has made Chris Evans a household name. It has also brought him the substantial wealth that has enabled him to continuously buy and sell tens of millions of pounds' worth of the supercars he loves so dearly and to lend a willing helping hand to some very good causes.
---
You might also like...