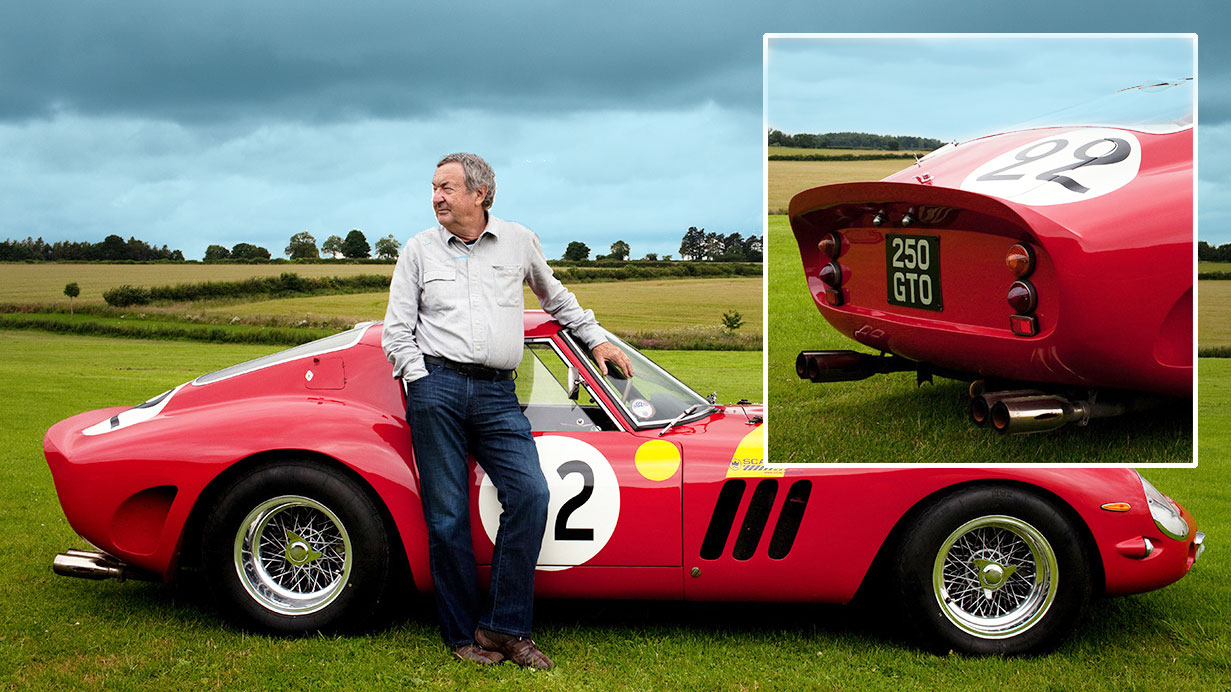 Everyone knows that rock stars drive fast, expensive cars with private number plates: at least, real rock stars do and drummer Nick Mason is as real as it gets. With his bandmates, Roger Waters, Dave Gilmour, Richard Wright and, in the early days, Syd Barrett, Mason made musical history.
From hi-hat to high-octane
Aside from his musical activities, Mason is well known for his lifelong obsession with cars and racing and as he has a particular enthusiasm for Ferraris, that multi-millionaire rockstar thing really comes in handy. He's not just a passive collector of automotive eye-candy: Mason is a long-time racer who has successfully taken part in the prestigious 24 Hours of Le Mans on several occasions. Of course, that doesn't mean that the eye-candy thing isn't applicable but Nick Mason's collection of stunning cars does more than just languish in a garage or warehouse.
And what a collection it is! In addition to the aforementioned Ferraris, all the legendary brands are well represented: McLaren, Maserati, Alfa Romeo, Bentley, Bugatti, Jaguar, Aston Martin, Porsche …
Star of the show
But whenever people talk about Nick Mason and cars in the same breath, there is one in particular that is always present in the conversation. Mason's favourite car is one that he regards as part of the family and from which he hopes never to be parted. The car in the photos on this page is a 1962 Ferrari 250 GTO that Mason bought in 1977 for £37,000: a price that, in those days, was high enough to give one a nosebleed. Its exact value now is hard to declare exactly, but experts often estimate prices in excess of £50 million. Like most of the others in Mason's stable, the GTO is a racing workhorse that has taken part in competitions all its life. Iconic manufacturer, serious racing machine, nearly priceless… Is it possible to get any closer to a perfect car? Well, yes: Nick Mason's Ferrari 250 GTO is paired with its absolute perfect matching cherished number plate, 250 GTO, which would originally have been issued in the period from 1959. A breathtaking combination indeed.
An expensive hobby
Of course, supercars don't come cheap and neither do perfect, top-notch cherished registrations. Fortunately for Nick Mason, his career in music was no modest matter.
There are rock bands, there are famous rock bands and then there are legendary, iconic rock bands whose music and fame transcends cultural, linguistic and generational borders. Pink Floyd are firmly established in that legendary category. As early pioneers and then, later, elder statesmen of progressive and album-oriented rock, Pink Floyd - or simply "Floyd" to their fans - produced music to universal acclaim. Their biggest selling album (and Nick Mason's favourite), Dark Side of the Moon, spent literally years in album charts, has sold tens of millions of copies, has been certified multi-platinum and has been selected for preservation in the United States National Recording Registry by the Library of Congress as "culturally, historically, or aesthetically significant". Oh, and it made the band very rich: rich enough to buy Ferraris.
Pink Floyd songs have been covered by diverse artists including Ed Sheeran (with whom Nick Mason performed 'Wish You Were Here' at the 2012 Olympics closing ceremony), rapper Wyclef Jean, Scissor Sisters, Foo Fighters, David Bowie, Pearl Jam, and Irish folk legend Christy Moore. They are also venerated and mangled in equal part by countless tribute and covers bands, open mic performers, karaoke and pub session singers and people in the shower.
The passing of founder Syd Barrett and, more recently, keyboard player and vocalist Richard Wright, along with the band's fractious history of personal conflict, may have assured that the spectre of reformation has been laid to rest but the legacy lives on.
A family affair
There is a noticeable racing bias to Nick Mason's car collection. As mentioned above, Nick has raced competitively himself and passion for the sport appears to actually be encoded into the Mason DNA. Nick inherited it from his father, Bill, a documentary filmmaker who focused on motor cars and motor racing and who was also an amateur racing driver. In turn, Nick has passed the family obsession on to his daughters Chloe and Holly. Both daughters have racing licences and Holly married professional racing driver Marino Franchitti. It should, therefore, come as no surprise that Mason's wife, Annette ("Nettie"), is no stranger to the driving seat of a racing car, nor to competitive driving at venues such as Donnington and Goodwood. We should also mention in passing that both Mr and Mrs Mason are qualified pilots although, so far as we know, they don't actually race aeroplanes. Yet.
Nick Mason has written two books about cars and racing: Into the Red and Passion for Speed: Twenty-four Classic Cars that Shaped a Century of Motor Sport. Naturally, his car collection features prominently.
Although every car is remarkable in its own right, there are a number of vehicles that stand out by merit of their histories. Mason's Bentley 4½ Litre is, in fact, the car that was owned and raced by his father and so it occupies a special place in the collection. His 1970 Ferrari 512S was featured in the Steve McQueen movie Le Mans. A stunt in the film required the car to catch fire to a limited extent but things got rather out of control and the vehicle was gutted. Nick Mason acquired what was left from a French garage a few years later and set out to rebuild it and restore it to its former glory.
In closing, we make a brief detour from the sublime to the ridiculous. Somewhat surreally for a man so focused on classic, performance supercars, Nick also has an East German Trabant, a Sinclair C5 and a Model T Ford that was previously driven by Laurel and Hardy and Coco the Clown. Make of that what you will.
A different league
Supercar fans like Nick Mason, Chris Evans and Jamiroquai's Jay Kay appreciate the way a fine cherished number plate completes the appeal of a classic car. Names, number one plates and initials can all enhance the look of a car but there is something extra special about a number plate that pays tribute to the legendary vehicle that displays it.
Nick Mason's Ferrari 250 GTO with 250 GTO plate is as close to perfection as we've seen but, that said, Ferrari dealer John Collins and his Ferrari 250 GTO displaying 25 O certainly give it a run for its money.
Of course, motorcars of this calibre represent a serious investment and so do the cherished registrations their owners select to adorn them. This holds true for all the top supercar marques, not just for Ferraris. Over the years we have seen a procession of supercar-themed registrations commanding spectacular prices at auction. Here are just a few:
Ferrari-related numbers
25 O - £518,480 in 2014
250 L - £130,328 in 2014
250 SWB - £66,849 in 2008
McLaren
MCL 720S - £26,259.20 in 2017
720 MCL - £33,128.00 in 2018
675 MCL - £39,608.00 in 2015
Aston Martin
1965 DB - £34,424 in 2015
Porsche
911 POR - £32,480 in 1989
And for the Range Rover fans
5 UV - £66,176.00 in 2016
1 SUV - £59,955.20 in 2016
2 SUV - £32,192.84 in 2020