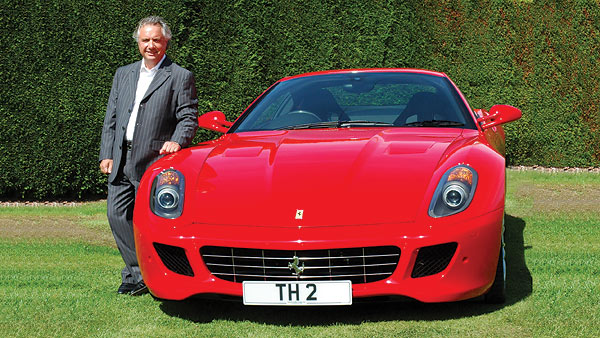 Tom Hartley
What kind of people own personal car registrations? Never thought about it? We have featured many top celebrities in these pages, and those are the people who one might most instinctively expect to adorn their expensive cars with private plates: sports people, pop stars, actors . . . However, look past the magazine covers of our back issues and you will begin to notice that a significant number of personalised car registration owners are business people. Not just average business people, but those very sharp, spectacularly successful people whose extraordinary achievements are the stuff of the weekend colour supplements. Many of the country's favourite high-profile high-flyers are personal car registrations enthusiasts: Sir Alan Sugar, Theo Paphitis, Duncan Bannatyne.
Add Tom Hartley to that list. In fact, add two Tom Hartleys.
The senior Tom Hartley is well known as the man who founded the multi-million pound Tom Hartley luxury performance car dealership based in rural Derbyshire. Tom Jr., who is our host when we visit the business, is already an experienced businessman in his own right, and has played a major role in the building of the company into what it is today.
At 24 years of age, Tom is already a veteran salesman. He sold his first car, a Porsche, when he was 11 years old, and was a millionaire at 14. The latter achievement meant that he was the youngest self-made millionaire that Britain had seen. This enabled him to buy into the business as a full partner at 16 years of age. Clichés such as "precocious" and "meteoric" barely begin to describe his rise to date. If an author were to write Tom as a character in a novel, the critics might pan it as unbelievable.
There is nothing of empty nepotism in this family business. Hartley Jr's position is justified by both experience and hard work. In many areas, Tom Jr runs the day-to-day business of car sales, leaving his father free to attend to other matters. This works out fine for both men: Tom Sr is passionate about selling – selling anything – he loves the hunt for a deal, whereas his son is much more car focused and his enthusiasm is clearly for the product he sells. Tom Jr knows these big-ticket cars well. He knows specs, characteristics and he knows the market.
The younger Tom enjoys the opportunities he gets to drive all his favourite cars. A week before our visit he turned up at the hospital in a new Rolls-Royce Phantom Drophead – the first one in the country – to collect his wife and new baby daughter.
---
More great examples of businesses taking advantage of the marketing power of private number plates: