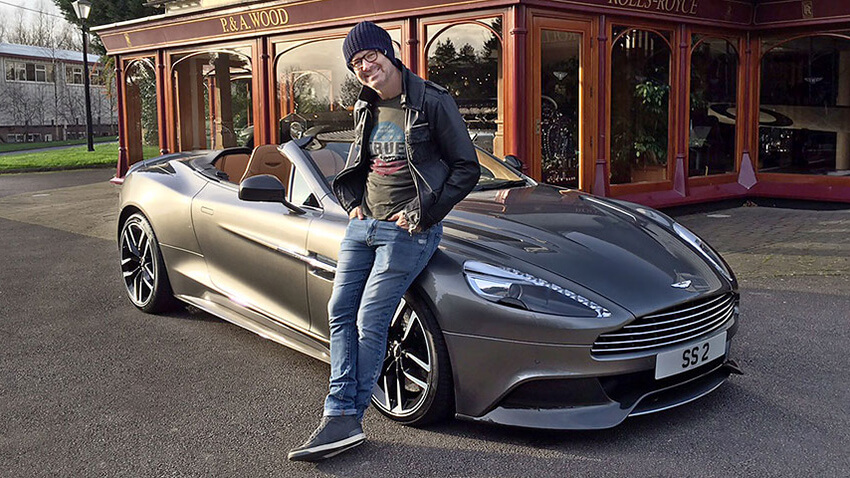 Mr Nine-Lives - Simon Stevens
Simon Stevens, from Bishop's Stortford in Hertfordshire, has acquired the nickname 'Mr Nine-Lives' among friends. In 2008 he was diagnosed with testicular cancer. Simon fought back and, after surgery and some months of gruelling chemotherapy treatment, he beat his illness and began a return to health. Just two years later, on his way to hospital for what had become one of his then regular blood tests, a careless driver knocked Simon off of his 1,000cc Honda SP1 motorcycle. This near-fatal accident left him in a coma, fighting for his life once again.
In 2011 Simon decided to sell the majority stake in his successful marketing communications business, Symbian Create, which he had built-up from scratch over the previous 15 years. He was determined to take the long break he so badly needed after a period that had been physically and emotionally exhausting.
Simon who is married to Tanya with whom he has two sons, Jacob (12) and Reuben (8), told us: "You just sometimes get to the point in your life when things can suddenly change in priority and the importance of spending more time with your family shoots right to the top of the tree. Everything else simply fades into the background."
"I recently heard a friend say that you don't often get people on their deathbed saying, 'I wish I had spent more time in the office'. That really got me thinking."
Having worked hard and having been reasonably fortunate in his career, Simon had previously owned a number of supercars and with them, personalised registration numbers.
"While the cars often depreciated in value over the years, the plates have steadily increased and have become a significantly worthwhile investment," Simon told us.
That astute observation, coupled with a zest for life that may only be experienced by someone who has been forced to starkly confront their mortality twice in rapid succession, contributed to Simon's decision to treat himself to a very special number plate.
"When the reg number SS 2 came onto the market, I knew I had to buy it even though it was way above what I would really consider as a sensible investment from my perspective. In my early days as a sales rep in the printing industry, back in the early '90s, I remember seeing SS 1 on a Bentley in north-west London and thinking, I'll never ever be able to afford that. Then, around 25 years later, the next best number came onto the market."
Having had a couple of exceptionally dramatic reminders that one only lives once, and after much deliberation, Simon decided to bite the bullet and acquire the number. "I had sold two of my businesses a few years earlier, and had gathered enough money together to buy the number."
SS 2 is now proudly displayed on one of Simon's numerous cars, an Aston Martin Vanquish Volante. The plate was first registered in 1904 and so is technically an antique and, Simon tells us, has a significant long-term investment value.
"I think you'll agree that it sets the Aston off perfectly," says Simon.
At the same time, the plate 1 TVS also became available and, as those are Tanya's initials, Simon decided to acquire that number plate too. Like SS 2, 1 TVS is assigned to an Aston Martin Vanquish.
Simon has a real passion for cars and, coming from the print and graphic design industry, he has the perfectionist's eye for detail. To him it seemed natural to combine that love of cars with those professional traits and skills, so he formed a new company, SecondSkin PPF Ltd, which applies self-healing paint protection film to cars. PPF provides the original paintwork with a buffer against the elements and offers protection from bird mess, light scratches and stone-chip impacts.
"It means that you don't have to keep getting your car resprayed," Simon said. "It helps keep the car in its original condition which, with many cars these days, can often add significantly to the resale value."
Having previously been very dissatisfied with the workmanship he had experienced at various Aston Martin and Porsche main dealers, Simon wanted to take the industry to a new level and do things properly. Simon acquired a 7,000 square-foot freehold unit in Takeley, Bishop's Stortford, adjacent to London Stansted Airport. The premises sits about halfway between London and Cambridge with easy rail and road access. This accessibility, and the company's growing reputation, ensures a steady stream of Lamborghinis, Ferraris, Porsches and almost every other supercar brand you can imagine, as owners beat an eager path to ensure that their cars retain their pristine beauty.
Trust and confidence are essential factors when it comes to reassuring the owners of such exclusive and valuable vehicles, and Simon has been able to win the trust of a grateful clientele. "Many of our clients drive the car to us then fly off on holiday so we can store it safely indoors. Others simply get the train home and leave the car with us to work on," Simon said.
If you'd like to know how Simon and his company can help you keep your beloved car looking brand new, he may be contacted by email at info@secondskinppf.co.uk or by telephone on 01279 271 122.
---
More great examples of businesses taking advantage of the marketing power of private number plates: