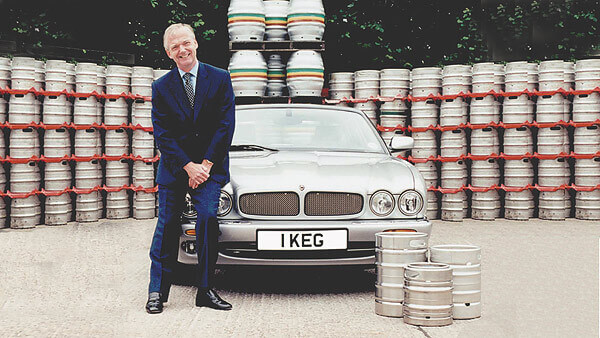 Number 1 Keg
It was whilst he was sitting in his hospital bed, that Alan Morrow saw a personalised number plate that was just right for him: 1 KEG."It was made for the type of business we are in. When I saw it advertised in the Sunday Times, it just struck a chord." says Alan. "When I arrive at a brewery, it brings a smile to everyone's face."My brother David already has the number plate A1 KEG, so I suppose the idea had been in the back of my mind.
My wife, Sandra (W1 KEG) has retired from the business, but my sons Kieron (K18 RON) and Liam (LJM 222) along with my daughter in-law Claire (KWM 841) have all joined the business."
David's wife Tina (T1 NRS), daughters Emma (P1 NUP) and Lucy (J1 NER) and son Simon (S1 MUN) also sport personal plates on their cars.
"They are an easy identifiable link to our core business, and provide a talking point at any brewery we visit." says Alan. "They also represent a good long term investment."
Morrow Brothers Limited, based in Preston, Lancashire, is the largest seller of stainless steel beer kegs, keg racking lines and keg caps in the UK. In 1969 Alan and David Morrow started repairing kegs for the brewing industry in the UK. Now, nearly forty years on, Morrow Brothers have become the leading supplier of new and refurbished stainless steel kegs and casks.
Morrow Brothers specialise in the refurbishment of all types of stainless steel casks, kegs and extractor tubes. They also provide new stainless steel kegs, tamper evident keg caps and the retro fitting of transponders for keg monitoring.
"We are very proud of the reputation and name that we have built up over the last forty years within the brewing industry. As times and trends have changed so Morrow Brothers have adapted to constantly meet the requirements asked of us.
"From the beginning Morrow Brothers has kept its three main principals, which still hold true today.
The casks and kegs that Morrow Brothers supply to all of the major breweries in the UK are highly regarded for their quality and standard of workmanship. All sizes of keg and cask can be repaired with skills developed over forty years, there is often little wrong with a damaged keg or cask that cannot be fixed given the right expertise and equipment. Years of experience in the working of high grade steel, metal working, welding and surface finishing techniques have contributed to the quality of our refurbished kegs and casks."
www.morrow-brothers.co.uk – 01772 311882
---
More great examples of businesses taking advantage of the marketing power of private number plates: