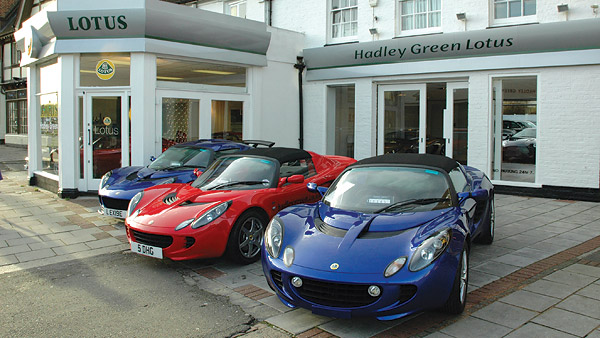 Hadley Green Garage
Hadley Green Garage must be one of the country's longest established prestige care dealers. Founded in 1919, the company is only twelve years away from its centenary, but it remains a family business that takes pride in maintaining the same values it championed in the early decades of the last century.
Harry Green, who had served an apprenticeship with the Daimler Motor Company, founded the business shortly after the First World War. He started with one Daimler limousine which he hired out as a chauffeur driven vehicle for weddings, funerals and other functions.
Harry's younger brother, Len, joined him in 1925. The brothers acquired a blacksmith's shop at Hadley Highstone and built their first garage upon the site. They took on agency for the Rootes car group, which consisted of Humber, Hillman and Sunbeam cars. The Rootes dealership and the car-hire business both did well, and additional property was bought with the intention of expanding the showroom and garage facilities.
Since the 1960s the company has been headed by Harry's son, Douglas Green, who had taken over when his father passed away. Douglas's ambitions tended toward the higher end of the market, and in 1962 Hadley Green purchased its first Rolls Royce, a one year old Silver Cloud II. To begin with the market at that level was less than lively, and that first Rolls took six months to sell. Nevertheless, persistence and determination meant that Hadley Green had sold nine used Rolls Royce and Bentley motor cars by the end of the year.
In 1963 Hadley Green sold 37 used Rolls Royce cars. Encouraged by this success, they applied to become Rolls Royce agents. Unfortunately the application was declined due to the proximity of an existing dealership in St Albans.
The following year, a spectacular 63 Rolls Royce and Bentley cars were sold, and Rolls Royce finally began to take some notice of Hadley Green's growing success. In fact, Hadley Green were selling more Rolls Royce cars than many of the manufacturer's official dealers. 1964 also saw the company sell its first new Bentley.
Performance speaks for itself, and in 1965 Hadley Green was appointed an official Rolls Royce and Bentley retailer – on the same day as the new Silver Shadow model was announced. Since then growth has continued. The emphasis has shifted away from economical family cars such as those produced by the Rootes group, and the focus is now clearly on the luxury and performance end of the market. The company has acquired additional property and showrooms, and now specialises in Bentley, Jaguar, Lotus and Land Rover vehicles.
Top quality cars and good personal number plates quite naturally go together, so it is equally natural to find that Douglas is a devotee of cherished car registrations. He kindly shared with us the stories behind some of the plates he has bought over the years. The following is one of the largest themed collections we have encountered. And we are grateful to Douglas Green for his commentary.
Douglas says: "This number was originally allocated to a new Morris Oxford in Nelson, Lancashire. I advertised for DHG 1 on the front page of The Times, as one did in those days. Three months later I received a reply from the gentleman who had had the number since issue.
"I gave him £50 for it, a lot of money in those days! I bought it in 1965, just before we received our appointment as Rolls-Royce and Bentley distributors, and it was put on our first ever Silver Shadow. Since then it has probably been on more than 80 different Rolls-Royce and Bentley cars as we normally change our demonstration models every six months. It is currently on my new Bentley Arnage."
DHG 2 "In 1977 a gentleman rang me to say he had seen this number on a second hand Morris 1100 on a forecourt. I bought the car and number for £400. This one is currently on my wife's Jaguar S-Type."
DHG 7D "We used to call this one 'Sevenpence' (which was written as '7d' in pre-decimal money). It is currently on our Lotus Elise demonstrator. I found out that this number was to be issued in 1966 and, as we had the Rootes agency at that time, I arranged to buy a new Hillman Imp from a dealer – provided he got that number for me, which he did. It was always on my wife's car until we bought DHG 2."
2 DHG "I bought this at auction about 10 years ago, and it is currently on our Jaguar XJ6 3.0."
3 DHG "I bought this at auction about five years ago. It is currently on our Bentley G.T. demonstrator."
5 DHG "I bought this from Regtransfers to celebrate our appointment as Lotus agents for North London. It is currently on a Lotus Elise."
702 PG "In about 1978 my good friend Michael Gerson (who has an incredible number plate collection) found this number plate for me in an advert, and I bought it for my son Paul. I originally put it on a Talbot Sunbeam, then I bought Paul a Porsche 924 for his 21st birthday and it went on that. Since then it has been on many Jaguars and is currently on our Bentley Continental convertible."
PHG 8 "For 'Pauline Hadley Green'. I bought this for my daughter-in-law and it first went on a Peugeot 205 GT. Since then it has been on many Jaguars and Land Rovers and is currently on a Range Rover Sport."
PHG 9 "For 'Paul Hadley Green'. One of my staff saw this advertised and I bought it in about 1999. At present it is on our new Lotus Europa."
PHG 7 "By sheer coincidence this number was advertised in the Daily Mail the same day that I bought PHG 9. My son had positively forbidden me to buy any more personal numbers, so I bought it for him for Christmas! It is currently on Paul's Range Rover Supercharged."
HGG 888 "For 'Hadley Green Garage'. I bought this many years ago. It is currently on a Land Rover Discovery."
6 HGG "I bought this many years ago as well. It is currently on another Land Rover Discovery."
HGG 345 "Another bought many years ago. We own a 1981 Daimler 6 seater which we use when taking out friends or customers. We have owned the limousine for 15 years and the number has been on it all that time."
V6 HGG "When we originally bought this one it went on a Jaguar S-Type V6. It is currently on a Range Rover V6 Diesel."
V8 HGG "This went on the first of our V8 Jaguars. It is now on a new model XK8."
M1 HGG "I bought this soon after it was issued, and it is currently on a Lotus Exige."
W12 HGG "Recently purchased by my son and is on our Bentley Flying Spur demonstrator which has a W12 engine!"
H14 HHG " 'Hi for Harry Hadley Green'! I bought this for my grandson when he was born. It is currently on our parts delivery van, as Harry is only 16!"
H14 GHG " 'Hi for George Hadley Green'! I bought this when my second grandson was born. It is currently on retention as he is only 12, and so will have to wait 5 years."
GHG 56 "I also bought this for the same grandson! It is currently on a 1992 Peugeot 405 estate until George is old enough to drive!"
1850 TU "The 'TU' series was originally issued in Cheshire. Rolls-Royce and Bentley had several in this series which they used on their factory demonstrators and for the cars in their catalogues, because these numbers didn't show the year of manufacture. When they sold one of their demonstrators they forgot to put it on retention so it went with the car and we purchased the car! It is currently on our other Transit parts delivery van."
LEX 19E "Recently bought as we think it might look like 'Exige' for a Lotus."
S4 YPE "This was bought for our first new Jaguar S-Type in 1999, as it looks like 'S Type!"
X2 YPE "Bought in 2001 for the launch of the new Jaguar X-Type, as it almost reads X-Type'. It is curently on our X 2.0 demonstrator."
X4 YPE "Also bought in 2001 for launch of Jaguar X-Type, as it vaguely resembles X-Type."
H14 JAG "'Hi for Jag!' We have owned it for many years, is currently on our service director, Philip Stanger's car." Despite this enviable array of quality registration numbers, Douglas still feels that there are a couple missing.
1 DHG "This came up at auction about 5 years ago, I made a good offer but was outbid."
4 DHG "Another missing link that would help complete the line up. Does anyone know where it is?"
If any of our readers know the whereabouts of either 1 DHG or 4 DHG we would be grateful if they would contact Regtransfers.co.uk at the editorial address. "Many of our personal numbers have been purchased from Regtransfers, and we have purchased many numbers for our customers from them. "I must say they have always been extremely helpful and very professional in the manner they conduct their business." Kind words from a valued customer.
Rick Cadger
Photography: Stan Thompson
---
More great examples of businesses taking advantage of the marketing power of private number plates: