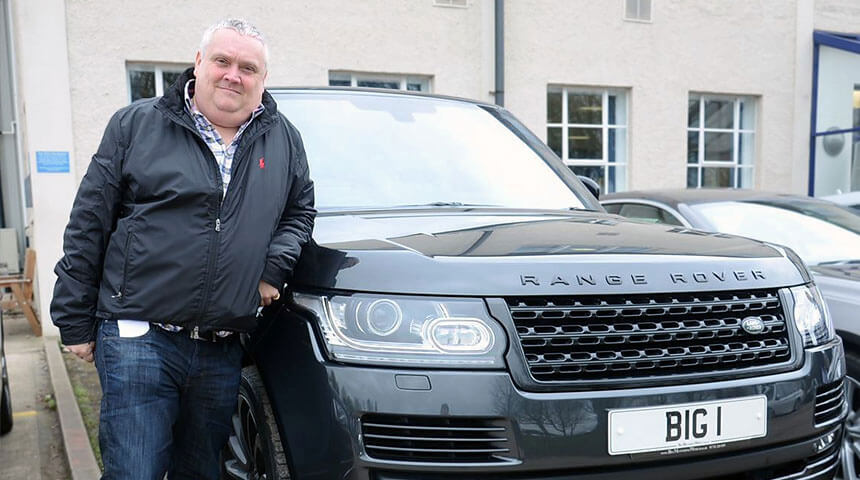 Barnardos Boy - Peter Waddell
Peter Waddell had a challenging start to life. At times it seemed that everything was stacked against him. Originally from Glasgow, Peter was a Barnardo's boy placed in care at an early age. As he grew up, opportunities were few so he had to create his own. When he left school, Peter worked for a while as a chef before moving to London where he bought his first car, a Nissan Bluebird, for £250 and became a minicab driver.
Peter worked hard. He drove his minicab day and night, earning money that he used to purchase cars at auction. The car dealing was a part-time business, but Peter's stock soon seemed to encroach on every spare metre of space in his street, so he decided it was time to seek appropriate premises from which to trade. Peter relocated to Kent in 1983 and bought a small car showroom with space for 20 cars. Buying and selling cars had become his full-time occupation and Peter abandoned cab driving in order to focus his attention on the business.
"I loved BMWs, they were my favourite cars," Peter says, "so I specialised in them. By 2005, we were the UK's largest, independent used BMW dealer."
Peter's business prospered and grew to become Big Motoring World Group. He is now a multi­-millionaire owning three dealerships stocking up to 2000 cars in total. Rather than driving to auctions, he now flies a helicopter with the registration GP WAD.
"The helicopter is my hobby and I always wanted one since I first started buying cars. There was a car dealer back then who used to fly to the auction, buy loads of cars and fly away again. I decided that was what I wanted to do too!
"I work 24/7 to make my business successful. Moving forward, I have plans to expand to a 10,000 car site over the next few years. I have had many personalised number plates over the years. I bought BIG 1, BIG 2, BIG 3, BIG 4 and BIG 1234 for some of the company vehicles. I think it's a great way to promote the business and it works well with the advertising campaign we launched in January 2016 called 'Time for a Big 1'."
www.bigmotoringworld.co.uk
---
More great examples of businesses taking advantage of the marketing power of private number plates: