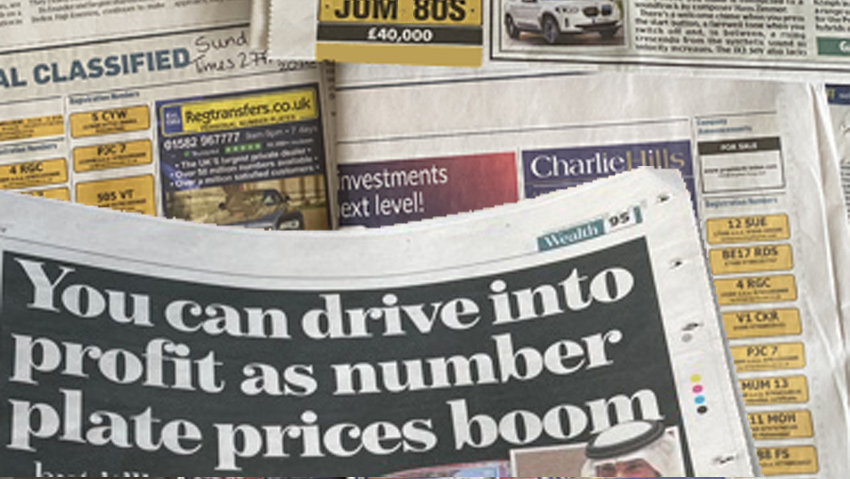 A few days ago the press cottoned on to the fact that private plates are still a lucrative investment and that the market is as lively as it ever was. "Plate Prices Boom!" they declared, and "Top Prices Paid!". Readers of our newsletter and blog will, no doubt, be scratching their heads at how long it's taken the papers to catch up with what we've been saying for ages but, to be fair, journalists have been a bit busy recently…
And that's why we understand people's surprise at the prices achieved by top quality number plates. 2020 earned itself a reputation for delivering a constant stream of tragedy, hardship, stress and general adversity. In many ways, conditions seemed set for all markets to take a hammering as incomes became less secure and the future less predictable. Many sectors have, indeed, suffered.
It seems inappropriate and insensitive to talk in terms of winners and losers, as economics pundits often do. We prefer to think more in terms of the fortunate and the less fortunate. The private registrations industry has, so far, been very fortunate. It seems that, in difficult times, people do take comfort in retail therapy: people are comforted by buying something just for fun, by maintaining an interest or hobby that brightens dark times. We have probably all found ourselves doing it, whether it was a new set of golf clubs, a new TV or a private plate. We feel no reason to gloat that our industry has been more fortunate than many others, but we feel every reason to be grateful.
The auctions continue to deliver
Throughout 2020, Regtransfers, DVLA and the independent auction houses all continued to sell private number plates. Public health considerations meant that most physical auctions had to be replaced by online versions, but business went ahead, and quite a business it was. Contrary to many expectations, auction bidding was lively and prices remained excellent with some real highlights standing out.
Amongst the strong performers, Bonhams justified its reputation as one of the top auction houses with three fine examples: O 10 at £132,160, RR 3 at £129,800 and LFC 1 at £125,062.
DVLA held online auctions every couple of months throughout the year and, as usual, released a range of numbers that had not previously been available. DVLA's top three auction sales of 2020 all took place in May when J42 MES sold for £102,826, 4 RS for £95,109 and IG 5 for £87,739. Other lucrative sales from the DVLA sales through the year included 86 A at £111,813.68, 45 S at £66,861.00, 88 O at £57,899.00, 38 O at £55,331.00, 8 YK at £47,973.00, 812 GTS at £42,848.00 and NSK 1 at £40,539.00. Hooked on these incredible prices? Check out our list of the UK's most expensive number plates!
Not wishing to tempt fate, and touching wood as we say it, early signs are that there are many reasons to be optimistic about 2021 in general so, where plate prices are concerned, surely the sky is the limit. Private plates have proven time and time again to have great investment potential.