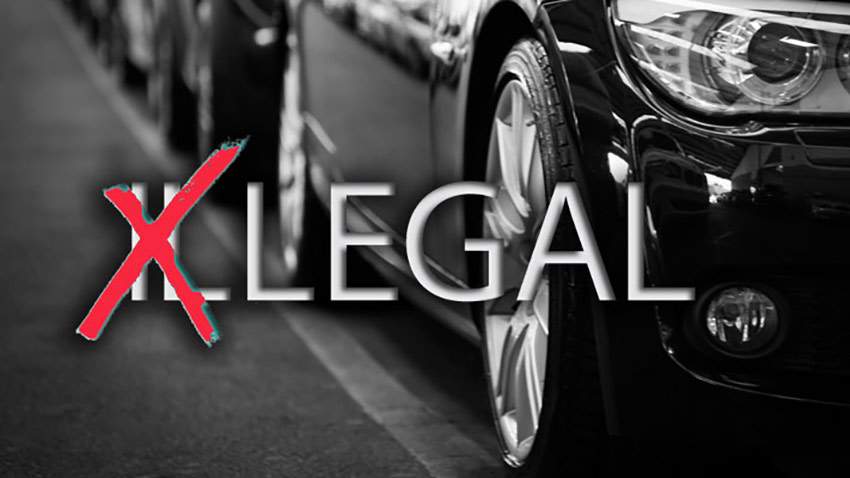 Here at Regtransfers we believe that personal number plates should be fun. There is, however, a serious side to our topic of interest. While we believe that there's a personal plate out there for everyone, we try to encourage people to accept that a degree of imagination and interpretation are part of the fun. We try to get people to accept the official number plate formats rather than risk breaking the rules and getting into trouble.
Getting your message across, usually in seven or fewer characters, is a challenge so the temptation to cheat a little by using carefully placed bolts or by tweaking the angle or spacing of characters is an understandable temptation, but we say don't do it.
Number plates play a vital role on our roads, keeping drivers accountable, reducing theft, and giving potential buyers details about a vehicle's past. It is essential that the information number plates provide the police, insurance companies, and the public is clear and visible when required. Therefore, it is crucial that your vehicle has plates that are both legal and legible. Failure to do so could result in a fine of up to £1000, loss of the personal registration number and/or a failed MOT.
Furthermore, recent communication with the issuing authority has revealed an increasing determination on the part of DVLA to act to stop illegal number plates from being displayed. They're on the case.
Regtransfers have undertaken one of the largest ever investigations into number plate related offences in the UK. We asked and 22 police constabularies from up and down England and Wales answered, providing an in-depth breakdown of which makes of cars were causing the biggest number of issues over the past 3 years. Data was taken from 2015, 2016, and the latest figures available for 2017.
Number plate related offences included:
Drive/keep a vehicle when the registration display failed to comply with number plates regulations
Drive/keep a vehicle with registration mark obscured/indistinguishable
Drive/keep a vehicle with no front/back registration plate
Findings
The vast majority of offences were related to number plates that did not conform to regulations, suggesting that police forces were far more interested in deliberate attempts at manipulating plates over honest mistakes, such as failure to clean a plate. Areas with the largest total number of number plate offences over the past 3 years:
Metropolitan (Greater London area) - 3,058
North Wales - 1,381
Norfolk - 1,175
Thames Valley - 855
Hertfordshire - 838
Greater Manchester - 754
Hampshire - 735
Cheshire - 733
Suffolk - 682
Avon and Somerset - 629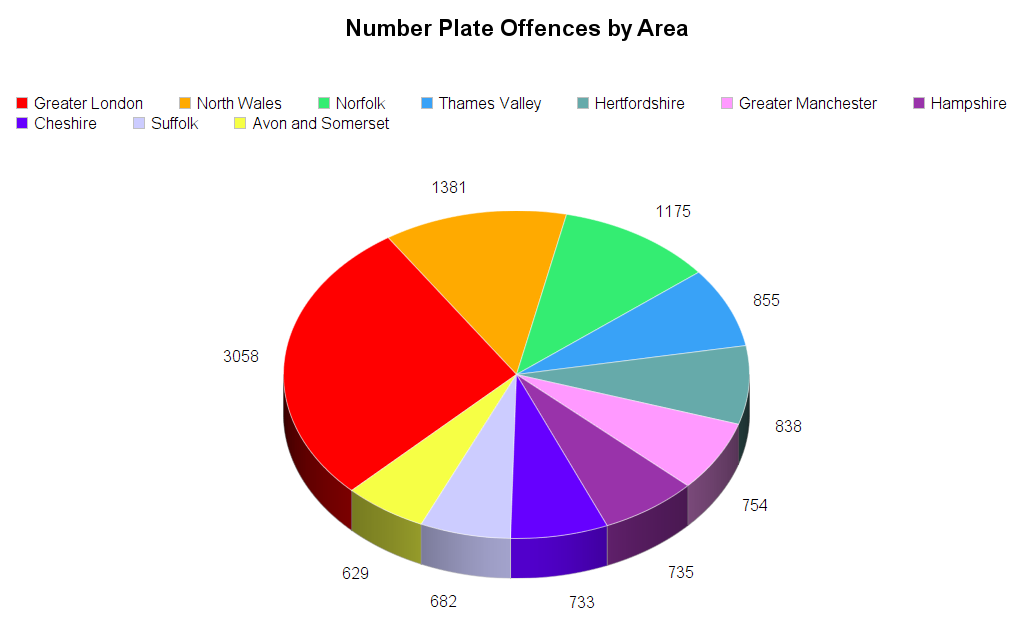 Areas with the total smallest number of offences:
Warwickshire - 127
Staffordshire - 225
Cumbria - 225
Bedfordshire - 256
Merseyside - 279
Lincolnshire - 307
Northamptonshire - 336
Cambridge - 398
Dorset - 464
West Midlands - 484
Dyfed-Powys - 488
When we compare this to the populations of these areas we get some interesting results. Areas with the biggest number of number plate offences, adjusted per 100,000 population:
North Wales - 204
Norfolk - 136
Suffolk - 100
Dyfed-Powys - 97
Cheshire - 71
Dorset - 65
Cambridge - 56
Hertfordshire - 55
Northamptonshire - 47
West Mercia - 46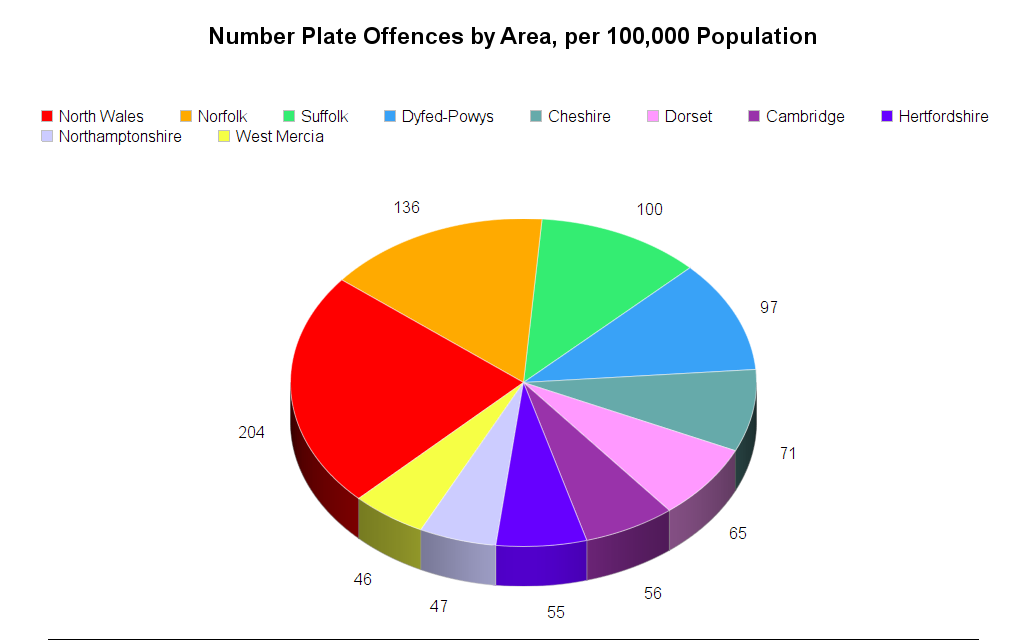 Areas with the smallest number of number plate offences, adjuster per 100,000 population:
West Midlands - 17
Merseyside - 20
Staffordshire - 21
Warwickshire - 22
Greater Manchester - 27
Metropolitan (Greater London area) - 35
Hampshire - 38
Avon and Somerset - 39
Thames Valley - 40
Lincolnshire - 40
Vehicle makes with the largest number of number plate offences:
BMW - 1998
Volkswagen - 1442
Ford - 1424
Mercedes - 1135
Audi - 1109
Vauxhall - 866
Honda - 614
Land Rover - 486
Yamaha - 446
Suzuki - 434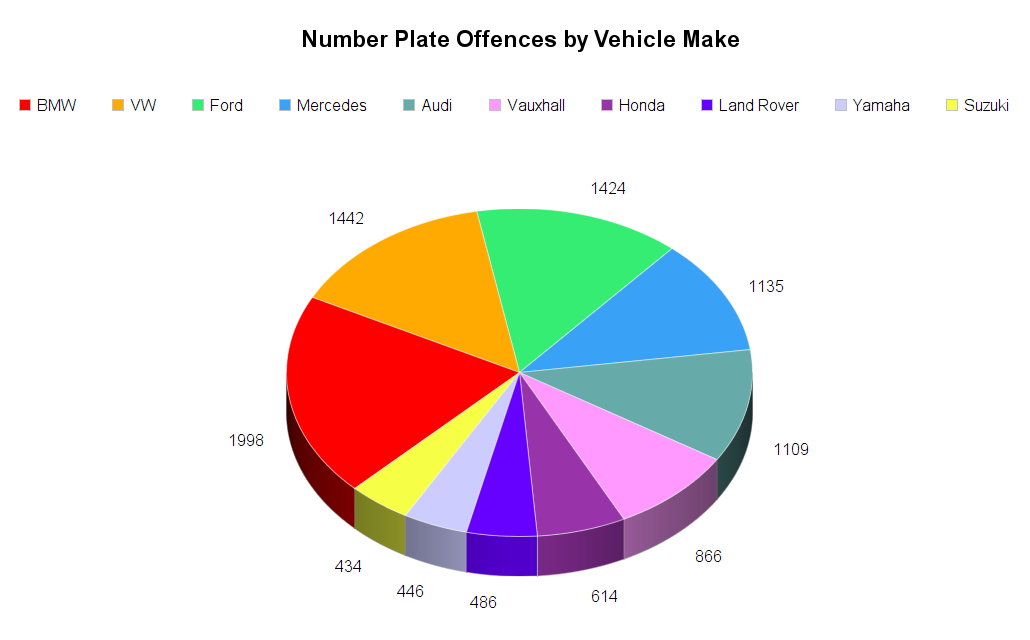 Findings:
BMW drivers make up 13% of all drivers with issues, while Fiat drivers made up just 0.8%
Fiat drivers very narrowly had more offences (125) than Ferrari drivers (117)
Lamborghini drivers were responsible for more offences (109) than Skoda drivers (107)
Jaguar and Volvo tied with 102 offences each, despite the larger number of Volvos on the road
Ferrari and Lamborghini drivers were more than twice as likely to have an illegal plate compared to Hyundai drivers
Rolls Royce drivers had just 13 offences, and Aston Martin drivers just 12
Had every driver been fined a full £1,000, the total income would have been £14,988,000
Examples of illegal number plates:



Using the wrong colours. Number plates should have black characters on a white background on the front, and on a yellow background on the back.



Using the wrong spacing.


Using a non-conforming background that isn't a plain colour, or stickers which interfere with the plate's legibility.


Using the wrong font. Only the standard 'Charles Wright' font is acceptable.


Having a flag on the far left of your plate that isn't:
The EU flag
The Union Jack
The St George Cross
The Scottish Saltire (St Andrew Cross)
The Red Dragon of Wales
Letters accompanying these flags must be:
GREAT BRITAIN, Great Britain or GB
UNITED KINGDOM, United Kingdom or UK
ENGLAND, England, ENG, Eng
SCOTLAND, Scotland, SCO or Sco
CYMRU, Cymru, CYM or Cym
WALES or Wales
Related content
For more information, please see our guide to number plate display regulations.
Where the most penalty notices are issued in the UK for various types of driving offences.