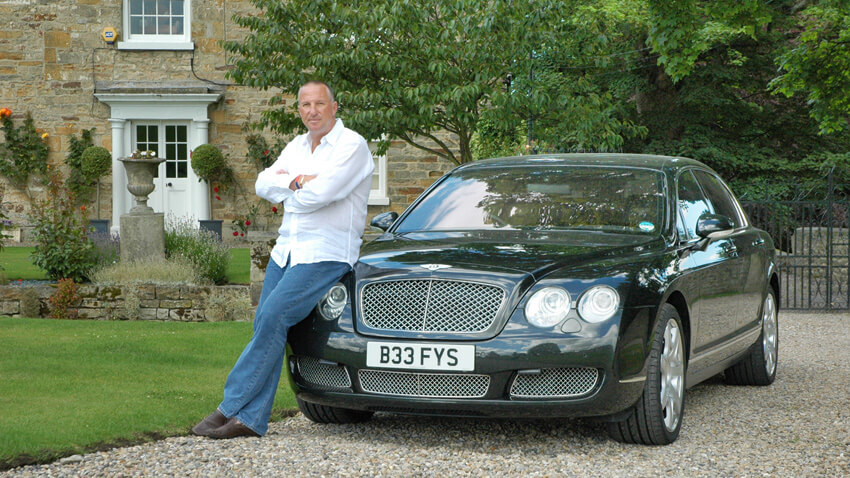 Sir Ian Botham
We may still have English cricketers who display the stuff of which heroes are made - all-rounder Andrew Flintoff and spin-bowler Monty Panesar, for example, have both attracted huge personal followings amongst England fans - but somehow we struggle to produce players who achieve the legendary stature of a Geoff Boycott or an Ian Botham. It isn't a question of talent or ability: our current players have both. Perhaps there is a certain individuality or spark of rebelliousness that has yet to show itself, for those qualities were certainly manifest in both Botham and Boycott: Botham with his attacking, sometimes reckless, approach and Boycott with his stubborn, defensive style, doing his own thing, sometimes to the frustration of his captain and team mates.
For a wonderful moment during the early 1980s, English cricket hit a wild, unpredictable peak. People of limited attention span, who usually considered the game less entertaining than football, found themselves mesmerised by their TV screens as Ian Botham, a recently resigned former England captain with an inconsistent record and a controversial public profile, proved himself to be the world's most outstanding all-rounder, and the all but single-handed saviour of England's 1981 Ashes series against Australia - a series still known as 'Botham's Ashes'.
Even if he had never played another stroke or bowled another over, Botham's place in sporting history would have been secure. While captaincy was clearly not his natural role, when free to concentrate on playing the game, his achievements could be spectacular. The '81 Ashes saw Botham produce 399 runs and take 34 wickets. At the beginning of the series an Australian win seemed to be clearly on the cards, but in the end, largely thanks to Botham's determination and power, England retained the Ashes with a 3-1 victory.
Ian Botham retired from professional sport in 1993, taking a bit of a rest before launching a new career as a commentator. The decision to retire from playing was made during a family holiday.
"We had a holiday home in the Channel Islands and Kath [Sir Ian's wife] was there with the children. I told her I would be back in a couple of days and she asked what I meant, because I was supposed to be away for the whole of August. I said 'No I've had enough, I'm retiring. We're playing Australia for the next couple of days, but after that I'm retiring'. And that's exactly what happened. I was back on the island three days later. Retired, finished, done and dusted."
His cricketing years are well remembered and well documented. There is really not much we could write that hasn't been covered elsewhere (for example, in Botham's autobiography, Head On - Botham: The Autobiography), so when Regtransfers dropped in to deliver his new personal registration, B33 FYS ('Beefy's'), Sir Ian spoke to us about his current career and his interests outside the commentary box.
"A lot of people when they finish professional sport, they have this big, low drop, because they haven't got that dressing room comradeship any more: the humour, the banter. I've been very lucky."
"I've gone straight into the commentary box with a player I've played with and the people I've played against. So we still have that same humour and banter. I am very lucky in that sense. Not many people can say they get up in the morning and enjoy it, but my job is great. I go and see all the best cricket. I attempt to do the internationals."
Including the England matches, presumably... "I pull my hair out watching England at the moment. That's why I cut it short!" The comment is partly tongue in cheek. Botham has gone on record with praise for Kevin Pietersen, Andrew Flintoff, Monty Panesar and others.