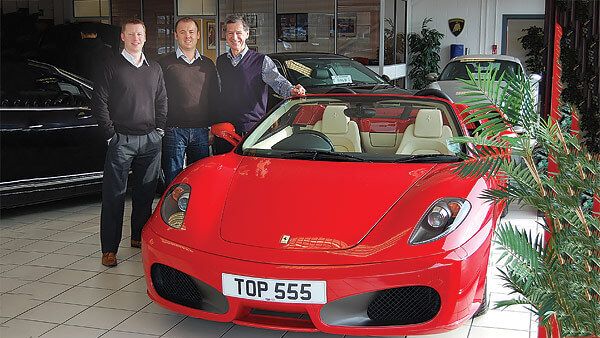 Top 555 Dealership
Prestige car dealership Top 555 was founded a decade ago by Tommy Freimuth and his sons, Charles and Tim. Specialising in luxury and performance vehicles from Aston Martin, Bentley, Ferrari and more, the company is located in Oakham, Rutland. Between them, the men who run this family business have more than 80 years experience in the prestige car field.
Private number plates have always been important to Top 555. In fact, the company was named after a cherished registration that the family has owned for two generations.
Charles Freimuth, Top 555's sales director, explained: "We have always had a love of number plates and have had TOP 555 in the family since 1956 when it was first issued and when it adorned the family Bentley. The 'TOP' part came from our grandfather's fashion company, based in Bruton Place just off Berkeley Square, London. That business was called Toplet. The 555 were my grandfather's lucky numbers.
"When it came to naming our company, we believed that TOP 555 would be something easy to remember. As the number plate had already been in the family for 44 years it had great significance for us even before we started the business. We feel that TOP 555 is now synonymous with our position as the top UK prestige and performance car dealership.
"We enjoy number plates. They finish off luxury and performance cars nicely, and personalise them for the discerning customer. We continuously purchase registrations for our clients through Regtransfers."
Top 555 also use Regtransfers.co.uk when it comes to selling their numbers. Charles says, "We currently have FS 1 for sale at £125k, 5 EE at £47,500 , 7 EE at £47,500 and E 31 at £42,500. "
"Also, with up to 40 cars in our spacious 11,000 sq ft showrooms, we invite your readers to come and see the very best of Aston Martin, Bentley, Ferrari, Jaguar, Lamborghini, Mercedes AMG, Porsche, Range Rover, and sporty BMW and Audi's before they consider buying a car anywhere else!"
www.top555.co.uk
---
More great examples of businesses taking advantage of the marketing power of private number plates: