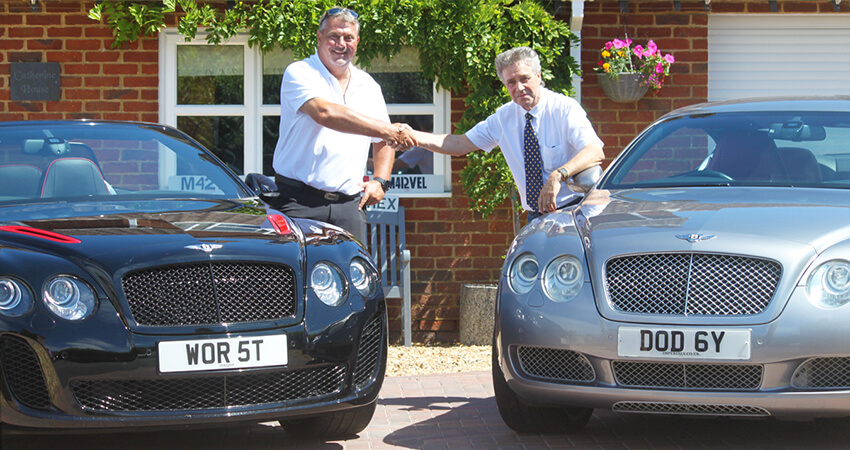 Marston Tillyer's plate collection was first featured in Issue 31 of Regtransfers: The World of Personal Number Plates magazine. It all started with his two 'Marvel' plates, M42 VEL and M412 VEL, which relate to his hobby of collecting the US comic magazine memorabilia.
SYM 5 was purchased because it resembled SYMphony number 5 and was a potential investment. Similarly, CEO4 MEX could be a Chief Executive Officer with an American Express card.
"T122 YER obviously shows my surname," says Marston, whose brother Julian has another version of their surname, T111 YER, on his VW. "MAR 573N resides on my daughter's boyfriend's car."

"Of course C8 THT was bought for my wife Cath," Marston continues, "and J2 OMY for my daughter Romy [pictured left]. M6 LVA was for my mother Melva, who has since given up driving at the ripe old age of 85!"
The X90 ROY plate was on Marston's father's Volvo XC 90, whose name was, of course, Roy.
"The G7 MGT was purchased with the intention of putting it on a Mustang GT at some point," says Marston, "which I have yet to do. Finally, TIL 666 was on my recent Harley Davidson Breakout motorcycle."
One Sunday morning, Marston, from Heddington in Wiltshire, was washing his cars, as you do, when two of his friends turned up with their Bentleys - and their cherished number plates - to ask him if he fancied a round of golf.
Being somewhat under-dressed, having just washed four cars, the conversation turned to cherished registrations, which then prompted a spontaneous photo shoot.
"We had some fun arranging the cars on my driveway," says Marston. The rather 'dodgy plate', DOD 6Y, [pictured above] belongs to Marston's friend, Phillip Fernandez, who is the MD of Pool World (Wessex) Ltd, and it is currently on his Bentley. Phillip also has 1183 PF on an old Austin 7 and 921 UXB on a motorbike.
But the prize for the 'WOR 5T plate in the world', must surely go to another of Marston's friends, Wayne Smith [also pictured above], who is MD of the Nutrimin animal feed group and is on his Bentley Supersport ISR Ltd Edition. Wayne also has a couple of other great plates, RAM 130Y and 1963 WS.