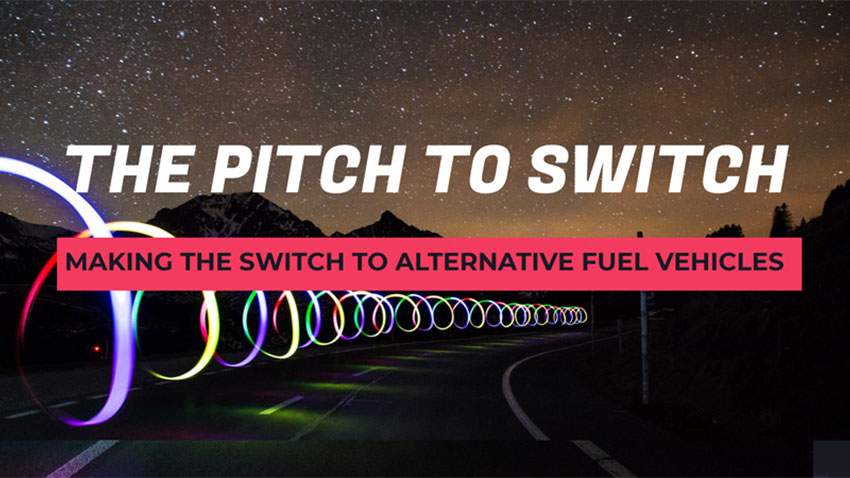 How governments and car manufacturers are encouraging drivers to make the switch to alternative fuel vehicles
Over the last twenty-five years, a number of multinational legislative efforts, such as the Kyoto Protocol and the Paris Agreement have inspired national governments, and major car manufacturers to focus their efforts on the adoption and rollout of Alternative Fuel Vehicles (AFVs).
That, it has turned out, was the easy part.
Now a greater challenge lies in convincing the public that AFVs are worth switching for, over the petrol vehicles that they have known and loved for over a century. In this blog, we've taken a look at four of the main strategies that both government and business have employed to get drivers to change their minds, to drive both clean and green.
Charge!
One of the biggest stumbling blocks to the widespread adoption of AFVs worldwide is the lack of infrastructure in terms of fueling points. While many of these hybrid vehicles can simply be plugged in, most petrol stations don't offer a charging service (or quite know how to charge for it).
This has led several governments worldwide to speed up the rollout of charging points across major cities, with an eye to having them nationwide over the next decade.
Obama's White House set a new target of 3.3 million zero-emission vehicles on US roads by 2025, and has revised building codes to ensure that charging points are offered in new buildings. On a smaller scale, major cities, such as Los Angeles are teaming up with private enterprise to install charge points in lampposts, making recharging easier and swifter.
Starting in 2011, Germany targeted nine specific regions, both urban and rural for implementing charging stations. By March 2017, there were over seven thousand charging points across the country, with over two hundred of them allowing for a charge in minutes, instead of hours.
Australia has been slower off the mark, but charging stations have been appearing along the coastline for holidaymakers, sponsored by automotive interest groups such as the NRMA and the RACV. Several state governments, including Queensland, have promised to bring more online over 2017 - 2018, with a focus on rural areas.
At home, the government is impressing in this regard. One hundred million pounds has been put towards a UK charging network, and there are almost thirteen thousand points installed to date. Most effectively, 96% percent of highway services (and all IKEA stores) now have charging points, making it that much easier to travel further afield in an AFV.
These are all positive developments, but the real challenge for adoption rates of AFVs will be managing their spread across entire countries, making road trips viable. Otherwise, the risk of 'electric islands' becomes a very real possibility.
The Rise Of The Ridesharers
While Uber gets most of the attention for its 'disruptive' effect on the world of hailing a cab, ride sharing initiatives and rentable fleets of vehicles are rapidly becoming a sight in cities worldwide.
Daimler AG, the parent company of Mercedes Benz, was one of the first large companies to dip their toe in the water, with their Car2Go fleets of electric vehicles, accessed and rented via an app. While they've run into trouble in some US cities due to lack of charging points, the company still offers vehicles in eight cities in the US and twenty six worldwide.
Not to be outdone, BMW is getting into the act with their ReachNow service, offering electric hire vehicles such as the Mini Cooper and the BMW 3 Series in three US cities, with plans for further expansion.
Here in the UK, ZipCar, perhaps Great Britain's most popular car sharing company, has introduced a number of hybrid models, such as the Toyota Yaris and Volkswagen Golf GTE, with a view to introducing more as AFVs become more affordable and supported.
Not only do these companies provide a solution to pollution and congestion within urban areas, but they deliver consumers a feel for the capabilities of an AFV prior to making a purchase - a winning strategy, we think!
Sleek & Chic
For a long while, the AFV market was constricted by a lack of, well, attractive luxury models. Instead, the technology underpinning such vehicles meant that car manufacturers had to relearn the way in which they structured and styled this new type of vehicle. This lead to some clunky and boxy offerings.
Not so anymore. Many of the world's prestige car companies, sensing the oncoming demise of the petrol combustion engine, have thrown their energy into creating luxury offerings that still offer the low emissions and benefits that an AFV provides.
Leading the world are the Germans - Mercedes, BMW and Audi each have models on the market, such as the Mercedes E350e hybrid, the BMW 330e iPerformance hybrid and the Audi Q7 e-tron hybrid. Each plug in to save fuel and emissions, without sacrificing their iconic styling and power.
Here in the UK, Mini has an AFV four-wheel drive on the market, as does Range Rover. Coming later this year, Jaguar will also debut the i-Pace.
Then of course, there is the Tesla. Elon Musk's US company has released three models to date, including the sleek Roadster, and will be debuting the Model 3 and an updated Roadster over the next two years.
It All Comes Back To Money
When it comes down to it, the most powerful incentive of all for those making a purchase is a financial one. Governments, especially, have been quick on the uptake, keen on making the choice of an AFV an attractive one.
In the United States, the Energy Policy Act of 2005 introduced a range of tax credits for those purchasing a car that runs on alternative fuels, weighed against their efficiency. New models are being introduced all the time. Some state governments, such as Texas also offer packages of financial cashbacks and reduced servicing charges for AFVs.
In Europe, Germany has introduced a new program offering cash back of up to four thousand euros on an all-electric vehicle, and three thousand for a plug-in hybrid. Tax subsidies and free parking (always a plus!) have been in several states.
Down under, Australians owning an AFV do not pay fuel excise charges and the Federal Government are rolling out substantial grants for fleet operators to make the switch.
Here in the United Kingdom, drivers can receive up to four thousand five hundred towards the cost of a hybrid or electric vehicle and changes in tax legislation mean that in the next few years, drivers will not pay vehicle tax on a zero-emissions car. We think it's time to buy!
What are your thoughts on efforts to get you to buy an AFV? What could government and car makers be doing to get you to switch? Let us know and we may feature you on our social media channels.