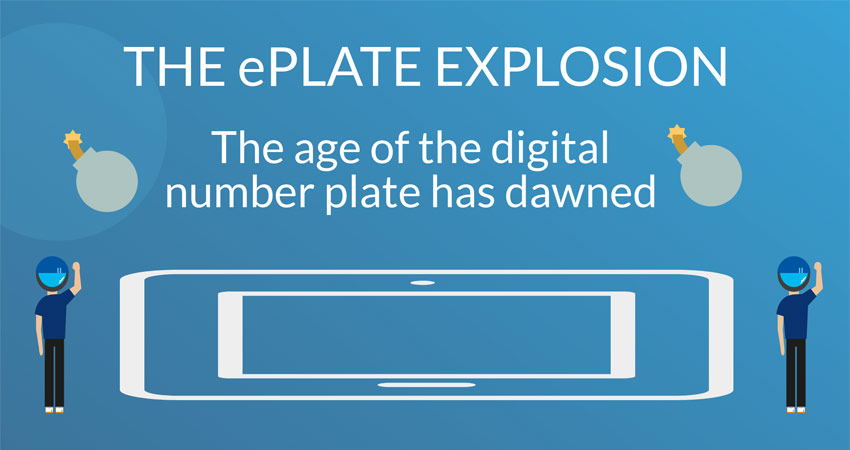 Imagine never having to run back to the car to stick a parking ticket on your dashboard ever again. Imagine never having to worry about whether you've got the appropriate passes to use a toll road. Imagine being able to change your number plate without waiting for a new one to be manufactured.
The age of the digital number plate has dawned.
These digital number plates - or 'ePlates' - are a technology that will change much about the way we use our cars. Developed by California company Smart Plate and using a central processing unit, a memory chip, a wireless receiver and a hardened plastic screen (not unlike a Kindle), they will not only be able to display a car's registration, but fulfil a number of other roles.
With information being able to be stored on the ePlates' memory chip, parking permits, toll road user data and other driver records can be easily accessed. This means no more stickers on the windshield, or pausing at a barrier while waiting for a ticket to be printed. The same sort of RFID technology that is being used in some of the new Amazon Go supermarkets mean that as long as a car with an ePlate is within a few feet of a sensor, access can be granted.
It's not just about making life easier for drivers. In California, where a major trial of 100,000 ePlates is taking place this year, taxpayers are saving money. Whenever cars with an ePlate stop in traffic, scrolling adverts can temporarily be displayed. Developer Reviver Auto states that it is projected to raise at least twenty million US dollars for the state in revenue from advertisers. Additionally, government and emergency services can make use of the technology by issuing weather advisories, Amber Alerts and instructions in case of disaster. This also saves money and has the benefit of potentially reaching more people.
With ePlates, drivers are also given some control about what they display - options will be provided for them to change elements of the display, displaying the logo of their favourite sports team for example. Drivers can customise their number plates through an online portal, where they will be able to fulfil a number of other administrative tasks relating to the ePlate.
It's not all good news, however. Privacy advocates have raised concerns about the inbuilt tracking device that will be installed in every car, should ePlates be rolled out across the state. Others are worried about the fact that ePlates are designed to be able to shut down car ignition systems. This is ostensibly to prevent tampering, but there is the fear that this could be expanded in the future to be activated in case of non-payment of registration fees. There is also the concern that a failure of the unit mid-drive could leave motorists open to being pulled over by police, with all the issues that raises.
We're a while off from ePlates coming to the UK, but given the benefits of the technology, their arrival seems to be inevitable. We will have to wait and see how the the DVLA handles this new leap forward in automotive technology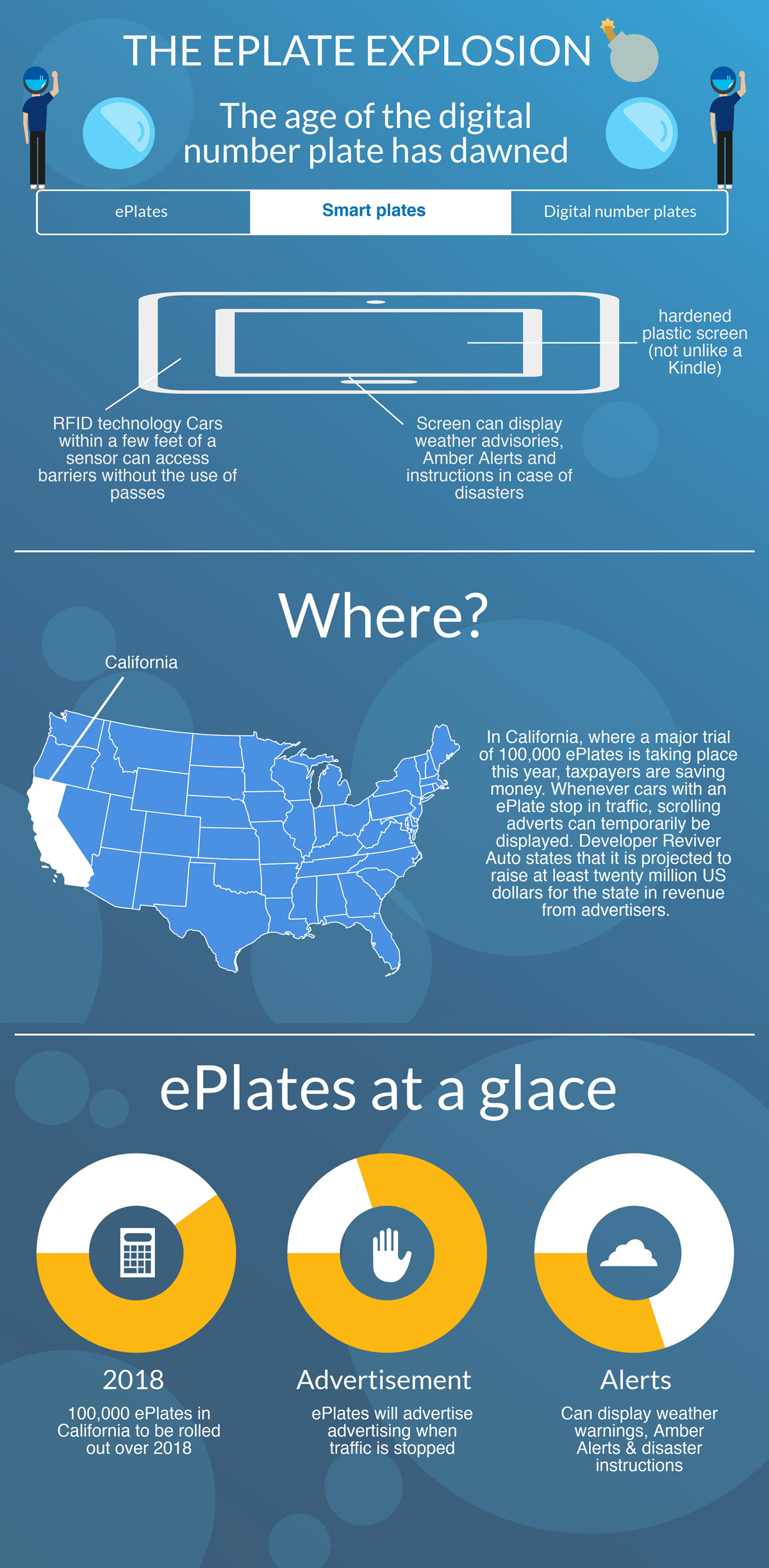 ePlates at a glace:
ePlates in California developed by the company, Smart Plate
Californian company Reviver Auto building advertising & parking permit framework.
100,000 ePlates in California to be rolled out over 2018.
Advertising revenue from ePlates tipped to exceed 20,000,000 USD.
Further trials and pilots proposed in Zambia, Cayman Islands & India at time of publication.
ePlates will advertise advertising when traffic is stopped.
ePlates can also be used to display weather warnings, Amber Alerts & disaster instructions.
Privacy advocates have raised several concerns about access to ePlate data and car ignition systems.