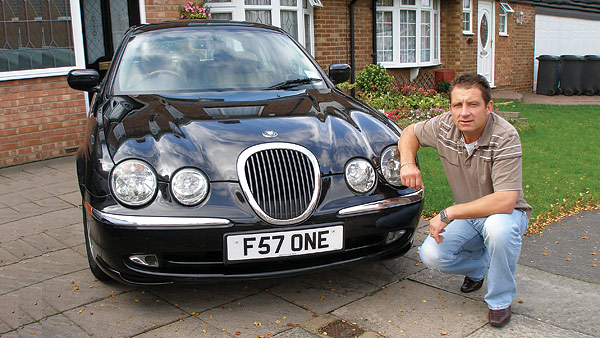 Steve Flynn always wanted a personalised number plate, and searched for his perfect registration, F57 ONE, for about five years before he finally found it at Regtransfers. He has also been looking for W1 LMA for his wife Sharon, but to no avail – so far.
Steve has been in the granite and marble business for 27 years and, last year, finally set up his own company in Shefford, Bedfordshire. The company cuts, polishes and installs any kind of granite or marble surface to the highest specification. Steve installed the latest high precision cutting machine from Italy earlier this year in order to cope with demand, and to do all the work in-house.
Most of his business is fitting high-spec kitchen and bathroom worktops. With the contracts pouring in Steve has become a very busy man, but Sharon helps him with the business, despite working full-time at a Luton College. "I would have to work 27 hours a day if it wasn't for Sharon", he admits.
Steve had been thinking of buying F1 YNN when it became available, but he is more than happy with F57 ONE as his nickname is 'Flintstone', and far more relevant to him and his line of work.
"I thought it was an ideal plate to advertise my company, and it's already attracting attention. From some of the conversations I have had about the number plate, I am sure this will lead to additional business, so it looks like my investment has become a great way of advertising", says Steve with
a grin.
Last year Steve and Sharon moved to a north Bedfordshire village and the distinctive registration has helped to make him recognisable to his new neighbours.
"Getting F57 ONE has been just about the best thing I have ever treated myself to. Thank you, Regtransfers."
Len Stout
---
More great examples of businesses taking advantage of the marketing power of private number plates: