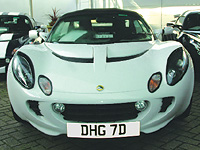 V6 HGG "When we originally bought this one it went on a Jaguar S-Type V6. It is currently on a Range Rover V6 Diesel."
V8 HGG "This went on the first of our V8 Jaguars. It is now on a new model XK8."
M1 HGG "I bought this soon after it was issued, and it is currently on a Lotus Exige."
W12 HGG "Recently purchased by my son and is on our Bentley Flying Spur demonstrator which has a W12 engine!"
H14 HHG " 'Hi for Harry Hadley Green'! I bought this for my grandson when he was born. It is currently on our parts delivery van, as Harry is only 16!"
H14 GHG " 'Hi for George Hadley Green'! I bought this when my second grandson was born. It is currently on retention as he is only 12, and so will have to wait 5 years."
GHG 56 "I also bought this for the same grandson! It is currently on a 1992 Peugeot 405 estate until George is old enough to drive!"
1850 TU "The 'TU' series was originally issued in Cheshire. Rolls-Royce and Bentley had several in this series which they used on their factory demonstrators and for the cars in their catalogues, because these numbers didn't show the year of manufacture. When they sold one of their demonstrators they forgot to put it on retention so it went with the car and we purchased the car! It is currently on our other Transit parts delivery van."
LEX 19E "Recently bought as we think it might look like 'Exige' for a Lotus."
S4 YPE "This was bought for our first new Jaguar S-Type in 1999, as it looks like 'S Type!"
X2 YPE "Bought in 2001 for the launch of the new Jaguar X-Type, as it almost reads X-Type'. It is curently on our X 2.0 demonstrator."
X4 YPE "Also bought in 2001 for launch of Jaguar X-Type, as it vaguely resembles X-Type."
H14 JAG "'Hi for Jag!' We have owned it for many years, is currently on our service director, Philip Stanger's car." Despite this enviable array of quality registration numbers, Douglas still feels that there are a couple missing.
1 DHG "This came up at auction about 5 years ago, I made a good offer but was outbid."
4 DHG "Another missing link that would help complete the line up. Does anyone know where it is?"
If any of our readers know the whereabouts of either 1 DHG or 4 DHG we would be grateful if they would contact Regtransfers.co.uk at the editorial address. "Many of our personal numbers have been purchased from Regtransfers, and we have purchased many numbers for our customers from them. "I must say they have always been extremely helpful and very professional in the manner they conduct their business." Kind words from a valued customer.
Rick Cadger
Photography: Stan Thompson