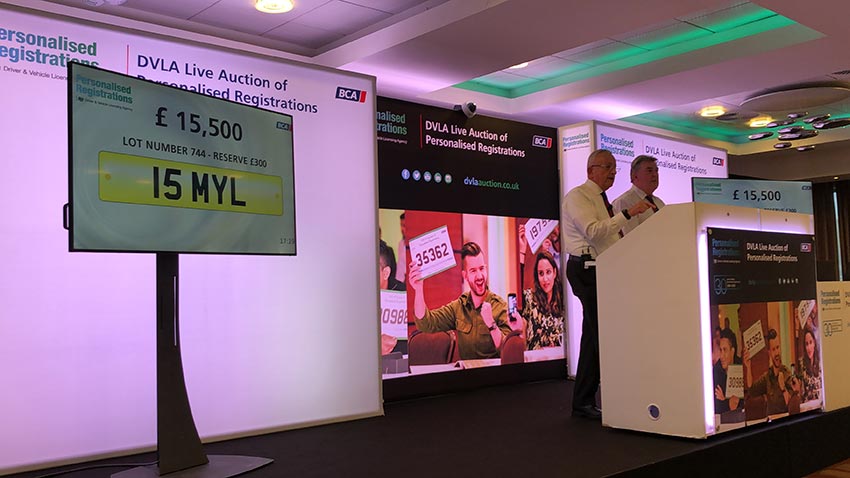 The first DVLA registrations auction of 2020 was held at the Casa Hotel in Chesterfield on 19th, 20th and 21st of February.
The DVLA sales are always a mixed bag with prices very much dependent upon the selection on offer. A fair bit of the interest this time was around Ferrari- themed numbers and the star of the show was 812 GTS which sold for an all-in price of £42,848. If one can afford £300,000 for a drop-top Ferrari 812 GTS then the ultimate plate to make the car truly unique must be an attractive proposition.
Another plate that would suit the same model, F812 GTS, proved rather less demanding on the wallet at £23,667 including fees etc. That one may well prove to have been an excellent investment for the purchaser as it could easily be considered as good a match for the supercar as 812 GTS. The half-million-pound sale of 25 O a few years ago demonstrated that Ferrari owners and dealers take their cars seriously enough to pay big money for the very best plates. Spotting such potential markets for registrations is a sure-fire way to secure the most substantial return on one's investment. Learn more about the excellent investment potential of cherished registrations.
Other respectable achievers at the February sale were IG 4 and 7 UR, which reached £32,739 and £32,480 respectively.
PUB 805S, which sold for £10,448 all-in would make an eye-catching adornment for the car of a successful hospitality entrepreneur or 'pub boss' but we're a little more hesitant to second guess the possible meanings behind DOG 1N (£12,003) and 70 SS (£17, 706).