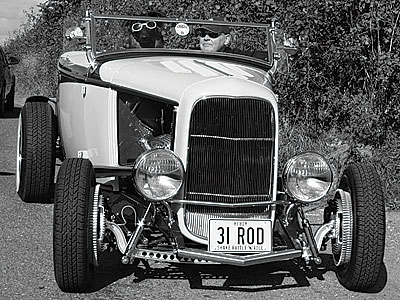 Yesterday's Dreams
Brian Bates bought 31 ROD way back in 1973 for the princely sum of £20 and transferred it on to his first Model T Ford based hot rod, called Yesterdays Dreams after the Four Tops song."In those days," he explains, "modified cars would often be given a name."
Over the years, the registration has been attached to various old cars, as diverse as a Morris Minor Traveller and a Corvette Stingray. It is currently displayed on the 'Hi Boy' style hot-rod pictured here.
"The handsome chap sitting in the passenger seat, who is much better looking than me," concedes Brian, "is my young German Shepherd, 'Cash', so called because I am passionate about the music of Johnny Cash."
Brian has displayed several other car-related registrations over the years including MY04 ORD, V8 RAM,V8 ROD, and V8 HOT which he recently sold through Regtransfers.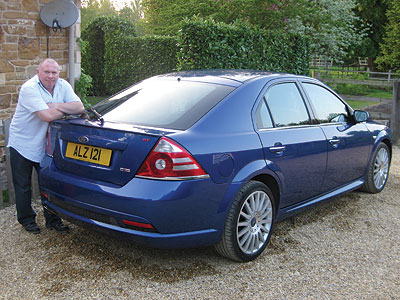 Make a Date
'Dateless plates' – those with no obvious indication of the year of registration – are not just the reserve of the rich and famous.
Alan Lawrenson lives in Runcorn in Cheshire with his fiancée, Liz and works as a bus driver for the Arriva Bus Company.
"I have always been interested in private number plates, says Alan. "I always fancied 1 AL, but that I will never be able to afford.
Although Alan's Mondeo is not ancient, he is pleased that hisALZ 121 plate, of Northern Irish origin, effectively disguises the age of his car.
"I think that private or cherished numbers on a vehicle make it totally different."
Even though he now has a great plate, Alan is still looking forward to the day when he can find another to better it: "Maybe when I win the lottery . . ."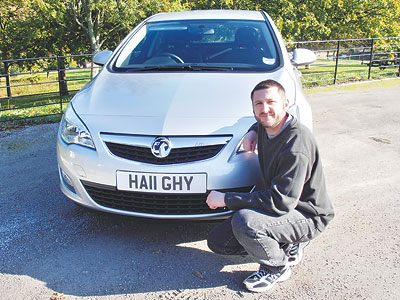 Start to finish
Simon Haigh is known to many of his friends and workmates simply as 'Haighy' so, when Regtransfers sent him a Personal List of appropriate registrations, he jumped at the chance to acquireHA11 GHY.
The registration was, of course, one of the spectacularly popular 2011 releases. Because of Regtransfers' experience and expertise, they were able to secure the number for him and, seven days later, he was the proud owner of his perfect plate.
"I never thought I would have a 'Haighy' plate without winning the lottery," he says. "This is the second plate I have bought from Regtransfers and the whole process was excellent from start to finish."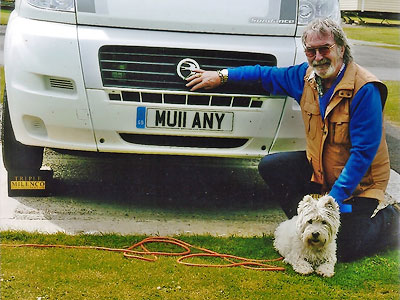 Thanks, Louise
Alan Mullaney from Richmond in North Yorkshire would like to thank our sales advisor, Louise for her help in purchasing his number plate, MU11 ANY.
"We had to buy a new vehicle to go with it," he says. "So, we decided on a new motor-home.
"I look forward to seeing myself in your new Regtransfers book. I'm always available for photo shoots, (for a small fee, of course!).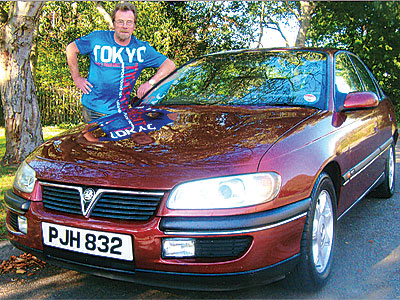 Three Times More
Peter Houghton, from Breaston in Derbyshire, bought his 3 x 3 registration, PJH 832, in the early eighties.
It was advertised for sale on a new Hudson Autocycle. Peter immediately transferred the plate to his car and sold the bike for £30.
"Since then," he says, "the plate's been on eleven of my cars and must be worth about three times more than the one it's
on now!"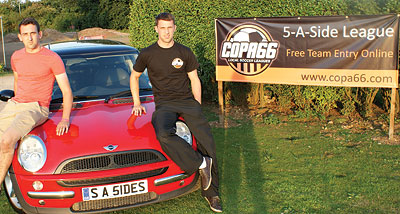 Five a Side
Luke Smith runs the Hertfordshire-based Bedmal-Green Garden Maintenance Service. But, in his spare time, he has set up a novel sporting project.
He and his brother, Ben, have developed COPA66, an online 5-a-side football league where local teams can register to take part.
And what better way could there be to promote the venture than a pertinent number plate.
Luke recently found the perfect 'match' [Sorry – Ed.] with, SA51 DES (5 A SIDES)
www.copa55.com