Noel Woodall - The Father of Autonumerology page 2
« previous
Noel followed this with other small books entitled Veterans, 'More Celebrities' and the now very rare Cartoons edition illustrated by his good friend, Mr Fred Fawbert.
All these books were printed by Weaver & Youles Ltd, of St Annes-on-Sea, and the proceeds going to The Trueloves School for Seriously Crippled Boys' in Essex. Since then he has compiled a total of 24 books on the subject of number plates, several of which were edited by his friend and colleague Brian Heaton. The most recent was published in 2000, entitled Car Numbers, and was the 11th edition to bear that name, the first being issued in 1969.
backgammon
In 1962 many newspaper articles were written about number plates as a result of Noel's books, the first recorded was Seeking Their Status by Car Numbers, by Rex North of the Daily Mirror on Friday, March 16th of that year. Noel's fame and expertise were even employed by the MP, Gerald Nabarro for a while in the 1970s, who wanted him to arrange the transfer of car registrations. He eventually went back to buying and selling and opened his own shop offering high quality chess, mahjong and backgammon sets.
He finally gave it up to become secretary of the Hotel and Apartments Social Club in Blackpool. Noel is still there to this day and seems to be thoroughly enjoying it. The club is very successful, which isn't surprising as it is one of the few clubs in Blackpool that don't charge extra on celebrity cabaret nights – Tom O'Connor and Peter Kaybeing two recent acts.
Noel's first purchase was of W 3. "These single-letter, single-digit plates are what I consider to be the best", he exclaimed. His first ever sale was CDM 1 (denoting Cadburys Dairy Milk) and was for an undisclosed sum. One strange fact that came to light whilst talking to Noel was that he admitted that he "never actually did a number plate transfer himself", he just arranged it and took a commission. Mind you, he has owned a few over the years, the most fitting being XMA 5 , the day he was born, which he eventually sold for £4,000.
Looking to the future, Noel doesn't think he will compile any more books on his own and when asked for his opinion of the Regtransfers book, Fanatical about Number Plates, he replied, "It's fantastic, beautiful and it must be carried on".
Thanks for that, Noel. We will do our best.
© Regtransfers – The World of Personal Number Plates Volume 3 Issue 1
Afterword: Noel Woodall passed away in 2013. His contribution to autonumerology, the field he named and almost single-handedly defined, is unequalled. His books and the time and information he willingly shared with us were invaluable. Regtransfers owes Noel a debt of gratitude and we are sure that he will be missed by all personalised registrations enthusiasts.
1 | 2
Free Magazine
Fantastic FREE magazine stuffed full of number plates information and stories.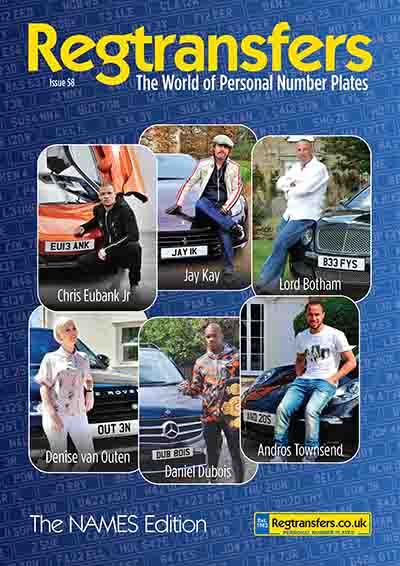 Order your free copy