Gary Ratcliffe is a state registered paramedic and the Operations Manager of a private ambulance service, providing frontline ambulances and rapid response vehicles to many NHS Trusts throughout the country.
From a very early age, Gary always had an interest in motor vehicles and personal number plates. He spent many years in the motor trade and worked as shift manager in the 24-hour vehicle recovery industry.
"My boss at that time had many personal plates on his fleet of recovery vehicles. A lot of good TOW number plates."
Gary has owned many vehicles, some of which already sported good plates when he acquired them. Although they were not personal to Gary or his family, they were fine dateless plates that lent an extra individuality to the cars that displayed them.
"I owned 679 RKJ on a Porsche 911, and MWY 67 on a Mercedes 500 SEC."
When the issuing authority made some Irish plates available for transfers in the UK, Gary purchased GAZ 2711, his first real personal number plate. He also bought a Rolls Royce Silver Spirit bearing the number 995 TKO.
"That was kind of appropriate. One of the comments I got about the car was that it was a "total knockout"! [TKO, get it? – Ed]
My aim was to transfer the GAZ plates over, however I only kept the Rolls for a short time and sold it within a year of purchase."
After his long tour of duty in the motor trade, Gary retrained and changed his career. He joined the ambulance service, working hard to qualify as a paramedic working frontline shifts. It was around this time, during a quiet time early one morning, that Gary found two personal number plates through an internet search.
"I noticed two registrations for sale which I just had to have. I emailed immediately, following up with a telephone call first thing in the morning, and secured both R4 TGE and R4 TLJ."
With these purchases, Gary Edwin Ratcliffe (R4 TGE) and Lynn Julie Ratcliffe (R4 TLJ), his wife of 25 years, had found a great matching pair of personal registrations.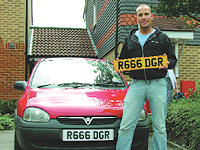 When their 23 year-old son, Damian Gary Ratcliffe, [pictured] passed his fitness instructor final exam, Gary and Lynn searched Regtransfers.co.uk for a personal plate as a surprise gift to congratulate him.
"Ideally we were looking for R4 TDG," says Gary, "however it was not available. Then I found R666 DGR, which I bought straight away, for fear of losing the chance. Within days, Regtransfers had delivered the paperwork and plates.
We gift wrapped the plates and gave them to Damian when he got home from work. He was thrilled.
"I would recommend Regtransfers to everyone. The speed and communication from them sets the company way beyond all the others."
Len Stout