Home > Celebrity number plates > Amir Khan
Boxing has produced some of Britain's best-loved sportsmen over the years. Despite the harsh, unavoidably violent nature of the sport, many of its top exponents have exhibited qualities and characteristics seemingly at odds with such a brutal profession. Champions such as Henry Cooper and Frank Bruno set an example, showing that boxers were often cheerful, friendly, and accessible. Regtransfers.co.uk's reporting team was delighted to discover that this tradition continues with Amir Khan, the UK's most exciting young talent.
We meet at a Bolton hotel for our interview, and Amir is immediately surrounded by fans, all eager to tell him how much they like watching him box. They tell his father, who is accompanying Amir, how they are sure he must be proud. Shajaad Khan assures them that he is very proud indeed. This is Amir's home territory, and the affection and support from local people is very evident.
Since his silver medal success at the 2004 Athens Olympics, when he was just 17 years old, Amir has turned professional. Boxing is no longer just a hobby, or even an obsession. It is his work. With even more riding on success than before, it is reassuring to note that he has emerged victorious from his first dozen professional matches. At the time of writing, he is preparing for a fight against Scotland's Willie Limond on July 14th, where the two will contest the Commonwealth Lightweight title currently held by Limond.
One of the main reasons for the Regtransfers team's visit to Bolton, aside from the interview itself, is to deliver Amir's great new personal number plates. A self-confessed personal registrations fan, Amir's BMW now sportsBOX IIIG, the ultimate boxing plate for Britain's ultimate rising star. But it is not the first he has acquired.
"I have V60 XER and A180 XER, and I had one given to me by a sponsorship the other day, R6 KKO, so I have a few."
Has Amir seen any others that he would like?
"Oh, the list would be too long! I'd really like my name, 'Amir' or 'Khan' or 'A Khan'. My dad has his name on his."
"Well I've got 'Shah' really. It's S111 AHK. K for Khan," says Shajaad. "And my brother, Taz, has got TAZ 786."
Amir sees a good number plate as being the finishing touch for a great car. "When you're driving it's just one of those things, isn't it? When you see a nice car you always have a look at the number plate. The one I had before was just a normal number, and it just wasn't the same. Now I have private number plates that say "A1 BOXER" or "BOXING" like on the one I'm getting from you… Well, people look at it and think, 'Yeah!'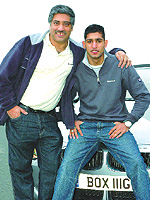 "It just finishes it off. Having a nice plate on your car instead of a normal one, makes a big difference. It gives a different look to any car. I think it's like a fashion thing as well, having your own plate on your car. I have a little collection now, one on the Range Rover and one on the BMW. I'm hoping to get another car very soon."
Is that part of Amir's plan, to get a new car every time he gets a new personal registration?
"Yeah, totally," he laughs.
Amir's enthusiasm for cars is obvious, and his success is making it possible for him to enjoy his hobby. A just return for the hard work he has put in from a very early age.
"I was eight when I started boxing. I was hyperactive when I was younger and I used to run around the house all the time, fighting with my cousins – always just full of energy. My dad took me to a boxing club, just to see if it would burn up some of that energy. So I'd be knackered at night time, and I would go to bed.
"But more than that, it gave me discipline and kept me out of trouble. Out of trouble with the police and everything, and kept me off the street. It got me this far, because I think that if I wasn't a boxer that's really where I could be. I have a lot of friends who are still just chilling on the streets with no jobs. And nowadays there are a lot of drugs about, and a lot of youngsters drink on street corners and stuff. Thanks to my boxing I've missed all that out.
"You know, a lot of people say to me that I've missed my teenage years, but I don't think so. I know a lot of people who would want to be in my position. I've been there, on the street. I might not have been there for long but at least I've experienced it a bit."
And that is not a situation Amir Khan wants to be in.
"Exactly. It's just not a place you want to be, man."
But Amir has good memories of his days "chilling" with his mates. That is where his love of cars began.
"Cars were always the big thing. People used to drive nice cars and we use to read the number plates and think, 'yeah, that one's a boxer' or 'that one's a footballer'! I've always been interested in cars, big-time. Always been into my cars!
1 | 2