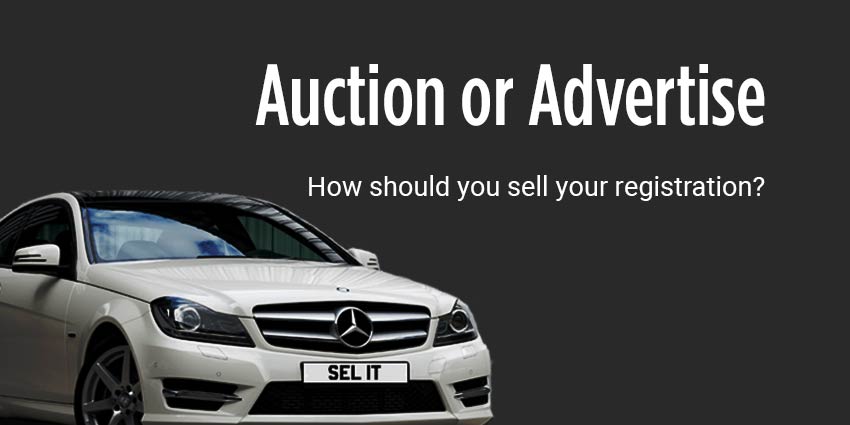 How should you sell your number?
So, you've decided to sell your private number plate. Obviously, the first thing you do is head over to the Regtransfers website and get your free valuation. Our quotation gives you an idea of your number's current market value and it gives us a chance to assess the saleability of the registration.
There are two ways to sell your registration with Regtransfers:
You can authorise us to advertise it for sale.

When we send your valuation you will see a checkbox that allows you to give us permission to advertise your number. It's as simple as that. We will add your number to our database, list it on our website and include it in direct marketing to people who are looking for numbers similar to yours. If someone purchases at the price you have set, or makes an offer to buy at a different price, we will let you know immediately.

You can list it for sale in our online auction.

Our auction works much like any other and offers all the usual benefits. You can set a starting price, a buy-now price, a reserve price and the duration of the auction. The auction may be the quickest way to sell your plate, especially if you have priced it competitively.

If you haven't already had your free valuation, we will provide one as a guide when you list your number plate in our auction.
There is no "best" way to sell. Both have their advantages; that's why we let you do both at the same time if you want to.
Letting us advertise your number online and in our marketing shots means you can just sit back and wait for us to come to you with offers when prospective buyers come forward. This may be the best method for someone selling a registration with a high price, who realises that it could take a while to find a buyer looking for a similar number at that price level.
Advertising in the auction can result in a quicker sale as auctions have a set duration. The element of competition in an auction context can also push the price up, as numbers with something that makes them widely desirable (popular names or initials, for example) may attract several competing bidders.
If you have asked us to advertise your number then your registration will appear in the search results on or website, in targeted mailshots to people who have registered interest in similar numbers and may also be advertised elsewhere.
If you list your number plate for sale in the auction, then we'll still include it in the search results but that search result will link through to your plate in the auction. Similarly, the targeted mailshots we send out will alert people to the fact that your number is up for auction. Neat, eh?
So, advertise or auction? There is no wrong answer so why not try both?
Sell your number plate in our auction (requires you to sign in or register)