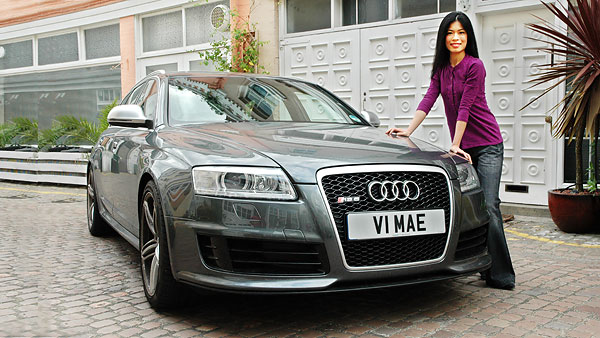 Vanessa Mae part 3
"I'm pretty gung-ho about things, I'm afraid, and being a musician doesn't make me any less gung-ho. You can hurt yourself as easily cooking as skiing. I think you just have to get through it."
Now she is recovered, Vanessa is working on some new material for her tours. Like her recordings, Vanessa-Mae's tours have featured a wide variety of different musical styles.
"Classical music relies on so much old repertoire. I mean, if you listen to most classical albums it's the same thing over and over again. It all shares a pool of music. Of course, I love classical music as well, but at the same time I like to stretch myself, to commission new music and have writers co-write with me. Even then it comes to a point where you feel that you've toured enough of the same songs. That's when it becomes time to create new music."
Vanessa-Mae's repertoire has attracted its share of controversy at times. When she first strayed from straight classical material into the realms of pop, rock and techno music, certain eyebrows were raised.
"Yes, fifteen years ago, when I came out with The Violin Player, it was me just being funky and spunky, but I think I had guts. I was facing a lot of purists who were like, 'ooh what are you doing?' and I just didn't give a toss, you know. I just did my own thing, which I think proved to be right for me.
"When you start a career at that age, you've nothing to be frightened of. I am lucky now, at 31, to have 15 years or so of crossover experience and before that a few years of classical experience. I couldn't have asked for a better start in the music business, but definitely it was a shock for a lot of people to see the violin in that light, because people had only ever seen it touching on folk music and little bit of jazz, but mostly classical. There I was making it as outspoken as an electric guitar, which meant that the violin had a lot of potential in it really and just needed somebody to take it out of the instrument.
"I don't listen to that much classical music. I've got stuff on the MP3 player in the glove compartment, but a lot of the stuff that I listen to isn't so much classical. When I was growing up I listened to people like Prince and Michael Jackson through the 80s and 90s. Sure, my training was classical, but luckily I was allowed by the people around me to push forward. There is always going to be an audience for classical music, but why not play new music as well?"
Interview: Angela Banh
Story: Rick Cadger