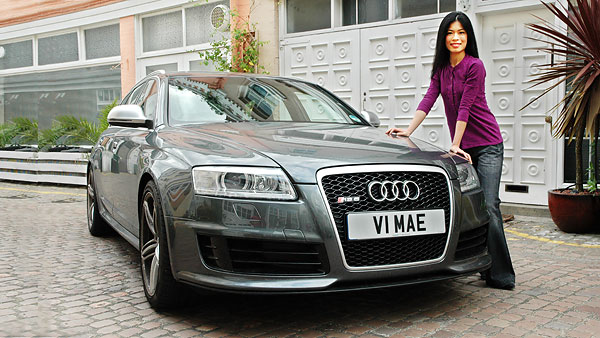 Vanessa Mae part 2
"I still have my Lotus. It's got my W8 MAE plate on it, which was a reference to my postcode, and is quite cute."
We hadn't realised that Vanessa-Mae was already a private number plates enthusiast. "I don't know why, but I guess that if you're interested in cars then you're interested in the plate. It makes sense to me. I think they're cool. I have a friend who was teasing me the other day, saying they're tacky. But why are they tacky? I mean, you care about how you dress and you care about the colour of your car, so why wouldn't you want to top it off with a personalised plate." Vanessa is not the only family member whose car sports a great plate.
"My father's name is Graham and he has a country home called Hoo Hall. I bought him G2 HOO at the same time I got myself W8 MAE."
"My boyfriend's from France. The French have a funny system for their number plates and he says that you can't personalise them there. I think it's really cool that you can have something personalised like that in this country."
Vanessa admits that she is very particular about certain things, such as her cars. It is a personality trait that she associates with her choice of musical instrument.
"When I was young I went to this all-girls school where everyone played something. Obviously some played recorder, but other people played the guitar or the flute, piano, violin. I played the piano and violin but I concentrated on the violin when I was eight. It's a bit like my car: I'm quite fussy about who gets behind the wheel. I'm a little OCD in a way, so part of what attracted me to the violin was that I had my own instrument. With piano you had to share. It kind of felt like someone else had played it and hadn't disinfected it afterward, but the violin is your own.
"As a child, before you think of the artistry, you think about things like how it's just a cute looking instrument. The aesthetics of the violin are probably what pleased me most as a child." Vanessa also associated learning piano with a degree of pressure that she did not experience with violin.
"I liked both instruments at the same time, but my piano teacher was much more pushy about me working harder, so I kind of gravitated towards the violin because there was less pressure there. From age eight I concentrated on it seriously. In fact, tonight I am going out to dinner with the professor who taught me from when I was 10 until I was about 15 years old."
Looking back at her own childhood, how does Vanessa see the role of music in children's lives? "You know, it is such an important part of children's lives. Things like that, sports and music, anything that gets them out of the house and motivates. Well, perhaps music doesn't get you out of the house much, I've spent many hours practising inside the house, but you know it really motivates you and gives you a focus."
The mention of sport leads to the subject of injuries. Vanessa is a keen skier and suffered a mishap that rendered her unable to play either music or sport for a while.
"Well I broke my elbow last year when I walked out of a cable-car and slipped near my home in Zermatt. It was fine really, because I had my arm in a plaster cast and had intense physio. I managed to do a show seven weeks later. Then there was a kind of sprain that I got at Easter. It sounds really pathetic, but I moved a pot from the stove to the worktop and... Well, I don't know; something went. I had to have a bespoke plaster cast made; one that I could put on and take off unlike a traditional plaster cast.