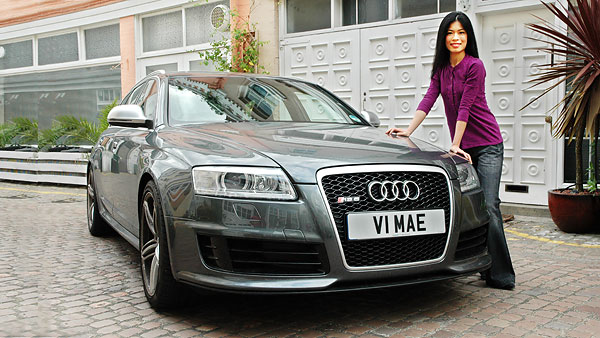 Vanessa Mae
Ask the person next to you to name five violinists. Really, go ahead and ask.
Depending upon the age and preferred musical genre of the person you asked, you'll get different answers. Many will include Nigel Kennedy, Stephane Grappelli, Yehudi Menuhin, Itzhak Perlman, Paganini and perhaps even the odd folk fiddler such as Dave Swarbrick, Kevin Burke or John Sheahan. If I were a betting man I would willingly hazard a few pounds that the name Vanessa-Mae would appear on more lists than any of those above.
Bearing in mind Vanessa-Mae's widespread fame as a violinist, it comes as some surprise to learn that her early success was as a pianist. Vanessa began learning to play the piano when she was just four years old. A year after that she began to learn to play violin as well. By the time she was seven, Vanessa had won a prize in the Young British Pianist of the Year competition. Despite that early accolade achieved at the keyboard, with the encouragement of her parents, Vanessa began to concentrate more upon violin. Her potential on the second instrument soon became evident and by the age of eight she was studying under Professor Lin Yao Ji at the Central Conservatoire in China.
Vanessa-Mae's musical studies continued at prestigious establishments in Europe, notably the Royal College of Music, and when she was 10 years old she performed with the London Philharmonic Orchestra. Her first studio album, Violin, was recorded in October 1990, around the time of her 12th birthday, and released in 1991. That first album featured classical music exclusively but her next album, Kids' Classics, also released in 1991, contained popular songs as well as classical pieces. Her third album, Tchaikovsky & Beethoven Violin Concertos, which was released the following year, saw a return to pure classical content. From that point on, she began to release classical and popular music separately or together, seemingly as the mood took her.
During 1993 and 1994, Vanessa-Mae recorded what would be her breakthrough album, The Violin Player. This was a very different sound, and marked the beginning of her development in a genre that she called Techno-Acoustic Fusion, which later evolved into her Classical-Crossover style. The commercial appeal of this hybrid-genre album was huge. Before long, a succession of TV appearances around the world had firmly fixed the image of the petite oriental teenager and her electric violin in the public eye. Since its original 1995 release, The Violin Player has sold over 8 million copies worldwide. Subsequent recordings and live performances have been similarly well received making Vanessa-Mae arguably the most recognisable, popular and successful star of contemporary violin music.
Regtransfers met with Vanessa in London when we delivered her new personal registration, V1 MAE. We chatted in her Audi RS6 Avant.
"Actually, I didn't take my driving test until I was about 21. Before that I never really had a need to drive. I wasn't that mobile and independent. I think many people think they're going to break free around the age of 17, but I was still very much living at home with my parents until I was about 20. There seemed to be no point in learning to drive.
"My first car was a Lotus Elise 111S. When I was a kid I used to like to spot cute and retro looking cars. I was like, when I get my first car I'll get a Lotus! I had L-plates on that car for ages and it cost me a bomb because I only had a provisional license and the insurance for a learner to drive a sports car is very high. Finally I thought I'd just take some lessons, learn and take my test. I passed first time, so I was quite pleased about that.