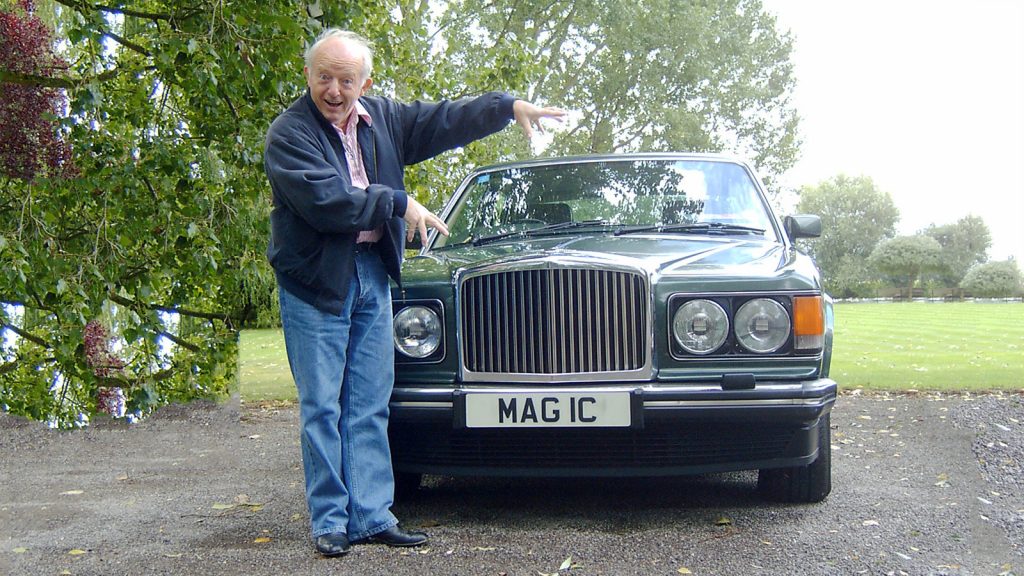 Paul Daniels
Having been a Paul Daniels fan from a very young age, I'm excited that I'm finally going to meet him. I pull into his winding drive and can't believe his famous MAG 1C private number plates are right there in front of me. This is the stuff of number plate legend. I mentally tick it off my list of 'Things to do before I die'.
I park next to the Bentley Mulsanne alongside a vast green lawn with the River Thames beyond. A man appears from a glass-fronted house and strolls towards me. He is so recognisable it's almost like visiting an old friend.
The MAG 1C private number plates belonging to Paul Daniels really are legendary. Not only is Paul's one of the most recognisable and appropriate numbers out of all the celebrity car registrations we have seen, but there is a long-standing rumour that the registration was issued under mysterious circumstances (such rumours are fairly common with famous private number plates). The evidence, however, points to it having been released in the normal sequence at the appropriate time, and Paul explains very well on page 2 of the interview how he came to have it. Regardless of the procedure that finally did result in its availability, Paul was very fortunate to acquire the perfect registration number for a professional magician.
Paul doesn't claim to have a great interest in private number plates, but when he was a civil servant in local government, some 44 years ago, he had the foresight to work out the number plate combination MAG 1C. "It was quite handy working there," he said, "I asked if it was for sale and who owned it. I even offered £1,000 for it. The answer was a definite no. They said they were not permitted to issue a number plate out of sequence." Several years went by and when Paul had just started to make a name for himself as a magician, he was offered the plate on a Mini. He turned it down believing it couldn't possibly be genuine because he knew that the MAG series of plates had never been issued.
It wasn't until 1985 that a friend told Paul that MAG 1C was for sale again, this time on a Ferrari. "When I answered the advertisement in the Times, it was then that I discovered the plate had indeed been issued - to a Scottish Councillor, who'd had it on a Mini! I went ahead and bought the plate with the Ferrari. The previous owner told me that he was so glad I was buying the car and plate because he was pig sick of people asking if it belonged to Paul Daniels."
In the twenty years since, MAG 1C has become a trademark for the Paul Daniels brand. "It has certainly been good value for money in terms of publicity," says Paul, "although I do consider selling it from time to time. I have been offered fortunes for it because it doesn't just apply to magicians, MAG 1C has a very wide appeal."
Wouldn't he pass it on to his magician son Martin? "We've never thought of that before. Only one of my sons is a magician, so I'm not sure it would really be fair." Paul has never considered having another number plate although plates do seem to have caught his family's imagination with his wife Debbie having 8 DEB on her car and Martin with an MDZ number on his.
"I suppose if I was to choose another plate it would have to be my name, PAU 1D. I have often smiled at some of the combinations around but in truth I am really not bothered whether I have one or not."
It is people's reactions to seeing the MAG 1C registration number that concerns Paul sometimes, "It can be damn dangerous. I think that when I drive the Bentley I am more aware of other drivers and what they are up to than anyone else on the road. Normal family drivers will suddenly spot the plate and swerve out into the fast lane so that they can turn sideways to take pictures with their phones and cameras. Mad!"
At this point the lovely Debbie McGee, looking ageless as ever, comes to ask us if we would like a drink. Moments later she returns with a tray of tea and coffee before returning to her office.
Paul first became interested in magic when he was just 11 years old whilst on holiday with friends. He read a book called How to Entertain at Parties and was particularly taken with the magic card tricks it explained. "From that moment, I can safely say that all I ever wanted to do in life was to become a professional magician." Soon, the young Paul was entertaining at the homes of friends and family, then at parties and youth clubs. He left school at 16 and went straight into the Civil Service as a junior clerk and later as an internal auditor. He continued the magic shows in his spare time when he also began to develop his own tricks and techniques.
1 | 2