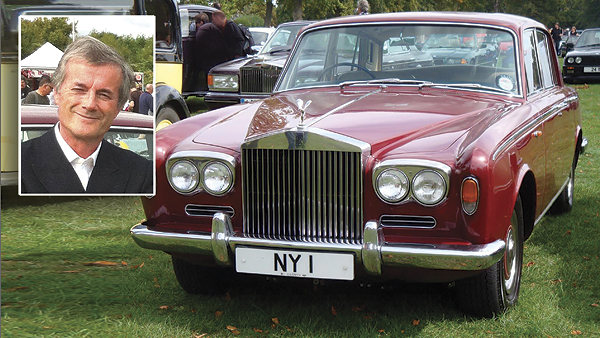 Nicholas Young
Some of our more mature readers may remember actor Nicholas Young from the 1970s children's TV show The Tomorrow People. The series related the adventures of a group of people with supernormal powers including telepathy and teleportation. These "Tomorrow People" were depicted as being the next stage in human evolution, Homo superior.
Nick starred as John, leader of the eponymous group, in all eight seasons of the hit sci-fi drama - over 60 episodes in total. More recently, he appeared in a guest role as Professor Aldus Crick in the 2013 Hollywood series of the same name. Set in the USA, the new version is a reboot of the original concept.
Away from the screen, Nick is something of a private number plates fanatic who has owned personal numbers since the mid- 1960s when he passed his driving test.
"I have always been fascinated by car numbers, and I remember gazing out of the classroom window as a ten-year-old schoolboy and doodling in my exercise book the number NJY 1. As soon as I was old enough to drive, I scoured the listings in Exchange & Mart to see if I could find something that would appeal and was within my budget. When I think what could be acquired in those days for just £25 (including the car), I wish I had bought the lot! Gems such as JR 6, 10 K and 1111 F were all bought for similar sums and I soon found myself in the dilemma many number plates collectors have faced: too many numbers, not enough cars.
"About this time I became aware of Noel Woodall through his newly published, Car Numbers book. I read it avidly from yellow cover to yellow cover and was hooked. I couldn't wait to meet the man who coined the term autonumerology to describe the hobby we all love, so I decided that a visit to Blackpool (where Noel lived) was called for. As, to the dismay of my children, my other fascination is trams, the trip was a doubly attractive prospect.
"I travelled up with an old friend in his Bentley, then registered JR 6. The shortage of homes for my numbers had been addressed by lending them to pals. Imagine my disappointment when we were met by Noel in a car bearing a completely nondescript seven-digit registration number. This was the man who had W 3 in his stable. But my friend thought it was rather cool. As he pointed out to me, Noel had nothing to prove.
"And so a life-long friendship began. Noel and I kept in touch over the years and kept each other informed of our various acquisitions. Soon after our first meeting I was able to obtain NIK 1, a number I still own. I tracked it down to a farmer in rural Ireland. I put it on my 1955 MGTF 1500 and it is still on the same car today. In fact, I don't own a car from the 21st century yet. The MGTF has been restored, twice, and I had the original number plate restored to it as well so the look is as authentic as possible. The original owner had kindly put the somewhat battered plate to one side for me. The price I actually paid for the number plate was to assist him with the birth of a calf by pulling on a rope attached to its leg: quite an experience for a born-and-bred townie. Which reminds me, I once owned MOO 22.
"Rather later I acquired NY 1 and NJY 1. Quite why that 10 year-old schoolboy had preferred NJY 1 I'll never know. As my collection grew I gradually became interested in the history of the numbers I had acquired over the years. I discovered NY 1  was originally issued to Alderman William Llewellyn of Ogmore Vale in 1921. This man, who ran a successful local department store was, it turns out, the great grandfather of politician Lord David Owen.
"Noel Woodall, I know, shared my interest in the history of number plates as well as their present-day owners, and when Pat Woodall told me that Noel and she had been working on a book reflecting some of this history, I was happy to advise. In no time, we found we were communicating as much as ten times a day excitedly exchanging snippets we had discovered."
Noel passed away in 2013 but Pat and Nick decided to continue with work on the new book. Even though Noel is no longer present in person, his thoughts and inspiration still guide the project.
"Noel felt that a book in the style of a telephone directory, simply containing every number ever seen, was becoming tedious, an opinion that Pat and I shared, so we decided that this book would be a bit more selective. It is entitled Car Number Classics and we hope that the title says it all. Using all existing records, we hope to cover original and present-day owners of all those low one and two-letter numbers that were registered in time to comply with the new Motor Car Act which came into effect on January 1st 1904. We would particularly like to hear from readers who have old photographs of these numbers on their original vehicles. But this is not just a book about older numbers. If a number is a classic – from whatever period – we would like to include details and a photograph in Car Number Classics."
Readers who may be able to supply details and photographs for Pat and Nick's project can find more information about Car Number Classics at: www.carnumberclassics.com