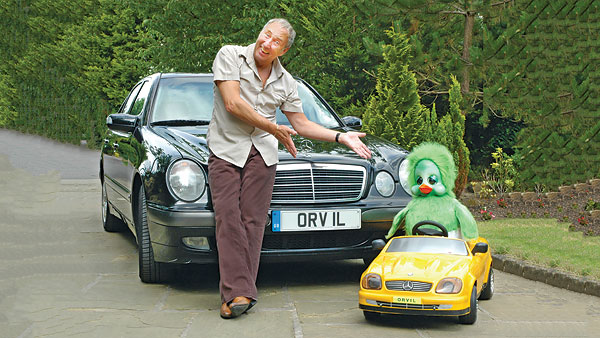 Keith Harris part 3
« previous page "
After my TV show ended I had to diversify. I saw the reasons why that sort of variety was a thing of the past and Ben Elton and The Young Ones was the next big attraction, but I thought, I can easily do what they're doing. I decided to do an adult show aimed at students. They already loved what I did for kids so I thought I'd sauce it up a bit. I call it 'Duck Off'. Cuddles swears a lot but Orville not so much, in fact Orville's attitude is different altogether; he's grown-up. The routine goes like this: 'Are you going to school tomorrow?' 'No' 'Why not?' 'Because I'm forty bloody five and I've sat on your arm for twenty five years, I'm a bit pissed off about it.' It works well, but he still says he doesn't have a mummy and daddy and the audience still say 'Aah,' and the monkey shouts out 'Little bastard . '
The monkey is always having a go at him, it works so well. The monkey is funny, but Orville, you can't change him, I did try a few times at the beginning but the audience didn't want that. In the act, especially the adult show, the dolls knock me, if one of them is naughty or swears I tell him off so I'm always the intermediary between them and the audience, nothing to do with me. Cuddles will have a go at the audience, rip people apart. I did have one person say: 'Its disgusting the way that bloody monkey spoke,' and I said, I do apologise and they said: 'Its not you it's that bloody monkey . ' To be able to go up there and say whatever you want, insult people and get away with it is incredible. And no reflection on me at all! The admiration I get from the students is wonderful and it's always better than they think it's going to be, that's the thing.
"From that people like Harry Hill picked up on it; we were on Never Mind the Buzzcocks , The Weakest Link , shows like that. It's either I haven't been sussed yet or people enjoy what I do. To entertain the kids as well as the mums and dads, the grannies and grandads or in a gay club, or in front of ten thousand bikers – to be able to do that is great. But that's years of experience and getting on with the job.
"If someone came along now and said, here's a kids TV series, I know it would start all over again. It would be nice but I wouldn't like to be away from my family, I've been there and done that. I've got a beautiful wife and two beautiful children and I want to spend time with them. I'm really happy where I am now. This is the happiest I've ever been. I still come up with ideas and want to try different things, but this time for something that won't take me too far away from home.
"Quite a lot of the young entertainers that I see now have emulated me. It's hard to come up with something different. There will never be another character like Orville, that's a certainty. Orville means a great deal to a lot of people. He's touched so many people's lives - the letters I've received. We worked with Dr. Barnardos for years as their mascot. The blind children loved to touch Orville and listen to his voice; it was wonderful to witness. And there have been two children who died and had their toy Orville's buried with them. When it gets serious like that you know it has affected people. It's saved a few marriages too and brought people together. He's even been carved out on the helm of a ship and Brian May from Queen says he is going to write a song for Orville one day."
Keith has suffered his share of vicious comments too. Following a Royal Command Performance, Keith was cruelly slated in the press: 'I'm sure Charles and Diana would like to take a gun and blow the duck's head off.'Fortunately for Keith the total opposite was true. The following day he received a phone call from his manager. "He said to me, you've been asked to do a children's party, and I know you don't do children's parties but I'm sure you'd like to do this one. Princess Diana adores you and Orville and has asked if you will you come to Highgrove house to do Prince William's third birthday party.
I was absolutely delighted to accept. I arrived there and Charles came out and we had a Pimms [Keith does a convincing impression of Prince Charles.] Diana helped me in with the boxes, she was absolutely lovely. We were asked back to do Prince Harry's third birthday too. It was nice to be able to do it. Diana sent us a lovely letter saying: 'The Princess hopes that Orville did not suffer from too much bruising after the rather rough patting he received from one or two of the smaller members of the audience.' I met her a lot after that because she worked for Dr. Barnardos as well."
Considering Keith has been entertaining millions of us for half a century, I'm staggered to learn that he has never been the subject of This is your Life . "My wife said to me, you've done all these things, but nobody wants to know." Fortunately Keith is beginning to receive the recognition he deserves, even if in a round about sort of way. In 2005 he became the winner of reality TV show The Farm . "I think they were looking for people who were instantly recognisable, people who would break the mold. Going in there was a difficult decision for me because my dad died the day before it started. But I knew he would have wanted me to do it.
They had a councillor who talked it through with me and they said I was okay to go ahead. Half-way through the programme I had to come back for the funeral. Despite many ups and downs it was a great experience, especially because I won. I wanted to prove to myself and other people that I'm not just a fella that sticks his hand up a duck's bum, I can do other things." Since then he has been among the all-star line up on the Peter Kay and Tony Christie video for the hit Is this the way to Amarillo ? And in January 2007 he made a cameo appearance with Orville in Al Murray's Happy Hour .
Now approaching sixty, Keith still performs around the country. He also enjoys writing, directing and producing Pantomimes. In the coming year, he is looking to cut back on his work commitments although he says he has a few exciting projects in the planning stage. Perhaps ventriloquism is about to have a revival? Keith would like to think so. There is no doubt that he has inspired a new generation. Actor Tom Conti's daughter Nina is the latest to prove that the skill is far from a dying art. Ventriloquism may come from the word meaning 'speaking from the belly' but Keith Harris always speaks from the heart.
Interview: Ruby Speechley
Photography: Stan Thompson
©2007 Regtransfers.co.uk