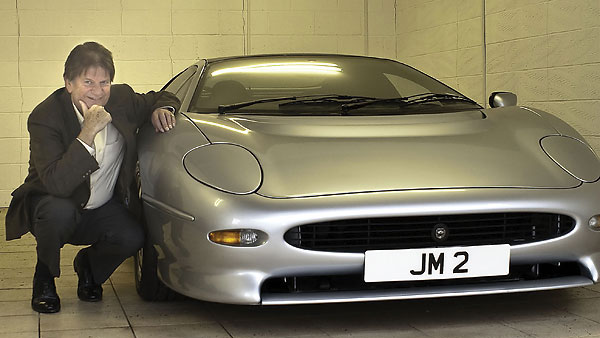 Sir John Madejski part 2
Sir John is especially enthusiastic about the products manufactured by his Clearview Traffic Group, a business in which he decided to invest in 2003.
"We make solar powered, illuminated road safety studs. These Astucia SolarLite studs literally light up the road. They need just two hours of daylight and it cranks them up for two weeks. If you look in your rear-view mirror you can see the road all lit up. They're just state-of-the-art. We trialled them in South Africa on a piece of road where they'd had 27 fatalities.
"They put the SolarLite road studs in and it reduced the casualty count to zero. Why? Because you can see the linear pattern of the road. They're fantastic. It's a real safety product, a real winner. We've got them round the Reading FC stadium. It's an international product and we sell them all over the world. There are a lot around England and you often see them. You know, they light up so well that you could literally just switch your car lights off and drive through. You don't actually need your lights on to follow the road. I wouldn't advise trying that of course!"
Amongst Sir John's interests there is always an automotive aspect lurking somewhere. He is very fond of cars and has quite a collection of classic vehicles. Not surprisingly, his cars sport some equally exclusive registration numbers.
"I'm certainly not fanatical about number plates," says Madejski, echoing the insistence he voiced during our previous interview, "but I do see them as an essential finishing touch to any prestige car. I think that if you have a really nice car it sets it off beautifully. I moved one of my number plates to another car, which left my Bentley Continental with just an ordinary plate. That was just so ghastly, that I had to go and buy JM 19. Good numbers are both an investment and something to enjoy. There's no doubt about it, they really do set a car off nicely, so I think they're certainly worthwhile."
Ownership of a two-initial, number one registration is not a common thing. To own both of the number one configurations for a set of initials is almost unheard of. Sir John owns JM 1 and 1 JM, both of which adorn Rolls-Royces. He also has JM 2 on his Jaguar XJ220. Perhaps the most amusing of his personal plates is on his AC Cobra. Imagine, if you will, a neat yellow sports car casually cruising past you on the motorway. As it vanishes into the distance you notice the number plate B1 BYE (bye bye!).
That one must have raised a few smiles in its time. But Madejski's money isn't all spent on rich boys' toys such as expensive cars and football clubs. He has contributed millions of pounds to a variety of good causes, including the Fine Rooms at the Royal Academy of Art in Piccadilly, a piazza and garden at the Victoria and Albert Museum and the John Madejski Academy in Reading.