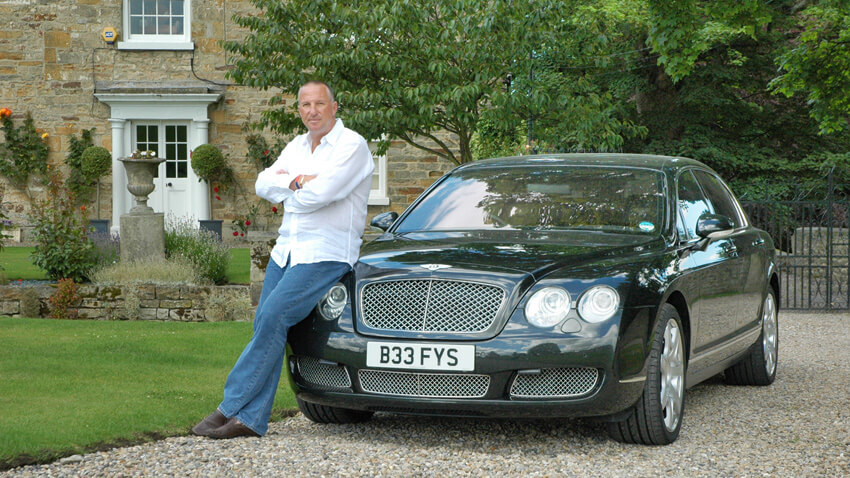 Sir Ian Botham part 3
While a levitating car might be the solution to Sir Ian's traffic problems, he is not a fan of heights. He reportedly declined to work from one Sky commentary box upon discovering that the box in question was actually a Portakabin perched 100 feet up a scaffolding tower. He selected an alternative position, located in the main pavilion, and later said, "I'll go in helicopters and planes, they're meant to fly - commentary boxes aren't." His colleagues, Nasser Hussain and Mike Atherton, admitted that the wind blown, elevated commentary box had not been the most comfortable of environments.
Of earthbound vehicles, Botham finds it difficult to choose a favourite.
"I can't really pick one ideal car - I can go from a Mini Cooper to a Ferrari to a Bentley. I think the car I'm really looking forward to, which is coming on Monday, is the Volkswagen Tourareg R50. I just think it's taking it to a new dimension. I'm really looking forward to it. I've not driven in that one yet. I've sat in it and gone through the spec, but I haven't actually driven it, so I'm looking forward to Monday."
"The Bentley gets used quite a bit; but living up here and still needing to go to London, I never know if the drive is going to take me four hours or seven hours, because of the total chaos on the road. I can't work like that, so I tend to fly down or go on the train. I drive when I am up here in the north and in and down to the Midlands and even occasionally down to the south west, but London I avoid like the plague. It's just a nightmare to drive there. Congestion charges, parking - there's nowhere to park."
Sir Ian's Bentley is the vehicle he has chosen to display his new B33 FYS personalised registration, although there were a few second thoughts involved.
"I think it's nice to personalise something. Of course, sadly, you do get some people who think a nice plate is an invitation to scratch your car. Mine's just come back from the garage now after being scratched. The Bentley, that is - and that one didn't even have a personal plate on it. So, I've decided it's not made a difference. I might as well put B33 FYS on there."
The Bothams have collected quite a few private number plates between them.
"The KB plate is Kath's. My son, Liam, has got a great one: H1 LJB for "Hi, Liam James Botham". His wife, Sarah Jane, has one... and Sarah B [Sir Ian's daughter]. I have a couple. It's something we all do. I saw one the other day for my grandson, Regan. We could get it now and put it on retention. It makes a nice present when they pass their driving tests."

At the time of writing, Sir Ian is preparing himself for one of his famous charity walks in aid of the Leukaemia Research Fund.
His efforts in the cause are largely responsible for the honours that have been bestowed upon him. Now President of the charity, he has been supporting Leukaemia Research since 1977, and began his famous charity walks in 1985 after a visit to a children's ward at Musgrove Park Hospital in Taunton. The plight of young people with the illness moved him to promise his support.